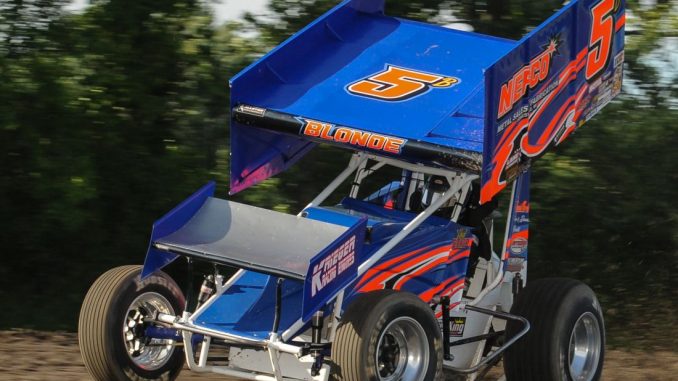 By John Naida
ERIE, MI (June 23, 2019) – Saturday brought sunny skies, warm temperatures and exciting racing for Lane Automotive Sprints On Dirt powered by King Engine Bearings / MSD Ignition / Motul at Butler Speedway and Chad Blonde battled past early leader Josh Turner to drive off to the win.
Pole sitter Turner took the lead on the start over outside front row starter Jay Steinebach. The action was hot and heavy behind the leaders with several cars battling for third through seventh. Turner opened up a slight lead as Steinebach slipped over the top in turn two and dropped several positions. Turner maintained his lead through a red flag when Luke Daugherty got on his side in turn four and several cautions. Blonde worked his way forward from his seventh starting spot and began to challenge Turner. With the leaders utilizing the bottom of the track, Blonde powered into the lead on lap 17 and drove off to the win.
The racing was intense and passing was plentiful. Daryl Shaffer was MAHLE / KSE Hard Charger, advancing 9 positions. Thomas Schinderle (+8), Ryan Ruhl, driving his own 360 #16 (+7), and winner Blonde (+6) showed how exciting and competitive the racing was.
The non-stop heat races started the night of close racing as Quentin Blonde took the Engler Machine & Tool Heat over Turner and Jacob Hesson who started ninth. Jay Steinebach won the King Engine Bearings Heat with Zane DeVault finishing second and Boston Mead third.
It was announced that SOD will return to Butler on Saturday, July 6th for the $2,500-to-win Independence 25. With last night's great racing in mind, the I-25 should be a great one!
Lane Automotive Sprints on Dirt
Butler Motor Speedway
Quincy, MI
Saturday June 22, 2019
Heat Race #1 (8 Laps): 1. 5QB – Quentin Blonde, 2. 4 – Joshua Turner, 3. 4J – Jacob Hesson, 4. 5B – Chad Blonde, 5. 39 – Tylar Rankin, 6. 16 – Ryan Ruhl, 7. 41 – Thomas Schinderle, 8. 52 – Zac Broughman, 9. 24+ – Mike Schumacher, 10. 24 – Eric Smith
Heat Race #2 (8 laps): 1. 10S – Jay Steinebach, 2. 7 – Zane DeVault, 3. 27B – Boston Mead, 4. 27K – Jason Blonde, 5. 1A – Mark Aldrich, 6. 88N – Frank Neill, 7. 14 – Luke Daugherty, 8. 29 – Daryl Shaffer, 9. 41X – Kent Gardner.
Feature: 1. 5B – Chad Blonde, 2. 4 – Joshua Turner, 3. 27B – Boston Meade, 4. 16 – Ryan Ruhl, 5. 41 – Thomas Schinderle, 6. 7 – Zane DeVault, 7. 29 – Daryl Shaffer, 8. 88N – Frank Neill, 9. 39 – Tylar Rankin, 10. 1A – Mark Aldrich, 11. 27K – Jason Blonde, 12. 24+ – Mike Schumacher, 13. 52 – Zac Broughman, 14. 14 – Luke Daugherty, 15. 24 – Eric Smith, 16. 41X – Kent Gardner, 17. 10S – Jay Steinebach, 18. 5J – Jacob Hesson, 19. 5QB – Quentin Blonde
MAHLE Aftermarket Hard Charger – Daryl Shaffer (+9)
KSE Racing Products Hard Charger – Daryl Shaffer (+9)
BR Motorsports Contingency (feature top 10 draw) – Daryl Shaffer
DMI (Diversified Machine) Contingency (feature 12-16 draw) – Zac Broughman
COMP Cams Lucky Dog – Thomas Schinderle
Allstar Performance Better Luck Next Time – Quentin Blonde
For more information, check out these websites:
Butler Motor Speedway – www.butlerspeedway.net
Lane Automotive – www.laneautomotive.com
King Engine Bearings – www.kingbearings.com
MSD Ignition – www.msdperformance.com
Motul – www.motul.com/us/en-US
Sprints On Dirt – www.sprintsondirt.com
Sprints On Dirt is brought to you in 2019 by:
Lane Automotive (Title Sponsor)
King Engine Bearings (Presenting Sponsor)
MSD Ignition (Presenting Sponsor)
Motul (Presenting Sponsor)
Hoosier Racing Tire (Official SOD Tire)
Benic Enterprises (Fast Masters Sponsor)
Engler Machine & Tool (Heat Race Sponsor)
King Engine Bearings (Heat Race Sponsor)
MSD Ignition (Heat Race Sponsor)
Motul (Heat Race Sponsor)
MAHLE Aftermarket (Hard Charger Sponsor)
· KSE Racing Products (Hard Charger Sponsor)
Allstar Performance (Better Luck Next Time Sponsor)
COMP Cams (Lucky Dog Sponsor)
Benic Enterprises (Crew Chief of the Year Sponsor)
Allstar Performance (Sportsman of the Year Sponsor)
Motul (Sprint Car Rookie of the Year Sponsor)
King Engine Bearings (SOD Series Rookie of the Year Sponsor)
Noizee 1 Motorsports (Special Awards)
SOD 2019 contingency marketing partners are:
Allstar Performance
BR Motorsports
Diversified Machine Inc. (DMI)
Hepfner Racing Products (HRP)
Keizer Aluminum Wheels
King Racing Products
Maxim Racing
Pyrotect Racing Cells
Racing Optics
Rod End Supply
Saldana Racing Products
Schoenfeld Headers
Simpson Racing Products
Ti22 Performance