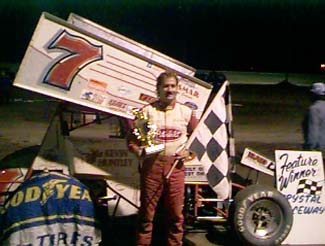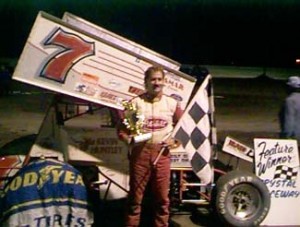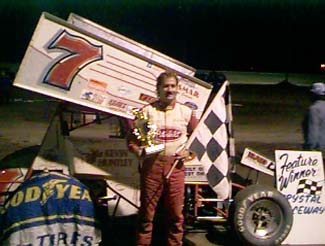 By T.J. Buffenbarger
Crystal, MI — (June 5, 1998) — Kevin Huntley ended his very long dry spell with the All Star Circuit of Champions Friday night at the Crystal Raceway by winning the GM Powertrain 40.  Huntley certainly had to work hard to end his winless streak because of a race long battle with Dean Jacobs and Kelly Kinser despite running on six cylinders and the motor overheating.  This was Huntley's first All Star win in over two years.
"The traffic hurt me really, really hurt me bad.  My motor was ready to quit.  Early in the race it started to miss and I went to the bottom and couldn't get the car to pull off the corner."  Huntley said after the feature.  "That last caution really hurt me, and I didn't think I could catch Kelly, but I'm darn glad I did!  I have to thank Rick Daugherty, this is our first All Star win."  Huntley also thanked Mechanic Jimmy Darley, Peterbuilt, and Domelt Chassis.
Kinser was on the Butlerbuilt hot seat poll position with Huntley along side behind the beautiful Chevy Silverado and Chevy Hummer pace vehicles.  Huntley took the lead at the start and opened up to three car lengths over Kinser, Dean Jacobs, Keith Kauffman, and Joey Saldana.  Huntley had built up a five car length lead until lap six when the caution came out for Jerry Slade's spin in turn four.
On the restart Huntley once again pulled away, but the caution flag once again flew for a family spin of father Don and son Mike Daggett in turn one.  Once the Daggett's were push started the race resumed with Kinser starting to apply pressure to Huntley.  While they were racing for the lead, Dean Jacobs was making his move around the top to make it a three car battle for the lead.   On lap nice Mark Broughman brought out another caution when he slid off the track in turn four.  Broughman also rejoined the field.
When the green flag flew Huntley went to the high side and Kinser went low.  Kinser got a tremendous bite and pulled a wheelstand the length of the backchute.  The spectacular move helped Huntley pull eight car lengths while Kinser was left to race with Dean Jacobs and Kauffman for second position.  Then on lap12 Mike Daggett looped his car again in turn two.  The amount of caution laps necessitated a brief fuel stop.
After the fuel stop Huntley pulled away to his biggest lead during the entire race over Kinser.  Then lapped traffic began to play in the hands of Kinser.  Huntley started to get into heavy lapped traffic on lap 18, and with his motor ailing Kinser was able to maneuver through the cars much quicker.  As the pair was being held up in traffic Dean Jacobs was racing to the outside to make it a three car battle for the win.  Lap 22 the caution flew once again for Scott Jones' loose wheel in turn four.
After the restart Kelly Kinser made his move for the lead on the inside.  The pair split at lapped car and raced side by side.  Dean Jacobs was right behind in third position waiting to make his move, and at that time was the fastest car on the racetrack.  Kinser finally wrestled the lead away from Huntley on lap 36.  While running through the lapped cars on Huntley and Dean Jacobs made contact and folded the front axle under the Denny Ashworth owned Schnee.  It was a tough way for the night to end for Dean Jacobs as he was sitting back to make his move of the leaders.
This set up a four lap shootout between leader Kinser, Huntley, and third place running Frankie Kerr.  When the green flag flew for the final time Kinser went low and Huntley went high.  The pair raced side by side for the last four laps when Kelly slipped coming off turn four on the last lap to allow Huntley to pull away for the two car length victory.  Kinser, Saldana, Kerr, Kenny Jacobs, Kieth Kauffman, Brett Mann, Tim Norman, Mark Stemen, and Brian Smith rounded out the top ten.
Kenny Jacobs demolished the track record with a lap of 11.859 seconds.
Kevin Huntley won the United Expressline Heat, Scott Jones won the Southwest Expressline heat, and Joey Saldana won the  Southwest Glass heat.  Dean Jacobs won the  Commercial truck and trailer dash.
Time Trials:  1. Kenny Jacobs, Hughes 94, 11.859 NTR; 2. Frankie Kerr, Shoff 23s, 12.282; 3. Joey Saldana, Mox 17, 12.350; 4. Keith Kauffman, Johnson U2, 12.411; 5. Dean Jacobs, Ashworth 92, 12.427; 6. Tim Norman, Gaerte 3g, 12.461; 7. Kevin Huntley, Daugherty 7, 12.513; 8. Kelly Kinser, Kinser 4k, 12.631; 9. Van Gurley, Jr, Bible 22, 12.729; 10. Brett Mann, Mann 19, 12.784; 11. Jerry Slade, CW Motorsports 1cw, 12.861; 12. Mike Daggett, Daggett 88, 12.908; 13. Brian Smith, Smith 2+, 12.961; 14. Mark Stemen, Stemen 17s, 12.966; 15. Greg Wheeler, Wheeler 16c, 13.271; 16. Mark Broughman, Broughman 52, 13.381; 17. Scott Jones, Jones 13, 13.359; 18. Don Daggett, Daggett 14, 13.515; 19. John Gall, Gall 81, 13.719; 20. David Aldrich, Aldrich 27t, 14.688; 21. Jay Rorhaback, Rorhaback 22, 14.784.
United Expressline Heat:  Huntley, K. Jacobs, Mann, Kauffman, Broughman, Gall, Smith.
Southwest Expressline Heat:  Jones, Stemen, D. Jacobs, Kerr, Kinser, Slade, Aldrich
Southwest Glass Heat:  Saldana, Wheeler, Norman, Gurley, M. Daggett, D. Daggett, Rohraback
Commercial Truch and Trailer Dash:  Dean Jacobs
Feature:  Huntley, Kinser, Saldana, Kerr, K. Jacobs, Kauffman, Mann, Norman, Stemen, Smith, Gurley, Wheeler, Jones, Broughman, D. Daggett, Gall, D. Jacobs, Slade, M. Daggett, Rohraback, Aldrich