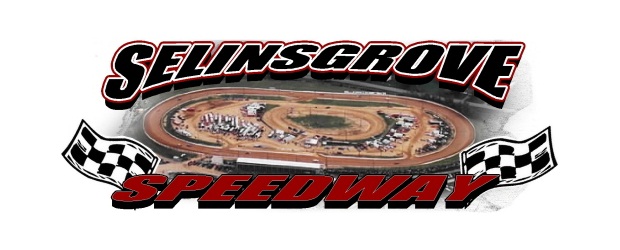 By Steve Inch
SELINSGROVE, Pa. – Selinsgrove Speedway will present the second four
division racing program of the season at 6 p.m. this Saturday, April 17,
featuring 358 sprint cars, late models, pro stocks, and roadrunners. Track
gates will open at 4 p.m.
This Saturday's show will feature the fourth annual running of the Collier
Paving & Construction Roadrunner 20. Time trials and a B-main will be the
format for qualifying for the stock car division's only extra-distance race
of the season. The Middleburg IGA is sponsoring the championship trophy to
be presented to the winner of this weekend's race.
Ray Rothfuss of Muncy won the inaugural Roadrunner 20 in 2007, while Keith
Bissinger of Orangeville was victorious in the 2008 race. Ricky Bender of
Joliett is the defending winner.
Entering this weekend's racing action, Brad Mitch of McClure and Kyle
Miller of Milton have taken checkered flags in roadrunner competition this
season. Mitch leads the Collier Paving & Construction/Byers Built Engines
standings with 670 points over Miller's 650 points.
Three races in the A&A Auto Stores 358 sprint car division have produced as
many different winners. TJ Stutts of Liverpool, Blane Heimbach of
Selinsgrove, and Pat Cannon of Etters won 358 sprint car features this
season. Heimbach is the standings leader by 10 points over Stutts.
Jeff Rine of Danville won the season opener for the Lyons Auto & Truck
Service Center late models last Saturday and leads the standings with 350
points over Jim Yoder of Selinsgrove with 320 points.
AJ Stroup of Evendale and AJ Hoffman of Richfield each have a feature win
in the Salem RV Center pro stock division. Stroup holds an 80-point lead
over Hoffman entering this weekend's action.
Selinsgrove Raceway Park will present a program of go kart and micro sprint
car racing at 7 p.m. this Friday, April 16. The one-fifth mile track will
also be in action at 10 a.m. this Sunday, April 18, with the track's only
Pennsylvania Dirt Karters Series (PDKS) race of the season.
For a complete schedule, results, or race status, visit
selinsgrovespeedway.com.