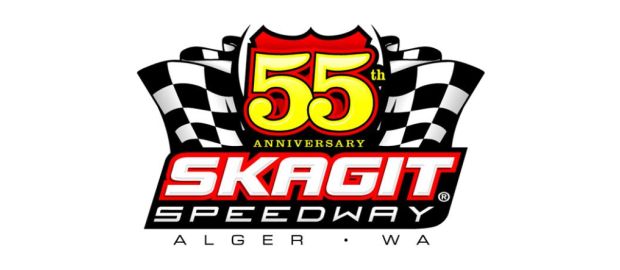 By Kaleb Hart
ASA member track Skagit Speedway saw Mike Melwicks extend his race win streak at the 56 year old 3/10 mile clay oval to 4 in a row with a last lap pass of Mack Brown in the Budweiser 360 division. The huge spectator crowd would watch Brown set out to the early lead in his Birch Equipment #96 XXX. After racing his way forward from a 5th place starting spot, Melwicks finally made his way to Brown, measured him, then blasted past him in the final corner of the final lap with a massive slidejob to secure his 4th win in his last 4 attempts at Skagit Speedway in the CSA Transportation #2 Maxim. Brown would enjoy a career best second place finish with Madonia securing third in the Bayside Marine #42 Rocket. Heat wins went to Evan Funk and Michael Harris. Kelsey Carpenter set quick time.
Jesse Whitney visited victory lane at Skagit Speedway for the first time in 2010, as the defending Associated Asphalt 410 champion also used a slidejob coming out of turn four to take the lead. Josh Edson cranked out to the early advantage in his Diehl Ford #83 XXX, with Whitney in tow. After trying a slidejob that ended up with him punting the front stretch wall and bending his rear suspension on lap 10, Whitney went for the same slider again coming out of four on lap 11, this time making stick. Whitney would lead the rest of the race unchallenged to take the victory in his Rocky's Plumbing #88 Eagle. Eric Fisher took second in the Fisher Racing #59 Rocket. Edson finished third. Heat wins went to Kevin Smith and Jayme Barnes. Travis Jacobson set quick time.
Matt VanDerSys made it two wins in a row in the Cook Road Shell Sportsman Sprints. Cory Swatzina set out to the early lead and paced the field for the first 11 laps. Bill Rude reeled him close and passed him down low out of turn two to take the point on lap 12, and held it through lap 15 as his cars handling slowly faded. VanDerSys took advantage, slipping by Swatzina then powering underneath Rude on lap 16 to take the lead and the eventual win in his Timber Trax #30 XXX. Swatzina also made it back by Rude for a career best sprint car finish of second in his Carl's Towing #2 Becker. Steve Parker took third on the last lap in his Construction Unlimited #23 Eagle. Heat wins went to Marc Schutte, Parker and Dylan Dunham.
Ben Gunderson clipped off his second race win of the year in the Outlaw Hornet division. Gunderson and teammate Freddie Vela went door handle to door handle for six laps until Vela jumped the cushion in turn four and damaged his steering. Gunderson took advantage, powering out to a lead he would not give up. Rick Young made a last lap pass of Matt Powers for second, relegating the youngest of the Tri-Powers racing team to third. Heat wins went Gunderson and Vance Hibbard.
410
Fast Time- Travis Jacobson 11.517
Heat 1 – Kevin Smith, Jesse Whitney, Jacobson, Colton Heath, Steve Parker
Heat 2 – Jayme Barnes, Eric Fisher, Josh Edson, Cam Smith
Main – Jesse Whitney, Fisher, Edson, Jacobson, C Smith, K Smith, Barnes
Lap Leaders – Edson 1-10 Whitney 11-25
360
Fast Time – Kelsey Carpenter 11.971
Heat 1 – Evan Funk, Mack Brown, Devin Madonia, Carpenter, Steve James, Paul Hopkins, Tyler Anderson
Heat 2 – Michael Harris, Mike Melwicks, Rod Perkins, Alan Munn, Bud Ashe, Jonathan Jorgenson
Main – Mike Melwicks, Brown, Madonia, Funk, Harris, Munn, Ashe, Carpenter, Jorgenson, Anderson, Hopkins, Perkins, James
Lap Leaders – Brown 1-24 Melwicks 25
SS
Heat 1 – Marc Schutte, Matt VanDerSys, Cory Swatzina, Clayton Sibley, Glen Reinstra, Nick Dunham
Heat 2 – Steve Parker, Devin Barnes, Victoria Cantu, Dave Mead, Markie Richmond, Eric Thibert
Heat 3 – Dylan Dunham, Bill Rude, Rob Schroder, Curtis Clark
Main –Matt VanDerSys, Swatzina, Parker, Rude, Clark, Sibley, Cale Brooke, Reinstra, Schutte, N Dunham, Cantu, Mead, Richmond, Schroder, James Bundy, Barnes, D Dunham, Thibert
Lap Leaders – Swatzina 1-11 Rude 12-15 VanDerSys 16-20
OH
Heat 1 – Ben Gunderson, Jon Edwards, Freddie Vela, Ken Higby, Matt Powers, Karl Dahl, Dasa Lupardus, Stacy Day, Ashley Lewellen, Marshall Corbell, Tyler Ketchum
Heat 2 – Vance Hibbard, Rick Young, Tom Warner, Brigham Mirabelli, Howard Vos, John Gunderson, Jason Warner, Randy Newellen, Tina Thibert, Angie Richter, TJ Campbell, Larry Kwik, Kenny Harris
Main – Ben Gunderson, Young, Powers, Ketchum, J Gunderson, Lewellen, Vela, Vos, Thibert, J Warner, Richter, Mirabelli, Hibbard, Corbell, Lupardus, Higby, T Warner, Harris, Edwards, Dahl, James Bundy
Lap Leaders – Higby 1-3 Vela 4-10 Gunderson 11-17