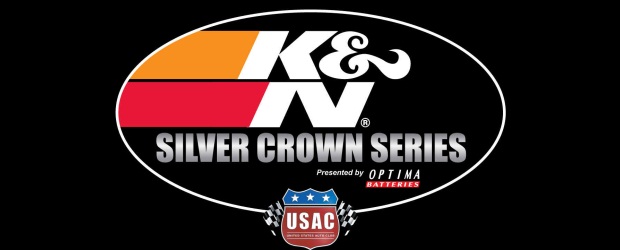 From Dick Jordan and Jay Hardin
North Carolina's Shame Hmiel obviously had no regrets about giving up the lead and changing three tires on his RW Motorsports Beast during the competition red on lap 51 of the Hoosier Hundred atthe Indiana State Fairgrounds Friday night. The Pleasant Garden resident restarted the race in 12th and surged back to the lead on lap 77 with a daring move inside Russ Gamester to take his first 100-mile national championship win in the K&N Filters USAC Silver Crown Series.
Hmiel told the crowd in victory lane that he was a stock car driver from the south that 'knew about the Hoosier Hundred" and was quite emotional about joining legends such as A.J. Foyt and Al Unser on the winners list. He broke down when presented the Larry Rice winners award after leading 71 of the 100 laps enroute to a convincing win. Hmiel took the lead from polesitter Levi Jones on lap 5 and had a straightaway lead at the new competition red at lap 51. Forced by the rules to the back of the line for a right rear tire change, Hmiel was joined by front runners Jones, Tracy Hines, Dave Darland, Bud Kaeding and teammate Jerry Coons, all of whom changed at least the right reat tire. Hmiel then workedhis way back to the top 5 and his progress appeared to stall until others who had not changed tires fell by the wayside.
Kaeding finished second with Coons a close third. Kody Swanson was fourth with Darland fifth. Jones led all 36 cars wiht a lap of 33.090 in the 4th session of a new group qualifying procedure.
Ken Schrader won the UMP Modified Indiana Classic by leading all 20 laps of the event. Joey Kramer was second.
USAC SILVER CROWN CHAMPIONSHIP RACE RESULTS: May 28, 2010 – Indianapolis, Indiana – Indiana Statet Fairgrounds – 58th "Hoosier Hundred"
QUALIFICATIONS: 1. Levi Jones, 10, Stewart/Curb Agajanian-33.090; 2. Shane Hmiel, 17, RW-33.201; 3. Jon Stanbrough, 37, Indiana Underground-33.285; 4. Zach Daum, 50, Daum-33.057; 5. Brad Kuhn, 43, Nix-33.465; 6. Jerry Coons Jr., 27, RW-33.526; 7. Todd Kane, 63, DePalma-33.569; 8. Dave Darland, 56, Foxco-33.592; 9. Tracy Hines, 16, Lightfoot-33.631; 10. Aaron Pierce, 26, Pierce-33.633; 11. Russ Gamester, 51, Gamester-33.732; 12. Shane Hollingsworth, 20, Nolen-33.891; 13. Tom Capie, 153, Capie-33.930; 14. A.J. Fike, 3, RFMS-33.947; 15. Brian Tyler, 21, Team 6R-33.951; 16. Jeff Swindell, 199, Edwards/RE-33.964; 17. John Heydenreich, 90, Heydenreich-33.980; 18. Shane Cottle, 5, Baldwin-34.015; 19. Bud Kaeding, 29, BK-34.076; 20. Bobby East, 6, Klatt-34.115; 21. Chris Urish, 77, Urish-34.170; 22. Justin Carver, 991, Edwards/RE-34.261; 23. Kody Swanson, 19, Team 6R-34.345; 24. Mike Hess, 163, Aqualini-34.349; 25. Tanner Swanson, 23, Team 6R/TK-34.418; 26. Rob Chaney, 97, SC-34.443; 27. Coleman Gulick, 114, Gulick-34.509; 28. Bryan Clauson, 22, Stewart/Curb Agajanian-34.544; 29. Davey Ray, 141, Fatt Fro-34.575; 30. Murray Erickson, 8, Guardian-34.711; 31. Mike Martin, 116, Racing Associates-34.948; 32. Derek Hagar, 91, Hagar-35.231; 33. Rex Norris III, 08, Norris-35.429; 34. Von McGee, 65, Hartenstine-35.750; 35. Randy Bateman, 55, Bateman-NT; 36. Donnie Beechler, 14, McQuinn-NT.
FEATURE: (100 laps) 1. Shane Hmiel, 2. Bud Kaeding, 3. Jerry Coons Jr., 4. Kody Swanson (#23), 5. Dave Darland, 6. A.J. Fike, 7. John Heydenreich, 8. Tracy Hines, 9. Shane Cottle, 10. Brian Tyler, 11. Levi Jones, 12. Bryan Clauson, 13. Coleman Gulick, 14. Todd Kane, 15. Randy Bateman, 16. Derek Hagar, 17. Chris Urish, 18. Mike Martin, 19. Justin Carver, 20. Zach Daum, 21. Rex Norris III, 22. Russ Gamester, 23. Shane Hollingsworth, 24. Von McGee, 25. Aaron Pierce, 26. Jeff Swindell, 27. Rob Chaney, 28. Mike Hess, 29. Murray Erickson, 30. Davey Ray, 31. Brad Kuhn, 32. Bobby East, 33. Tom Capie, 34. Donnie Beechler, 35. Jon Stanbrough. NT
—————————–
**East flipped on lap 10 of the feature.
FEATURE LAP LEADERS: Laps 1-4 Jones, laps 5-51 Hmiel, Laps 52-54 Hollingsworth, Laps 55-76 Gamester, Laps 77-100 Hmiel.
NEW SILVER CROWN POINTS: 1-Kaeding-171; 2-Coons-153; 3-Fike-150; 4-K.Swanson-133; 5-Hmiel-131; 6-Jones-122; 7-Tyler-111; 8-Hines-102; 9-Hagar-91; 10-Clauson-87.
NEXT SILVER CROWN RACE: July 8 – Schererville, IN – Illiana Motor Speedway