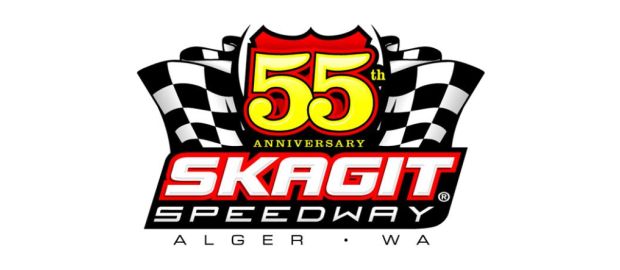 By Kaleb Hart
Eric Fisher and Evan Funk won their second main events of the year at ASA member track Skagit Speedway during the running of the John Carroll Classic presented by IRI. In the Associated Asphalt 410 division, Fisher took advantage of a Josh Edson miscue to take the lead and the eventual win. Following the initial start, Fisher ran down Edson then blasted underneath him in turn three when Edson jumped the cushion to take the lead. Fisher held on to take the victory in his Fisher Racing #59 Rocket despite running out of fuel on the last lap. Colton Heath was second in the Dri-Eaz #13c XXX. Mitch Olson took third in the PMI Truck Bodies #98m KPC. Heat wins went to Fisher and Brock Lemley. Barry Martinez set quick time.
Evan Funk was a rim riding machine en route to his second win of the year in the Budweiser 360 division. Race leader Devin Madonia was running the bottom of the track, trying to hold off the hard charging Funk until Evan blasted around the high side of turn two to secure the lead and eventual win in the Performance RC #8r Rocket. Jared Peterson finished second in the Speedmart #9p Rocket. Kelsey Carpenter was third in the Dri-Eaz #27c XXX. Heat wins went to Funk and Madonia. Peterson was quick time.
Bill Rude finally got the monkey off his back, securing his first career win at Skagit Speedway in the Cook Road Shell Sportsman Sprints. Rude led from the outset and held the point for all 20 laps in his Dri-Eaz #33 XXX. Marc Schutte was second in the Blumenhagen #72 XXX. Luke Didiuk finished a career best third in the Aquabus #8a Rocket. Heat wins went to Matt VanDerSys, Cale Brooke and Didiuk.
The Pull A Part Outlaw Hornet main was a wild affair as Freddie Vela took the lead on lap 16 and held on to win his first race of 2010. The lead position was not an enviable one, as early race leader Wade Swatzina blew a motor while out in front, and mid race leader Ken Higby got a mechanical black flag when he lost his muffler at the completion of the 15th lap. On the following restart, Vela picked his way through Ben Gunderson and Tyler Ketchum to secure the lead and the win.
Join us next week at Skagit Speedway as the road to Dirt Cup kicks off. Gates open at 530p with racing to follow. For ticket information, log on to www.skagitspeedway.com
Budweiser 360 Sprints
Fast Time – Jared Peterson
Heat 1 – Evan Funk, Danielle Huson, Peterson, Kelsey Carpenter, Mack Brown, Matt Van Der Sys, Steve James
Heat 2 – Devin Madonia, Alan Munn, Danny Kirkpatrick, Rod Perkins, Randy Price, Jonathan Jorgenson, Tyler Anderson
Main – Evan Funk, Peterson, Carpenter, Madonia, Brown, Kirkpatrick, VanDerSys, Perkins, Munn, James, Anderson, Huson, Price, Jorgenson
Lap Leaders – Huson 1-3 Madonia 4-6 Funk 7-25
Cook Road Shell Sportsman Sprints
Heat 1 – Matt VanDerSys, Dave Mead, Bill Rude, Devin Barnes, Glen Reinstra, Eric Thibert, Steve Parker
Heat 2 – Cale Brooke, Curtis Clark, Brian Kirkpatrick, Cory Swatzina, Victoria Cantu, Curtis Clark, Michael Ballinger
Heat 3 – Luke Didiuk, Rob Schroder, Dylan Dunham, James Bundy, Nick Dunham, Clayton Sibley
Main – Bill Rude, Schutte, Didiuk, Schroder, Mead, D Dunham, Clark, Bundy, Cantu, Brooke, Barnes, Thibert, Swatzina, Parker, N Dunham, Reinstra, Kirkpatrick, Ballinger, VanDerSys
Lap Leaders – Rude 1-20
Associated Asphalt 410 Sprints
Fast Time – Barry Martinez
Heat 1 – Eric Fisher, Josh Dewitt, Martinez, Jesse Whitney, Mitch Olson, JJ Hickle, Trey Starks, Kevin Smith, Danny Kirkpatrick
Heat 2 – Brock Lemley, Josh Edson, Jayme Barnes, Colton Heath, Michael Harris, Alec Covert, Jason Bloodgood, Cam Smith, Travis Jacobson
Main – Eric Fisher, Heath, Olson, Lemley, Edson, Whitney, Jacobson, Dewitt, C Smith, Starks, K Smith, Martinez, Barnes, Hickle, Harris, Covert, Bloodgood
Lap Leaders – Edson 1-7 Fisher 8-25
Pull A Part Outlaw Hornets
Heat 1 – Ben Gunderson, Wade Swatzina, Brigham Mirabelli, Tina Thibert, John Gunderson, Dasa Lupardus, Howard Vos
Heat 2 – Freddie Vela, Ken Higby, Tyler Ketchum, Jon Edwards, Ashley Lewellen, Rick Young, TJ Campbell, Matt Powers, Ron Stavig
Main – Freddy Vela, B Gunderson, Ketchum, Lewellen, Young, J Gunderson, Thibert, Mirabelli, Lupardus, Higby, Edwards, Powers, Campbell, Swatzina
Lap Leaders – Thibert 1-2 Swatzina 3-4 Higby 5-15 Vela 16-20