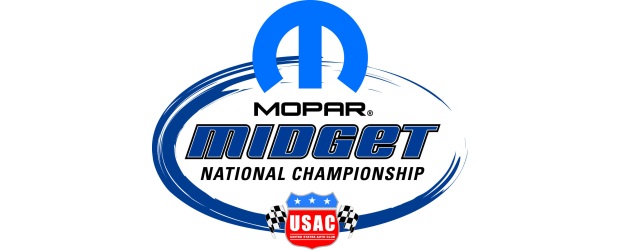 By Dick Jordan
The inaugural "Kevin Doty Classic" unfolds Friday at Tri-City Speedway in Pontoon Beach, Ill. and the event will feature the best of the USAC Mopar National, USAC/SMRS Graet Plains and POWRi Midget Series. The 2010 USAC/SMRS series continues Saturday at 24 Raceway in Moberly, Mo.
Brad Kuhn of Avon, Ind. and Brad Loyet of Sunset Hills, Mo. are the defending series champions entering this week's races. Loyet is currently atop the USAC/SMRS and POWRi standings, while Bryan Clauson is the current leader in the USAC Mopar National Midget points.
Friday's race salutes the memory of the late Milan, Ill. driver (Doty) who won 1984 and 1985 MARA and Skoal Dash championships, the 1994 BMARA title, 47 BMARA victories, five Pepsi Midget Nationals, the 1994 Hut Hundred and Belleville Midget Nationals, and seven USAC Sprint races. Doty met an untimely death in August of 2005.
Clauson holds a 21-point lead over Sweet in the latest Mopar National standings, while Loyet's USAC/SMRS lead over Matt Sherrell stands at 94 points.
Jerry Coons Jr., seventh in the 2010 USAC Mopar National points, could be among favorites at Pontoon Beach. He won the 2008 DuPont Gold Crown Midget Nationals there and a victory Friday would put his team, Wilke-Pak Racers of Milwaukee, Wisc., on top of the all-time USAC National feature victory list with 134 total wins.
USAC MOPAR NATIONAL MIDGET SERIES POINT STANDINGS
1-Bryan Clauson-399, 2-Brad Sweet-378, 3-Darren Hagen-369, 4-Bobby East-368, 5-Tracy Hines-367, 6-Dave Darland-342, 7-Jerry Coons Jr.-307, 8-Brad Kuhn-295, 9-Henry Clarke-248, 10-Zach Daum-232.
USAC/SMRS GREAT PLAINS MIDGET SERIES POINT STANDINGS
1-Brad Loyet-554, 2-Matt Sherrell-460, 3-Chet Gehrke-450, 4-Rusty Dukes-408, 5-Matt Johnson-376, 6-Ryan Cole-350, 7-Will Pierce-294, 8-Cody Brewer-256, 9-Don Droud Jr.-252, 10-Zach Daum-242.