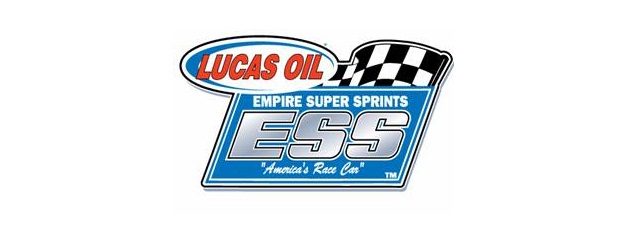 From Dean Reynolds
SYRACUSE, NY – After a weekend off the stars and cars from the Lucas Oil Empire Super Sprints (ESS) are ready to get back in gear for another Northwood 2 Construction/LaSalle Motorsports event this Friday night, June 18th. The site and place is the Autodrome Edelweiss Speedway just north of Canada's capital Ottawa for a $2,000 to win A-Main sponsored by Engine Research.
With the added backing and travel tow money to all teams, the Engine Research A-Main also, pays $1,200 for second, $1,000 for third with a hefty $375 just to take the green. If you happen to miss qualifying for the A-Main you will receive at least $125 on the night. This purse will also be duplicated on Fri., Aug. 13th when ESS returns to Edelweiss, the night before the Quebec Sprint Car Nationals.
With three full events in on the 2010 season, the "Cobra" Chuck Hebing is on top of the point standings. He currently leads a pair of two-time champions Steve Poirier and Lance Yonge with defending champion Justin Barger right behind the leading trio. Other ESS stars looking to be on hand will be Dan Kaszubinski, Michael Parent, Jeff Cook, Anthony Cain, Tommy Wickham, Kevin Ward Jr. and many more. Several local stars will have the fans interest such as Brian McDonald, Chris Jones, Lee Ladouceur, Tyler Rand, Normand Beaudreault, Daniel Lampron, Dale Gosselin, Paul Pekkonen and Sylvain Erickson.
Car Mate Custom built trailers will bring you the heats, Grampa's Garage Appraisals is sponsoring the Cobra Coaches Dash event with Engine Research have the title sponsorship of the 25 lap finale.
For the latest up to date results, you can log on to www.empiresupersprints.com and view our live Twitter box. Or join us on Twitter @ESSprints.com
Autodrome Edelweiss Speedway, 1/3rd mile, fast, tacky and filled with fans…It's the Northwood 2 Construction/LaSalle Motorsports Canadian Sprint Car Series for the Lucas Oil Empire Super Sprints! It will be excitement guaranteed!!
Past Empire Super Sprint Winners at Autodrome Edelweiss Speedway
July 14, 1990
Mal Lane
June 8, 1991
Jeff Thomas
Aug. 3, 1991
Mal Lane
June 20, 1992
Tom Taber
Aug. 1, 1992
Mike Lauterborn
June 19, 1993
Roger Horvath
July 31, 1993
Mike Woodring
July 25, 1997
Mike Woodring
July 24, 1998
Lance Yonge
July 10, 1999
Mike VanDusen
July 20, 2001
Steve Dow
July 19, 2002
Ryan Coniam
July 18, 2003
Mike Lutz
July 16, 2004
Nick Fratto
July 15, 2005
Doug Norrie
July 14, 2006
Lance Yonge
Aug. 18, 2006
Jason Barney
July 13, 2007
Jeff Cook
Sept. 21, 2007
Bubby Kerrick
Aug. 15, 2008
Lee Ladouceur
Sept. 19, 2008
Steve Poirier
June 12, 2009
Tommy Wickham
July 17, 2009
Steve Poirier