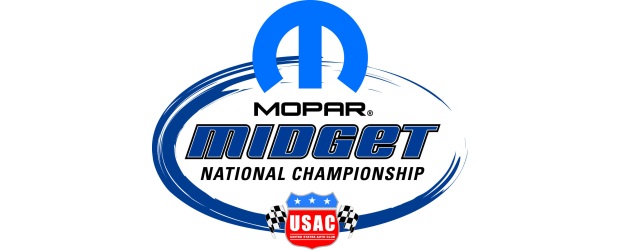 From Dick Jordan
It's been 37 years, but the USAC Mopar National Midget Series returns to 34 Raceway in Burlington, Iowa this Saturday for a "doubleheader" racing program also featuring the USAC AMSOIL National Sprint cars.
Tommy Astone won the last USAC Midget race at Burlington in 1973. Bryan Clauson of Noblesville, Ind. will lead this year's contingent into Burlington with a 62-point lead over Tracy Hines in the latest series points.
Hines, of New Castle, Ind., and Brad Kuhn of Avon, Ind. are the 2010 co-champions of USAC's Indiana Midget Week. Kuhn won Sunday night's 30-lap race at the Kokomo Speedway and tied Hines with 284 points to share the championship. Kuhn led all 30 laps in his Rotondo Weirich/Champion Brands Beast/Fontana to beat Brad Sweet, Bryan Clauson, Darren Hagen and Hines to the checkered flag.
Hines led all but the first two laps of Saturday night's 30-lapper at the Lawrenceburg Speedway in his Parker Machinery/Turbines, Inc. Spike/Toyota. Clauson finished second ahead of Jerry Coons Jr., Brad Loyet and Dave Darland. Sweet flipped on lap two of the feature but was uninjured. Brent Beauchamp flipped during qualifying and was taken to a local hospital for examination.
Shane Cottle of Kokomo, Ind. won Friday night's 30-lap USAC Mopar National Midget race at the Bloomington Speedway. His piloted the Lucas Oil Products/John Stewart Motorsports Beast/Chevy. Hines led the first four laps and finished second. Clauson finished third ahead of Sweet and Steve Buckwalter. Six drivers flipped during the feature but there were no driver injuries.
Sweet, of Grass Valley, Calif., led the last 12 laps to win Thursday night's 30-lap Indiana Midget Week feature at Lincoln Park Speedway in his Kasey Kahne Racing/Mike Curb Ollie's Bargain Outlet/Auto Value Spike/Speedway Mopar. Sweet trailed Hagen for 18 laps, then took over and beat Shane Cottle to the checkered flag. Hagen finished third, followed by Kuhn and Buckwalter.
Buckwalter, of Royersford, Pa., the current ARDC Midget Series point leader, won Wednesday night's 2010 "Indiana Midget Week" opener at Gas City I-69 Speedway, officially leading all 30 laps in his Buckwalter's Roofing/VRP Shocks Elite/Chevy. Sweet finished second ahead of Kuhn, Bobby East and fast qualifier Clauson. Thomas Meseraull had originally led laps 1-4 and finished second but his car failed to pass post-race technical inspection and was disqualified.
The Indiana Midget Week races were "special events" on the 2010 USAC/SMRS Great Plains Midget calendar. The USAC/SMRS series resumes August 1 at Osborn, Neb.
USAC MOPAR NATIONAL MIDGET SERIES POINT STANDINGS
1-Bryan Clauson-677, 2-Tracy Hines-615, 3-Brad Sweet-595, 4-Brad Kuhn-582, 5-Bobby East-579, 6-Dave Darland-546, 7-Darren Hagen-542, 8-Jerry Coons Jr.-541, 9-Zach Daum-395, 10-Henry Clarke-386.
FINAL USAC "INDIANA MIDGET WEEK" POINT STANDINGS
1-Tracy Hines & Brad Kuhn-284 each; 3-Brad Sweet-282, 4-Bryan Clauson-271, 5-Steve Buckwalter-246, 6-Jerry Coons Jr.-216, 7-Darren Hagen-205, 8-Dave Darland-183, 9-Bobby East-178, 10-Brad Loyet-177.