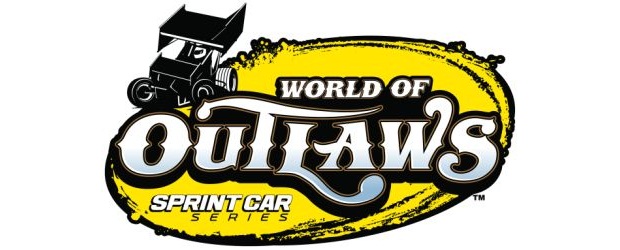 By Tony Veneziano
Brainerd, MN—July 2, 2010— Winning any World of Outlaws race is special, and picking up a victory in an inaugural event adds even more prestige as a driver's name will be etched in the history books as the first-ever victor at a particular track. Kraig Kinser accomplished that feat at North Central Speedway in Brainerd, Minnesota in 2008 as the World of Outlaws made their debut at the high-banked 1/3-mile.
Kinser and the rest of the World of Outlaws will return to North Central Speedway this weekend on Saturday, July 3 to help celebrate the Independence Day Weekend with a full night of racing. The event will be one of two for the World of Outlaws in the state of Minnesota this season. The younger Kinser has five career Top-10 finishes in the Land of 10,000 Lakes, with four of those being Top-Five performances.
"Any track that you've had success at you like to get back to, because you know you can run well there," said Kinser. "If you have everything working right, there is no reason why you can't run good there again."
Kinser heads to North Central Speedway with two finishes of seventh or better in his last three races. He ran fifth at Lakeside Speedway in Kansas last Saturday night and was seventh on Thursday night at Huset's Speedway in South Dakota. The third generation driver is just 14 points out of the Top-10 in the World of Outlaws Championship standings on the strength of 15 Top-10 finishes with three of those being Top-Five performances.
"Everyone is pretty close right now," noted the third generation driver when asked about the level of competition with the World of Outlaws. "A couple of guys have good streaks going. Anyone has a chance. There are a lot of great cars out here right now and a lot of tough competition. It's definitely going to be a dogfight when we get there on Saturday."
Kinser has had a number of strong run cut short by bad luck this year, as he and his team continue to feel each other out and mesh in his first year back driving for his father Steve's team aboard the Quaker State Maxim. He had a great deal of success driving for his dad earlier in his career, claiming eight overall World of Outlaws wins and the 2005 Kevin Gobrecht Rookie of the Year Award.
"I think things are coming around, though every time I say that though it usually doesn't keep the momentum going," he stated. "We'll just keep our head down and keep working hard at it to keep competitive every night. It's definitely a work in progress and we are learning a lot as we go as well."
Kinser is paired this season with rookie crew chief Mike Kuemper, who will be his future brother-in-law. The team added 20-year old Joey McCarthy to the mix a little earlier this season, in addition to having Kraig's sister Stevie helping turn the wrenches. With all three being in their 20's, they are one of the youngest if not the youngest team on the circuit, competing against many drivers and crews that have been racing longer than they have been alive.
"We're all young and about the same age and work well together," he said with a smile when asked about his crew. "There isn't an age different so we all get along and have fun out there and that's what it's all about."
On the night he won at North Central Speedway, Kinser won a heat race to earn a spot in the dash, where he finished fourth to earn a second row starting spot in the main event. He was running second near the halfway point of the race when leader Joey Saldana broke, putting him in the top spot, with Lucas Wolfe and his father Steve behind him on the restart. Just prior to that caution, Kinser had gotten around Wolfe after the pair had a spirited battle for a number of laps for the second spot. Kraig led the final 15 laps to pick up the win over Wolfe, who led seven laps and his father wound up third.
"We raced with Lucas (Wolfe) up there and that was pretty enjoyable," noted the native of Bloomington, Indiana. "I like racing with Lucas, he's a great guy. With my dad finishing third, I didn't get to race with him too much that race. It's always fun when you get to race close and hard with people you have a lot of respect for."
On Saturday, July 3 at North Central Speedway, general admission tickets will be $30 for adults in advance and $35 the day of the race, with general admission tickets for children ages 6-12 $15, while kids five-under admitted free of charge in the general admission section. Adult reserved tickets will be $33 in advance and $35 the day of the race, with reserved tickets for children ages 12-under $15 in advance and $15 the day of the race. Pit combos are also available for advance purchase only for $38, which includes a reserved ticket and a pit pass. For tickets call SLS Promotions at 815-344-2023 or the track at 913-299-2040.
The World of Outlaws Sprint Car Series is brought to fans across the country by many important sponsors and partners, including: Armor All (Official Car Care Products), Chizmark & Larson Insurance , Goodyear Tires (Official Tire), SuperClean (Official Cleaner-Degreaser), VP Racing (Official Racing Fuel); in addition to contingency sponsors, Jake's Custom Golf Carts, KSE Race Products, Penske Shocks , R2C Performance, Racing Electronics, S&S Volvo; Engine Builder's Challenge participants Don Ott Racing Engines, Kistler Engines, Shaver Specialties and Speedway Engines; and Chassis Builder's Challenge participants J&J Auto Racing, Maxim Racing and XXX Race Company.