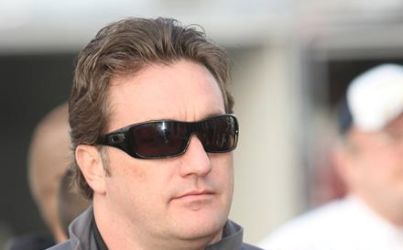 By Bill W
July 6, 2010 – Terry McCarl has had better summers, but things are turning around for him, and he was able to get to a familiar place last weekend…the driver's seat! When the going gets tough…the tough get going! It had been a long wait, and despite being rusty, he drove to a pair of podium finishes in his first weekend back. The first came at the Sue Thiel Memorial in Wisconsin on Friday, and the second at Knoxville Raceway on Saturday.
TMAC put together a ride with the help of friend Lynton Jeffrey, and spent the wee hours of Friday morning preparing for the race in Beaver Dam, Wisconsin. "It had been so long, being a racecar driver, you wonder if you can do it," he shares. "Confidence is such a big thing, and you start to doubt yourself when you are let go while injured. We were getting into a different car (Eagle chassis), which made it more difficult too."
The event at the Dodge County Speedway was important to TMAC. "Everyone pitched in, Lynton Jeffrey's crew, and my crew," he says. "I really wanted to go to the Sue Thiel Memorial. Dan Thiel and his daughter are great people who I got to meet last year. Whether I was racing or not, I was going to be there. I just can't thank Lynton Jeffrey enough for what he did for us letting me drive his car. He is a great friend, and the last three weeks, I've really learned a lot about those things."
The return marked the Altoona, Iowa driver's first event since April 10. He would qualify tenth and run second in his heat. "The motor wasn't quite right, and with the different car, things were off a bit," says TMAC. "Despite that, we had a great time. It was fun. Every time we came in, we had to work on stuff and shoo the mosquitoes off."
Starting twelfth in the main event, TMAC charged to a second place finish. "The motor wouldn't run the best, and I tried to run the bottom," he says. "The motor stumbled a bit, but we made it to second. Scotty Neitzel is a good driver and from that area, but it was good see him win, and also it was good that the fans and the Thiel family had a good show."
TMAC and the team headed back to Des Moines right away to pay respects to a great fan, Judy Wignall. "Ron Wignall's mother Judy passed away unexpectedly (Wednesday), and we were going to do what we had to do to get back for her funeral on Saturday," he says. "Ron has been a great part of my crew for a long time, and his dad, Glenn, has been with Brian Brown for awhile now and with others before. They are good people."
At Knoxville, it was like old times in the pit area for the TMAC Motorsports team. "Gary Isom helps Ryan Roberts now, but they blew a motor on Friday night and couldn't race at Knoxville," says TMAC. "Gary is another example of a good friend and came a long way from Nebraska to help us. Mouse Green, Max Dumesny's chief mechanic helped me fourteen years ago and was back to help. Brandon Ikenberry is working for me full-time again, and Steve Fitzpatrick works as Austin's crew chief. It seems all our crew guys the last five years or so are working for either me or Austin again. We're having a blast with that."
Though he used Jeffrey's trailer to tow to Wisconsin, the car was on a flatbed on Saturday at Knoxville. That made for two talented veteran drivers with the same situation, and both ran in the top three. "We're really back to square one and it has taught me again to appreciate what I have," says TMAC. "I really am having a lot of fun right now. I think Wayne Johnson and I are fighting for the flatbed racing team championship right now. I love what Wayne's doing, I'm proud of him, and I'm in the same boat. It goes to show, the trailer doesn't win many races."
On the track, TMAC came out late and registered the third fastest time trial of the night. Despite running strong in the heat, he was disqualified as his tire was not stamped by Knoxville officials. "The motor is not where we want it to be, but we ended up third quick," he says. "We used the tire we used all night at the IRA show on Friday in the heat, but it wasn't stamped by the officials at Knoxville. That was our fault, and actually I wasn't sure of that rule beforehand. A rule is a rule though."
The track stayed fast all night, and tested the biceps tendon that is still on the mend. "I'm still working on the strength in my arm," says TMAC. "The track wasn't real conducive to passing, and not the track I wanted to see the first time back at Knoxville. We did well, and I felt good in the car."
Starting 16th, TMAC would charge to third. A late bid for second was included. "I'm a little rusty, and probably made some mistakes," he says. "I'm proud of starting 16th and running third on a bit of a no passing track. We got both cars (Austin's too) back to the trailers in one piece and we had a good time."
This weekend, a return to Knoxville for Twin Features night is planned, along with the first action of the year at the Huset's Speedway in South Dakota on Sunday.
Front Row Challenge/Ultimate Challenge
The 15th Annual Front Row Challenge and the 9th Annual Ultimate Challenge will be held Monday and Tuesday, August 9 and 10, 2010 at the Southern Iowa Speedway in Oskaloosa, Iowa. Order your seats NOW by calling McTwo Promotions, Inc. at 515 957-0020. Visit www.OskyChallenges.com for further details.
Websites for the McCarl Gang!
Driverwebsites.com has developed websites for the McCarl boys. Check out www.TerryMcCarl.com, and check out www.AustinMcCarl.com and www.CarsonMcCarl.com!
In"Terry"gation
Mike Russell asks: What are the advantages to owning your race team again?
TMAC Answers: With an owner, we probably would have been catching heat this weekend for running second and third. We are content, and I had a lot of fun last weekend. We can pay the tire bill, and we'll move forward. We are still looking for a good ride though; don't forget that!
Got a question for TMAC? Send it to us at sprntcar@iowatelecom.net, and we may answer it in this section! Put "? for TMAC" in your subject line.
This Week in TMAC History!
On this week in 2001, TMAC won during NCRA Speedweek at the Salina Highbanks in Salina, Kansas. He drove the TMAC Motorsports #24 to victory over Donnie Crawford, Gary Wright, Wayne Johnson and Shane Stewart, and collected $4,000.
Website Updates
Keep up to date with McCarl Motorsports at www.TerryMcCarl.com. We keep it fresh for TMAC fans!
"Tuesdays with TMAC"!
"Tuesdays with TMAC" is an up close and personal look at colorful sprint car veteran Terry McCarl. To receive "Tuesdays with TMAC", send an e-mail to sprntcar@iowatelecom.net with "TMAC" in the subject line.
TMAC Motorsports would like to thank sponsors Deanfield Farms, AmeriCashAdvance.com, DeBerg Concrete, and Rossie Feed and Grain.