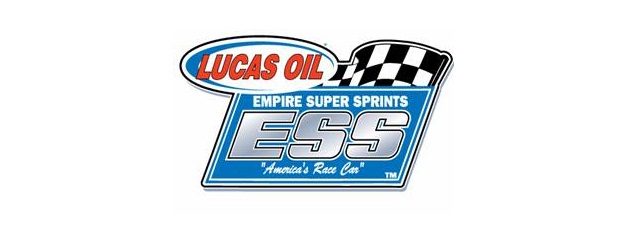 By Dean Reynolds
It's been since Mother's Day 2005 that the Lucas Oil Empire Super Sprints (ESS) have held a full point event at DIRTcar's flagship speedway, that will all change on July 11th .The Cayuga County Fair Speedway (CCFS) is the Sunday night home for the DIRTcar big blocks and the Weedsport facility is the actual home of DIRTcar.
Cory Reed is back at the helm as General Manager and he's bringing the exciting 3/8ths mile oval to the elite status that it held during the its heyday. All the major names in big block racing will battle it out week in and week out here and the crowds have been coming back in solid numbers to watch the action.
Racing began at the Weedsport oval back in 1955 but it's when Glenn Donnelly purchased the track in 1971 where modifieds began their climb in popularity here in the Northeast and Canada. The history of Donnelly is known by any racing enthusiast from coast to coast. In 2004 Donnelly sold his pride and joy but the racing tradition continues.
Not only does the ESS visit in July bring the 28 year old tour back to one of its stomping grounds it also closes the annual Cayuga County Fair. In just 4 more days the biggest weekend of 2010 kicks into gear as it's the second annual All-Star Weekend where a driver could go home with over $20,000. The winged warriors will be back on Fri., Oct. 8th as a part of Super Dirt Week with the 360 sprint car challenge that pays $3,000 and ESS is proud to be a part of that also.
ESS drivers of local interest will be Dan Kaszubinski, Tommy Wickham, Shayne Ely, Shawn Donath, Zach Weigand and Doug Emery.
The high banked, d-shaped oval provides many different grooves and the sprints can travel the 3/8ths with blistering speeds.
For more information on the Lucas Oil Empire Super Sprints please visit us back here at www.empiresupersprints.com
ESS Facts – Cayuga County:
ESS Events Run: 24
Different Winners: 22
Most Wins: Gordy Button and Mal Lane (2)
Last Event Run: 5/8/05
Most Recent Winner: Ray Preston
Cayuga County Facts:
Location: Exit 40 off I-90, located right on the Cayuga County Fairgrounds
ESS Date(s): July 11th and Oct. 8th
General Manager: Cory Reed
Track Phone: (315) 834-6606
Website: www.cayugacountyfairspeedway.com
Sites of Interest:
DIRTcar Hall of Fame and Classic Car Museum on the Fairgrounds.
City of Syracuse and the New York State Fairgrounds 20 min. away
The picturesque Finger Lakes and Wine Tours around the area.
The Lucas Oil Empire Super Sprints are brought to you by: Lucas Oil, Northwood 2 Construction/LaSalle Motorsports, SUNY Canton, 730 Truck Stop, Hoosier Racing Tires, Les Constructions Ultra, Cooks Contracting Services, Fondations 4 Saisons, Car Mate Trailers, The National Parts Peddler Newspaper, WestFront Construction, Cobra Coaches, The Ohsweken Speedway, Mohawk Racing Parts, Engine Research, Brodix Cylinder Heads, Total Race Supply, Riverside Bar and Grill, Coffrage Daniel Lampron, Mohawk Valley Community College, FX Chevy and many, many associate sponsors.