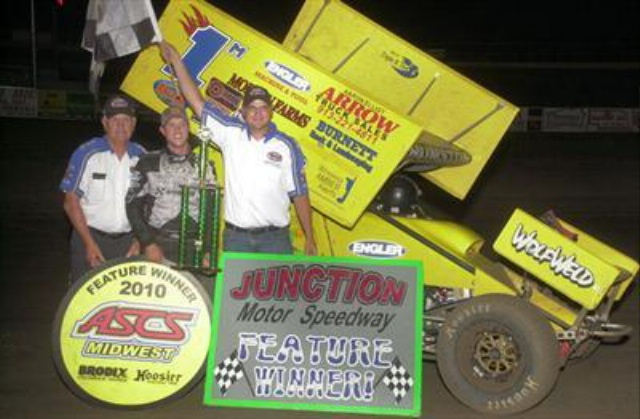 NEWTON (July 7, 2010) – When it's your hometown track you want nothing more that to prove your love for it, in no other way than a win, of course! When we left you last week the team was firing up for a three day weekend, oddly enough "fire" was just the half of it.
This holiday weekend had Mark Burch Motorsports and Chad Humston Racing making fireworks of their own.
Thursday night landed the Mark Burch Motorsports Chad Humston Racing team at their hometown track of Junction Motor Speedway in McCool Junction, Nebraska, for a night of victory, marking their third victory in the 2010 season. "It was some tough luck for Jack Dover as he lost his motor mid race, giving me the lead. I was really looking forward to battling with Dover for the win, but I'll sure take the wins however I get them." Chad had to say of his victory. "A special thank you to Ryan Roberts and crew for supplying me with enough tear offs to get me through twenty five laps! I came to the track very unprepared for the mud that was soon to follow."
The team made their way to the I-80 Speedway at Raceway Park in Greenwood, Nebraska for Friday night's events. The night ended in a gratifying third place finish for Chad and the Engler Machine and Tool #1M. "The feature started off shaky and we went backward pretty quick, but when the track finally came to our setup, I was able to make it back to my initial starting position of third. We were pleased." Chad said of the night.
It was back to the infamous half mile at Knoxville Raceway in Knoxville, Iowa for Saturday's twin feature night. "Mark and Marvin worked their butts off all weekend and I knew that it was up to me to bring them home a win." Chad said. The #1M started the night with the second fastest car in qualifying, laying down a personal lap record of 16.051. With only a narrow track to work with, Chad took the high side in his heat; picking cars off as he made his way to the checkers. The #1M finished the heat race in third, gaining him a front row starting position and another feature win for feature number one. "Walking the track before the feature was like déjà vu for me. Turn the clock back ten years when Don Droud Jr. was piloting our 410 car and set a 12 lap track record and we took the same approach for this race. Seems that my gut instincts were right and Chad drove to a convincing victory." Owner Mark Burch said.
"The guys gave me a perfect car. I wish it was like that very week!" Chad said of his victory.
Results from earlier in the night and an invert had Chad placed in the eighteenth starting position in feature number two. With so much impatience in the air, it was up to Chad to find his patience before he could make his move. "On the start there were cars everywhere! It was only smart of me to let everyone find their groove before I could start making my move." With eight laps to go a red flag showed its face, giving Chad enough time to take in some pointers from fellow driver, Terry McCarl. "I knew it was my time to make a move and I knew exactly how I was going to do it." Chad said. Chad and the Engler Machine and Tool #1M crossed the finish line with a very respectable sixth place, passing twelve cars to get there. "I'm going to go out on a limb here and say that this was Chad's most impressive performance of the season. Chad is like a sponge and just soaks up everything that he hears and sees. When you have guys like Wolfgang, Lasoski and McCarl giving you pointers, you better pay attention." Owner Mark Burch said of Chad's successful evening. "I just have to say thank you again to Marvin Brees, who week in and week out continues to be the heart and soul of our team." Chad had to say.
On Saturday you can catch Mark Burch Motorsports and Chad Humston Racing back at Knoxville Raceway in Knoxville, Iowa as they compete for the Knoxville Cup Championship. On Sunday the team will make their way back to the west, stopping at Boone County Raceway in Albion, Nebraska for an American Sprint Car Series (ASCS) Midwest event.
Online
To keep up with Mark Burch Motorsports, check them out online at http://www.markburchmotorsports.com/!
You can also follow Chad, of Chad Humston Racing, by checking him out online at http://www.chadhumston.com/!
For weekly updates on Mark Burch Motorsports, join our mailing list by emailing "MB Motorsports" to kzcommunications@rocketmail.com.
Partner of the Week: WolfWeld
Doug Wolfgang – WolfWeld chassis. Having Doug Wolfgang's vast experience and knowledge is what makes his chassis worth every penny. If you ever heard the saying, "you get what you pay for" that is the case with Doug. Doug taught me how to race, which I don't think any other chassis builder could do for me. We have been running Wolfweld cars since 1995. I would say that no one knows his cars better than me and I would never want anything else. Doug has basically built us the exact same car for the last five or six years now. We have won on rough and heavy tracks, slick and rough tracks and dry slick tracks as well. Our setups are very consistent and I think that results speak for themselves. The car that we have developed is the exact same package that Terry McCarl won the King of the 360's with back in 2006. With us running a limited schedule and having various drivers in the past there was just no reason to make any changes. Now that Chad has been with us for almost two years, we have really been able to fine tune our setups to keep him comfortable. The consistency that we have from car to car is perfect due to Doug's premier quality and craftsmanship. I personally believe that our long term relationship with Wolfweld gives us an advantage that no other team will be able to capture.
Mark Burch Motorsports
The mission of Mark Burch Motorsports is to be an innovator in the unrefined business of Sprint Car racing on dirt, while representing our sponsors and manufacturers in a professional and positive manner both on and off the track. It is our goal to develop and improve our winning spirit and carry on our winning tradition by utilizing the growth of close personal relationships throughout our organization. This pursuit of excellence is the fuel that feeds the fire of our souls.
Engler Machine and Tool, Inc.
Engler Machine was started in 1980 by Tim Engler. His main line of business at that time was plastic injection molds. Over the years he has diversified very widely leaning more towards "high performance products". He now builds fuel injection systems, custom made pulling chassis, gears, shafts, specialty CNC products, racing engines and some custom machining.
Tim has been involved in tractor pulling and holds 13 national titles in that sport, he no longer pulls himself but, has been influential to the success of many other pullers through his advice and building capabilities. He races winged sprint cars when time allows this is something he truly likes and wishes he had more time to do.
Currently, Tim and his staff have been developing a new mini-sprint fuel injection system. There are a handful of these units currently being dyno and track tested with great results. Look for full production of these units this summer. Please call 812-386-6254 for more information. (www.englermachine.com)
Aaron Elliott – Arrow Truck Sales – Kansas City, MO.
Arrow Truck Sales, Inc. began operations in 1950 from a small used truck lot in downtown Kansas City, Missouri. From the initial start-up, the company has followed the principle of providing high-quality, pre-owned vehicles to customers who want to maximize the value of money. Arrow has always followed a policy of honesty and full disclosure. We place high value on the reputation we've built throughout the North American trucking industry. Our pledge: We are not going to jeopardize our reputation for the sake of avoiding a little work or for a short-term profit based on misleading practices. Unlike some of our competitors, we carry a wide selection of all makes and models. With over 2,000 trucks in inventory, we can find the right truck to fit your needs. And since our inventory changes daily, we are always looking to buy quality, pre-owned units as well. So when you have a single unit or a fleet to dispose of, call us. With branches located throughout the United States and Canada, we are always close by. Quality, value and selection – Arrow Truck Sales, Inc. is your best source of pre-owned medium and heavy duty trucks in North America. The Volvo Group is one of the world's leading manufacturers of trucks, buses and construction equipment, drive systems for marine and industrial applications, aerospace components and services, and is one of the world's leading producers of heavy-diesel engines (9-16 liter). The Group also provides complete solutions for financing and service. The Volvo Group, which employs about 96,000 people, has production facilities in 19 countries and sells their products in more than 180 markets. Volvo Group sales for 2009 amounted to approx. 29 BUSD. The Volvo Group is a publicly-held company headquartered in Gothenburg, Sweden. Volvo Shares are listed on Nasdaq OMX Nordic Exchange and are traded OTC in the US. Call 800-311-7144 for more information about Arrow Truck Sales, or download the brochure. (http://www.arrowtruck.com/docs/locations.details.aspx?branch=KC aelliott@arrowtruck.com)
WolfWeld Chassis
WolfWeld racing chassis and custom welding, located in Tea, South Dakota. Contact Doug Wolfgang at 605-368-9955 for more information.
Whitetail Paradise
Whitetail Paradise Outfitters offers a one of kind hunting experience. They are nestled along the scenic Pine Creek, near Long Pine, Nebraska. Whitetail Paradise Outfitters is an all inclusive outfitter offering rifle, archery and black powered hunting. They specialize in Turkey hunts, Whitetail or Mule deer hunts, Goose hunts, predator hunts and also offer seasonal trout fishing and seasonal Wing hunts as well. Your hunt pricing includes lodging, food, RV hookups, a scent free gear storage unit and trout fishing! For more information please contact Bruce Rossman at 402-340-6255 or visit the website at http://whitetailparadisellc.com/
Triple R Tire
For all of your Farm, Truck and Automotive tire needs contact: Bruce Rossman at 402-925-5633. Triple R Tire, 47641 Us Highway 20, Atkinson, NE 68713.
S&S Welding, Inc
Since 1980, S & S Welding, Inc. had been an industry leader in manufacturing the finest custom built motorcoaches and trailers. Our distinct and innovative designs provide image and impact for all of our customers. From our basic tag trailers to out most elaborate motorcoach and trailer combinations, our quality continues to prove our dedication to each customer. (http://www.ssweldinginc.com/)
Vortex Racing Products
Vortex Racing Products is the industry leader in Sprint Car Wing design. From humble beginnings in 1995 where we began producing wings for our own use we quickly became engaged in producing wings for other race teams. Inspired by a life-long background in racecar design and manufacturing from our Dad, we (Paul and Lynton) continued to evolve into a company known for producing a product a little different from the rest. This ability to manufacture a Wing that is unique in design is what has been our success. With the use of our own race teams in Australia and America, we continually push the boundaries of design with an extensive testing program of our products each and every year. It is with our understanding of chassis design and manufacturing that we are able to communicate with our clients and tailor a wing package that best suits their driver, team and make of chassis. We call this," The Vortex Advantage". (http://www.vortexracingproducts.com.au/)
Mark Burch Motorsports would like to thank the following product sponsors; Schoenfeld Headers (http://www.schoenfeldheaders.com/); Total Seal Piston Rings (http://www.totalseal.com/); Manton Push Rods (http://www.mantonpushrods.com/); Ultra Lite Brake Components (http://www.reddevilbrakes.com/page/page/890208.htm); Pro Shocks (http://www.proshocks.com/); Dyers Top Rods (http://www.dyersrods.com/); King Racing Products (http://www.kingracingproducts.com/King_Racing_Web_Site/Index.html); Speedway Motors (http://www.speedwaymotors.com/); Weld Racing (http://www.weldracing.com/); Hoosier Tire (http://www.hoosiertire.com/); Harris Decals (http://www.harrisdecals.com/); Eckley Racing Engines (http://www.eckleyracingengines.com/); Rage Fuel Systems (http://www.ragefuelsystems.com/); Electomotive Engine Controls (http://www.electromotive-inc.com/); Huggins Cams (); Wireless Amber Alerts (https://www.wirelessamberalerts.org/index.jsp); National Rod Ends; Wulff Pumps (http://www.wulffpumps.com/); Shaver Wesmar Gear Drives (http://www.wesmarracing.com/components_sw.htm); CV Products (http://www.cvproducts.com/Default.aspx); and Saldana Racing Products(http://www.saldanaracingproducts.com/)