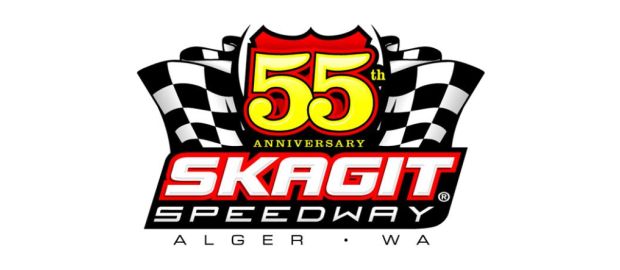 From Kaleb Hart
An extremely packed house saw Jayme Barnes take his second main event win of the year at ASA member track Skagit Speedway in the Associated Asphalt 410 Sprints on mid season championship night presented by Les Schwab. Jesse Whitney took the lead at the outset with Barnes quickly making his way to second. As the race progressed, Barnes closed slowly on Whitney, looking for his opportunity to strike. That opportunity came in turn three of the 17th lap, where Whitney opened the door down low and Barnes dove down, executing a picture perfect slider to take the point. From there, it was off to the races for Jayme who won for the second time this year in the LAW Motorsports #33 XXX. Whitney finished second in the Rocky's Plumbing #88 Eagle. Eric Fisher took the Fisher Racing #59 XXX to third. Whitney won the scramble, which was comprised of the top eight cars in season points. All cars outside the top eight timed in, and Barry Martinez set quick time out of that group.
30+ year Skagit Speedway veteran Alan Munn visited victory lane once again in the Budweiser 360 Sprints. Evan Funk was absolutely checked out up front when disaster struck on lap 22. Funk got caught up in a slower car. The wreck put Funk on his lid, ending his night. Munn inherited the lead and knew exactly what to do with it, as he led the rest of the way for the win in the Munn Construction #42 XXX. "It was a bit like the tortoise and the hare tonight…I was the tortoise putting around the bottom. I just waited for all the hares to put themselves out and it worked out!" said the happy victor in winner's circle. Mack Brown was second in the Birch Equipment #96 XXX. Kelsey Carpenter was third in the Dri Eaz #27c XXX. Danielle Huson was quick time. Munn won the scramble.
Matt VanDerSys won his division leading fifth main event of the year in the Cook Road Shell Sportsman Sprints. VanDerSys led from the outset and paced the field for all twenty laps in his Timber Trax #30 XXX. Bill Rude was second in the Dri Eaz #33 XXX. Cale Brooke finished third in the Marty Hopkins Contracting #4b Rocket. Rude won the scramble.
It was another barn burner of a race in the Pull A Part Outlaw Hornets. Rick Young led the first 15 laps with Ben Gunderson, Freddie Vela and Tyler Ketchum on him like flies on manure. On lap 16, Gunderson managed to power underneath him and slip into the lead. Young gave Ben one more run but couldn't make it happen, as Gunderson took home his third win of the season. Young finished second with Ketchum taking third. Gunderson won the scramble.
After racing completed, the near capacity crowd enjoyed the Les Schwab Fireworks Extravaganza! Skagit Speedway wishes to thank our corporate sponsors Les Schwab, Foothills Toyota and Goodyear for their support on mid-season championship night. There will be no racing at Skagit Speedway this weekend in honor of Deming Speedway's Clay Cup Nationals. However, make plans to join us Sunday July 18th for the first annual Skagit Music Festival featuring Gran Funk Railroad and Jamie O'Neal. Ticket information is available online at www.skagitspeedway.com
Budweiser 360 Sprints
Fast Time – Danielle Huson
Scramble – Alan Munn, Evan Funk, Kelsey Carpenter, Mack Brown, Rod Perkins, Devin Madonia, Steve James, Bud Ashe
Main – Alan Munn, Brown, Carpenter, Jared Peterson, Madonia, Huson, Perkins, Ashe, James, Jonathan Jorgenson, Tyler Anderson, Funk, Danny Kirkpatrick
Lap Leaders – Funk 1-21 Munn 22-25
Cook Road Shell Sportsman Sprints
Scramble – Bill Rude, Matt VanDerSys, Cale Brooke, Steve Parker, Marc Schutte, Rob Schroder, Dave Mead, Cory Swatzina
Main – Matt VanDerSys, Rude, Brooke, Parker, Schutte, Dylan Dunham, Curtis Clark, Schroder, Clayton Sibley, James Bundy, Michael Hodel, Paul Burdick, Justin Youngquist, Devin Barnes, Glen Reinstra, Swatzina
Lap Leaders – VanDerSys 1-20
Pull A Part Outlaw Hornets
Scramble – Ben Gunderson, Rick Young, Tyler Ketchum, Freddie Vela, Ashley Lewellen, Tina Thibert, Ken Higby
Main – Ben Gunderson, Young, Ketchum, Vela, James Bundy, Wade Swatzina, Lewellen, Kenny Harris, Tony Massio, Jon Edwards, Thibert, James Sanford, Tyler Arp, John Gunderson, Adam Holtrop, TJ Campbell, Tyler West, Howard Vos, Matt Ploeg, Stacy Day, Steve Canfield, Jerry Birdsey Jr
Lap Leaders – Young 1-15 B Gunderson 16-17
Associated Asphalt 410 Sprints
Fast Time – Barry Martinez
Scramble – Jesse Whitney, Eric Fisher, Jayme Barnes, Travis Jacobson, Colton Heath, Josh Edson, Kevin Smith, Cam Smith
Main – Jayme Barnes, Whitney, Fisher, Jacobson, Martinez, Logan Forler, Heath, K Smith, Jason Bloodgood, C Smith, Alan Munn, Alec Covert
Lap Leaders – Whitney 1-16 Barnes 17-25