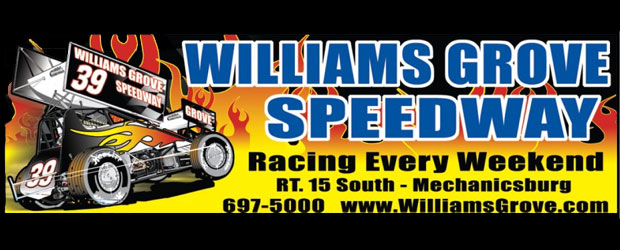 From Williams Grove Speedway
MECHANICSB URG, PA — Daryn Pittman and Brian Montieth split the twin 20-lap features for sprint cars Friday night at Williams Grove Speedway. Stevie Smith started on the pole in the first feature and set the early pace. Pittman started fourth and drove by Greg Hodnett and Rick Lafferty to move into second place on the first lap. Smith was still leading at the halfway point with Pittman and Hodnett in hot pursuit. When Smith was slowed by a lapped car on lap eleven, Pittman made his move. He shot to the inside to take the lead and Hodnett followed him past Smith. Although Hodnett was able to stay within striking distance, Pittman held on to win by a .75 margin. It was his eighth career victory at Williams Grove. Hodnett was second with S. Smith third, Mark Smith fourth and Brian Leppo fifth. Brian Montieth, Alan Krimes, Donnie Kreitz, Brent Marks and Rick Lafferty finished in positions six through ten respectively. In the second feature an eight-car inversion had Kreitz and Krimes on the front row. Krimes took the lead at the start and began to drive away from the field. Krimes appeared to be headed for his first career victory at the Grove until Montieth entered the picture. After starting third Montieth took second place from Leppo on lap 14, then began to close on the leader. Montieth slid in front of Krimes exiting turn four on lap sixteen and went on to win by a scant .48 margin. It was his fourth win of the season and the eighth of his career at the Grove. Krimes, Kreitz, Hodnett and Pittman followed Montieth across the line. Lance Dewease, Leppo, S. Smith, Marks and M. Smith completed the top ten. Pittman set fast time over the 30-car field with a lap of 16.814 seconds. Qualifying races were won by Marks and Mike Erdley. Ben Murphy and D. J. Montgomery won the sidewinder races.
Williams Grove Speedway Feature Finishes – August 20, 2010
First Sprint Feature – 20 laps – 1. Daryn Pittman, 2. Greg Hodnett, 3. Stevie Smith, 4. Mark Smith, 5. Brian Leppo, 6. Brian Montieth, 7. Alan Krimes, 8. Donnie Kreitz, 9. Brent Marks, 10. Rick Lafferty, 11. Lance Dewease, 12. Mike Erdley, 13. Chad Layton, 14. Todd Shaffer, 15. Fred Rahmer, 16. Steve Buckwalter, 17. Justin Henderson, 18.. Jim Siegel, 19. Danny Dietrich, 20. Gerard McIntyre, 21. Derek Sell, 22. Chris Meleason, 23. Mark Coldren, 24. Tyler Walker.
Second Sprint Feature – 20 laps – 1. Montieth, 2. Krimes, 3. Kreitz, 4. Hodnett, 5. Pittman, 6. Dewease, 7.Leppo, 8. S. Smith, 9. Marks, 10, M. Smith, 11. Lafferty, 12. Erdley, 13. McIntyre, 14. Dietrich, 15. Layton, 16. Buckwalter, 17. Henderson, 18. Siegel, 19. Trevor Lewis, 20. Sell, 21. Shaffer, 22. Rahmer, 23. Coldren, 24. Meleason. DNQ: Cory Haas, Keith Kauffman, Troy Fraker, Todd Zinn, Aaron Ott.