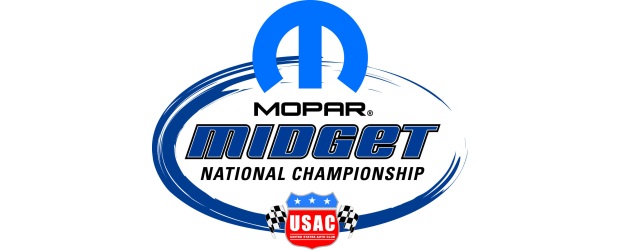 From Dick Jordan
The Hawk – Darren Hagen of Riverside, Calif. – walked off with $18,000 in prize money after his spectacular victory in Saturday night's 50-lap USAC Mopar National and POWRi "Gold Crown Midget Nationals" at the Tri-City Speedway in Pontoon Beach, Calif.
Hagen earned $15.000 for Saturday's win and $1,500 each for victories Thursday and Friday in his RFMS Racing Liberty Village/McGladrey & Pullen Spike/Esslinger Ford. Saturday night's victory was absolutely sensational as he trailed the leaders for 48 laps, then got by Brad Kuhn on lap 49 and led the last two laps for the classic win.
In a race where the lead changed hands more times than the fans could count, Hagen, Kuhn, Bryan Clauson and Steve Buckwalter all took turns leading. Kuhn led the first 14 laps but Buckwalter went to the front for the next 12. Unfortunately Buckwalter's engine expired on lap 27 while he was leading. That put Kuhn back in front for 13 more laps before Clauson powered in front for laps 40 and 41. Kuhn regained the lead on lap 42 but fell victim to Hagen's winning move on the white-flag lap! Kuhn finished second ahead of Clauson, Jerry Coons Jr. and Bobby East in what will go into the record books as one of the most competitive Midget races in history!
Hagen won Thursday's 25-lap preliminary feature, leading all 25 laps. Clauson finished second ahead of East, Coons and Chris Windom.
Hagen came from 14th starting position to win Friday's 25-lapper over Coons, who led the first 14 laps. Clauson took third ahead of Davey Ray and Buckwalter.
Four races on the west coast conclude the 2010 USAC Mopar National Midget series, beginning with a November 13 race at the Tiulare (Calif.) Thunderbowl Raceway.
USAC MOPAR NATIONAL MIDGET SERIES POINT STANDINGS
1-Bryan Clauson-1,440, 2-Jerry Coons Jr.-1,342, 3-Darren Hagen-1,318, 4-Tracy Hines-1,317, 5-Brad Kuhn-1,298, 6-Dave Darland-1,153, 7-Bobby East-870, 8-Brad Sweet-860, 9-Brad Loyet-767, 10-Zach Daum-767.