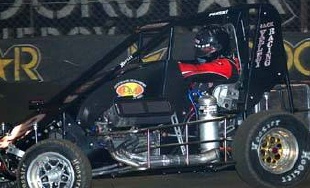 By Bill W
January 19, 2011 – For all intents and purposes, Wayne Johnson's Chili Bowl experience ended on his qualifying night when he was squeezed into the backstretch wall in the feature event on Friday night. He was unable to climb from Saturday's D main and made a quick exit having not felt well all day. He continues to seek a sprint car ride for the 2011 season.
Wayne piloted the Jack Yeley Racing #2J midget at the Tulsa Expo Center, and was extremely appreciative of the opportunity. "First of all, I have to give thanks to Jack Yeley and Joe Dooling (Dooling Machine) for giving me one of the best cars I've ever driven at the Chili Bowl," he says. "Coming right out of the box, the thing drove really nice."
The Knoxville, Iowa driver won from the pole in Friday's heat race to start things off right. "I always say I'd rather be lucky than good, and drawing the pole definitely helped," says Wayne. "Lately, track position at the Chili Bowl has meant a lot more than it used to."
The point total put Wayne inside of row two for his qualifier. "We were able to get a good run there, and get out front in a couple of laps," he says of his cruise to victory. "We kind of set sail from there. We didn't change the car at all from the heat to the qualifier, but it seemed like we were a lot faster in the qualifier. Part of that was me getting more comfortable in the car, and charging the corners harder."
Having accumulated as many points as possible, Wayne would line up inside row three for the preliminary feature. "I was happy with the way things were feeling, so we didn't change much," he says of the preparations. "We had the four-corner adjustable shocks, so if there were adjustments, I could make them on the fly as the air pressure and fuel load changed."
Early on, things were looking good as Wayne had a great run on the bottom. "We shouldn't have fell back to sixth or seventh anyway," he says of his position when he ran into trouble. "On the green flag, we really were rolling well. I felt like we were coming for the leaders and we were third. I missed the bottom in three and four about three laps in a row, and ended up getting passed by a couple of cars."
That changed the strategy. "I abandoned the bottom and headed for the top. I was 'free' up there too, and I was trying to maintain until we had a caution and I could make some adjustments."
The caution came, and Wayne went to work on adjusting the shocks. "On the restart, there was a lapped car and then Jason Leffler and myself," he says. "They threw the green and Jason went to the bottom. I got a big run on the outside, and I was feeling great. I drove around the outside of him in two, and he slid up and we banged wheels. That sent me into the fence and we crashed."
Although some saw the incident as dirty, Wayne saw differently. "It was one of those racing deals. (Leffler) came and apologized, but I told him no one was to blame. That stuff happens at the Chili Bowl. I had run into Mike Goodman in practice on Monday. When Jack asked me why, I said, 'Aren't we practicing for the Chili Bowl? You need to do that if you're going to get a real practice in here.' That's what you get at the Chili Bowl. I probably should have let up a bit, but I thought I had the room."
Still, the incident was disappointing, and Saturday's time on the track was short. Wayne was credited with a fourteenth place finish in the D. "I don't know that we had a top three car, but definitely top five," he says. "That would have set us up right on Saturday. As it was, we were in the D. I know we've come from further back, but we probably tried some things we shouldn't have done, and the track was different than I've ever seen it. The car was tight, and we spun out late."
Wayne is still looking for a permanent home in a sprint car. If you would like to inquire about a partnership with Wayne, you can e-mail him at waynejohnsonracing@yahoo.com.
Big Sale on T-Shirts!
Wayne Johnson Racing has a variety of 2010 apparel and it is ALL on sale! $10 for t-shirts, hats, women and kids' shirts and more! E-mail WayneJohnsonRacing@yahoo.com to place your order!
Buy Your Outlaw Wings from Wayne
Wayne is an Outlaw Wings dealer located in the Knoxville, Iowa area. Wayne credits the new Outlaw top wing for his 2009 wins at Little Rock and Cowtown. Contact Wayne for your Outlaw Wing, as he has some special Holiday deals going! Outlaw Wings – "When Downforce Matters"!
Wayne's Website
To learn more about Wayne and the team, log on to www.WayneJohnsonRacing.com!
Wayne's World
Chris Denton asks: What impact do you think the new weight limit (1400 pounds) will have on 410's nationwide?
Wayne answers: Hopefully, it will add some safety to the cars. Especially in the area of the legs. That's what I would hope for. I really don't think it will change much though. I think we've all been floating around that area anyway. When you scale at Knoxville, they're writing those numbers down, so they know what's going on. It will hurt a guy like Cody Darrah, and help a bigger guy. Guys like Cody may have to add some weight. We're spot on where we need to be already.
Got a question for Wayne? Each week, Wayne will answer your questions about "Tech Tips", or anything that's on your mind. If you ever wondered what a part on a sprint car is all about, send an e-mail to us at sprntcar@iowatelecom.net, and we may answer it in this section! Put "? for Wayne" in your subject line. He'll try to keep it clean if you do!
Wayne's Fast Facts
Wayne was fourth in World of Outlaws Gumout points in 2002, driving the Fred & Jo Threatt #29. In 21 A mains with Gumout, he posted two wins, nine top fives and 14 top ten (67%) finishes. His wins came at Auto Tire & Parts Race Park in Benton, Missouri, where he topped Jason Sides, Tyler Walker, Craig Keel and Jerrod Hull, and at Wilmot (WI) Raceway where he crossed in front of Joe Roe, Sides, Shane Stewart and Keel.
"Wednesday's with Wayne"
"Wednesday's With Wayne" is an up close look at the past, present and future of colorful and talented sprint car driver Wayne Johnson. You'll never know what to expect next with Wayne, so don't miss us on Wednesdays!
To receive "Wednesday's with Wayne", send an e-mail to sprntcar@iowatelecom.net with "Wayne" in the subject line.
Wayne would like to thank the following for making this possible: E-Rate Complete, Iroquois Poker, Townline Variety, Ohsweken Speedway, Brett Smith Motorsports, FattFro Motorsports, The Oil Medics, Outlaw Wings, Stone Mountain, Butlerbuilt, Hoosier, Schoenfeld Headers and Cooper Racing Enterprises.