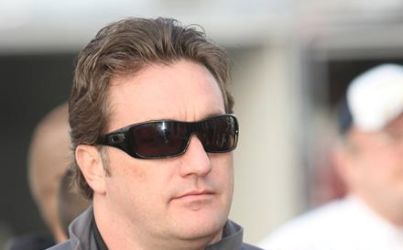 By Bill W
February 22, 2011 – East Bay Raceway Park near Tampa, Florida has always been kind to Terry McCarl, and last weekend was no different, as the Altoona, Iowa driver finished in the top five all three nights. The high point was a second place in Saturday's finale of the Ronald Laney Memorial King of the 360's. The TMAC Motorsports #24 team will put the 410 back in the frame rails for some World of Outlaws action this weekend in Mississippi and Texas.
TMAC is no stranger to victory lane at the 3/8 mile Florida oval, and Thursday saw him pull off a fifth place run after starting eighth. Friday's second prelim saw him finish third. "East Bay is one of my favorite tracks in the country," he says. "It always has been, and we've done well there. We've got a lot of top threes at that track."
After locking himself into Saturday's $10,000 to win finale, TMAC was runner-up following friend Daryn Pittman in the 40-lap non-stop feature event. "I'm disappointed we couldn't pull off the win, but if we lost to anyone…it makes it a bit easier that it was my good friend Daryn Pittman," he says. "That doesn't drive me quite as crazy as someone else I guess. We just wanted our name on that t-shirt."
Though he was disappointed in the $4,000 second place finish, it was a good test for TMAC who is on the comeback trail. "We did our best," he says. "I just haven't raced enough in the last year to be honest. I've never sat out that amount of time. It kills your confidence just sitting around. There is a really fine line there between the good guys and the mediocre guys when you are talking about confidence in the racecar. We were able to get better every night out, and that was the important thing. I feel really good about how things are headed."
TMAC suffered two injuries in 2010, including a torn bicep tendon, and then a severely broken tibia and fibia that were followed by compartmental bleeding. After Saturday, he feels things are back where they should be. "I was a bit worried about my physical capabilities coming into Florida, but the last night at East Bay was a great test," he says. "We went forty laps non-stop and I never got tired. That was a great feeling."
As with all his trips to Florida, he has no shortage of friends and supporters. "That makes it really fun to come down here and do well," says TMAC of his relationships. "Randy Burnett with Burnett's Rock & Landscaping has been a sponsor of ours for about twelve years. Morgan Strawberry Farms has been with us for about ten years, and this year of course, we picked up Hungry Howie's Pizza, BubbaQue's, Frubob Fruit Floats and Kazbor's Grille. I can't thank the Kazbor family enough for sponsoring us for this Speedweek deal and I'm hoping they will stick with us in the future. They are very smart businessmen, and I think we can do a lot for them."
Others were also there to lend a helping hand. "It was great to have the Berryhill's of AmericashAdvance.com down here to watch their son, Aaron, and also us. Bob and Beulah Elder are also great supporters, and it's always great to catch up with them as well. Bulldog Pest Control was also on board."
This Friday, the team tows west to Pike County Raceway in Magnolia, Mississippi. "I really like that place," says TMAC. "I've run well there. We've had a few mechanical things go wrong, but it seems we are always fast there."
Saturday will see the WoO series move on to Royal Purple Raceway in Baytown, Texas. "TnT Custom Golf Carts will be on board with us at Baytown," says TMAC. "Those guys are a lot of fun, sometimes almost too much fun…and they really do a lot for the sport."
Florida Appearances Tonight and Wednesday!
TMAC will be showing the TMAC Motorsports #24 today at BubbaQue's in Brandon, Florida from Noon to 2 p.m. They'll also be at Kazbor's Grille in Riverview, Florida tomorrow night (Wednesday) from 4 p.m. to 7 p.m.
Hungry Howie's Pizza
Excellent product, superior customer service and the marketing savvy to compete with the big pizza chains has propelled Hungry Howie's Pizza from a single-store operation to 500 stores nationwide. To find the locations in Florida, visit www.FloridaHungryHowies.com!
BubbaQue's
At BubbaQue's, you can eat out, or cater in. Visit one of their eight Florida locations. Find them on the web at www.BubbaQuesBBQ.com!
Frubob Fruit Floats
This year an estimated 1.45 billion Fruit Floats will quench the world's thirst for something unique. And now it's America's turn to "Shake It Up!" Simply put, Frubob is the only 100% natural Fruit Float with real pieces of fruit bobbing in real fruit juice, each piece waiting to release a natural burst of flavor for a taste unlike anything else. Visit Frubob on the web at www.FrubobUSA.com!
Websites for the McCarl Gang!
Driverwebsites.com develops the websites for the McCarl boys. Check out www.TerryMcCarl.com, as well as www.AustinMcCarl.com and www.CarsonMcCarl.com!
In"Terry"gation
Kelly Chadwick asks: Should 33-gallon tanks be mandatory?
TMAC Answers: We need to all get back running the 33-gallon tanks. We shouldn't have red flag fuel stops. It's terrible for the fans and for us. Fans need to understand that we don't want them either. But none of these guys is going to put a big tank on if the next guy doesn't.
Got a question for TMAC? Send it to us at sprntcar@iowatelecom.net, and we may answer it in this section! Put "? for TMAC" in your subject line.
This Month In TMAC History!
TMAC conquered the East Bay Winter Nationals on February 4, 2006 copping $10,000. He made a move with seven laps to go on race-long leader Chad Kemenah. He added a $5,000 bonus for winning two of the three 360 and 410 features at East Bay that season. Track owners Al Varnadore and Todd Hutto heaved TMAC in the lake in celebration. He took them in with him in retaliation. Behind Kemenah's second place finish came Danny Lasoski, Greg Hodnett and Jason Sides.
"Tuesdays with TMAC"!
"Tuesdays with TMAC" is an up close and personal look at colorful sprint car veteran Terry McCarl. To receive "Tuesdays with TMAC", send an e-mail to sprntcar@iowatelecom.net with "TMAC" in the subject line.
TMAC Motorsports would like to thank sponsors Deanfield Farms, Eagle Chassis, DeBerg Concrete, AmeriCashAdvance.com, RFG, Phil and Vivian, Mark Burch Motorsports, Ryan Yager Trucking, Vortex Racing, Hoosier Tire, Schoenfeld Headers, K&N Filters, Don Ott Engines, HRP, All Pro Cylinder Heads, Bob and Beulah Elder, Country Builders Construction, Engler Injection, T&P Brothers, Winters, DriverWebsites.com, CM Rock, Jocko's Sprint Parts, Sander, Brown and Miller, Morris Automotive, Chase Graphics, Pro Shocks, Mac Tools, Ben Cook, Bell Helmets, Burnettt's Rock and Landscaping, Morgan Strawberry Farms, Bulldog Pest Control, Aurora Rod Ends, Crow Safety, Justice Brothers, KSE Steering, CIP Racing Hoods, Strange Performance, Saldana Racing Products, Scribner Plastics, Waterman Fuel Pumps, Weiland Racing, Butlerbuilt, PBS Bushings.