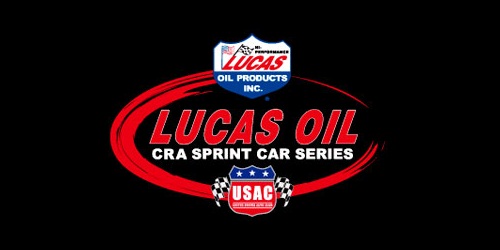 By Lance Jennings
SANTA MARIA, CA – MARCH 23, 2011… Officials with the Amsoil USAC/CRA Sprint Car Series have announced rule changes that are user friendly for local 360 Sprint Car teams to compete. This move is to encourage a higher car count and a larger fan base at all events featuring the USAC/CRA Sprint Cars.
The Amsoil USAC/CRA Sprint Car Series does not have an entry fee and drivers are recommended to have a head and neck restraint system. A Hans-type device is not mandatory, only recommended.
Local 360 iron-block powered Sprint Cars can run their local approved tires in USAC/CRA competition. The aluminum block 410 powered cars must run a Hoosier DT3 right rear tire.
Local 360 Sprint Cars must pass a USAC/CRA tech inspection to compete.
USAC/CRA mandates a 95db at 100 feet muffler rule at their events in accordance with California State Fairgrounds rules. Unless otherwise posted, 95db at 100 feet is the rule and "Knoxville" type mufflers are not legal. If the racetrack deems that a competitor is too loud, racers must be prepared to change to a quieter muffler- no questions asked.
One-way radios are mandatory for drivers at USAC/CRA events. Series officials have radios available for loan at no charge, but recommend that teams purchase radios in advance.
USAC/CRA uses transponders to aid in scoring. Transponders are loaned out by series officials at no charge and will be in use this Saturday, March 26th, at Victorville Raceway Park.
This Saturday, March 26th, the Amsoil USAC/CRA Sprint Car Series will make their series debut at Steve Querico's Victorville Raceway Park. Joining the traditional USAC 410s will be the 360 Senior Sprints and the "Raging Inferno" Jet Fire Show. The pit gates will open at 1:00pm and spectator gates will open at 4:30pm. Racing at the "Place to Race" will begin at 6:00pm and for more event information, please visit www.victorvilleracewaypark.com.
Victorville Raceway Park is located on the San Bernardino Fairgrounds in Victorville, California. Advance tickets and information can be found online at www.victorvilleracewaypark.com. Adult General Admission tickets are $17, Kids tickets (5-12) are $8, and Children 5 and under are FREE. Race Day Tickets at the front gate will be $20 for Adults, Kids tickets (5-12) are $8, and Children 5 and under are FREE.
NOTICE TO RACERS: The pit gate will open for competitors at 1:00pm. Pit passes for USAC members will be $40 and $50 for non-members. Each pit pass will include a FREE meal at the Racer Hospitality Concessions. Racers will have a choice of a hot dog or pizza, chips, drink, and desert (candy or pie). So-Cal Performance will be on hand with tires and parts, and fuel will be available at the race track. USAC/CRA is mandating a 95db at 100 feet muffler rule and the full USAC/CRA purse is in effect.
The Amsoil USAC/CRA Sprint Car Series would like to thank Hoosier Tire, Circle Track Performance, Competition Suspension Inc., DJ Safety, Donovan Engineering, Electro Tech Powder Coating, Extreme Mufflers, Hilborn Fuel Injection, Huntington Beach Glass & Mirror, Saldana Racing Products, and Sander Engineering for their support. For more information, visit usacracing.com or follow the series on facebook.
——————————————————–
USAC/CRA SPRINT CAR POINT STANDINGS:
1. Mike Spencer 72; 2. Damion Gardner 62; 3. Matt Mitchell 59; 4. Nic Faas 57; 5. Blake Miller 56; 6. David Cardey 53; 7. Danny Sheridan 52; 8. Austin Williams 45; 9. Greg Bragg 43; 10. Greg Alexander 41; 11. Cody Williams 40; 12. Jace VanderWeerd 36; 13. Seth Wilson 34; 14. Richard VanderWeerd 33; 15. David Bezio 30; 16. Stevie Sussex 24; 17. Cal Smith 22; 18. Rodney Argo 21; 19. Rickie Gaunt 19; 20. Gavin Matlock 18.
NEXT USAC/CRA SPRINT CAR RACE:
March 26 – Victorville Raceway Park – Victorville, California