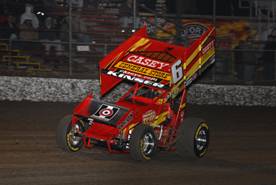 By Parsons Motorsports PR
Granger, IA—April 4, 2011— Sprint Car Racing can be like a box of chocolates in the fact that many times, "You never know what you are going to get." Some nights the feature event will run non-stop in record time, while other nights there will be numerous cautions to contend with. Some nights the track will have multiple grooves while other nights it will have just one, with passing being at a premium. Kraig Kinser experienced a couple of these variables over the weekend as the 2011 California Spring Break Tour wrapped up for the World of Outlaws at Merced Speedway and Calistoga Speedway.
On Saturday night, Kinser returned to Calistoga Speedway in Calistoga for the first time since 2005, as the World of Outlaws returned to the half-mile in the picturesque wine country of the Napa Valley for the first time in four seasons. Kraig timed in 16th which put him in the first heat race. Coming up just one spot short of transferring into the feature, he raced his way into the main event via The Last Chance Showdown.
In the 25-lap feature, Kraig finished 10th, after lining up 16th, using patience while enduring numerous cautions and double file restarts along the way. He rebounded from a trip to the work area with seven laps to go, picking up seven spots in the late going to secure his fourth Top-10 finish of 2011, as he continues his first season aboard the Casey's General Store Maxim for Parsons Motorsports.
The weekend began with the World of Outlaws debut at the ¼-mile Merced Speedway in Merced on Friday night, marking the eighth track in the Golden State that the third generation driver has competed at in his career. Kinser raced his way into the main event through The Last Chance Showdown. In the 40-lap feature, he lined up 21st and finished 19th on a track that was very challenging to pass on.
The completion of the event that had been re-scheduled for Thursday, March 31 at Kings Speedway in Hanford, was postponed again due to wet grounds. Series and track officials are working on a suitable date to complete that event.
Kinser is currently 11th in the World of Outlaws standings on the strength of four Top-10 finishes, 23 markers out of the 10th position.
After a weekend off this week, Kinser and the World of Outlaws return to action on Friday, April 15 at Paducah International Raceway in Kentucky and Saturday, April 16 at I-55 Raceway near St. Louis.
Kraig on the weekend:
"It was good to pick up a Top-10 at Calistoga. I've always enjoyed running there and it was great to see such a big crowd there as well. We were a little off in time trials both nights and that put us behind. We are working hard on our qualifying package and the guys on the Casey's General Store team keep plugging away. It will be good after the weekend off this weekend to begin racing every week and try to get into a good rhythm."
Merced Speedway & Calistoga Results
Date
Time
Trials
Heat
Start
Heat Finish
Dash Start
Dash Finish
Feature Start
Feature Finish
Points
April 1
21st
6th
6th
–
–
21st
19th
11th
April 2
16th
6th
7th
–
–
16th
10th
11th
Kraig Kinser By the Numbers: Merced Speedway & Calistoga Speedway
0.25-Miles around Merced Speedway
0.5-Miles around Calistoga Speedway
1-Career start at Merced Speedway
3- Career Top-10 finishes at Calistoga Speedway
4- Top-10 finishes in 2011 with the World of Outlaws
6-Career starts at Calistoga
8- Tracks competed at in California with the World of Outlaws dating back to 2004
10-Finishing position at Calistoga Speedway
11-Position in points through April 2
11.823-Lap in time trails at Merced Speedway
14.8-Average finishing position at Calistoga
18.170-Lap in time trials at Calistoga Speedway
23-Points out of the Top10 in the World of Outlaws standings
1367-Points earned through April 2
14,650-Dollars earned in 2011 through April 2
Up Next: April 15: Paducah International Raceway, Paducah, KY
April 16: I-55 Raceway, Pevely, MO
VegasCar