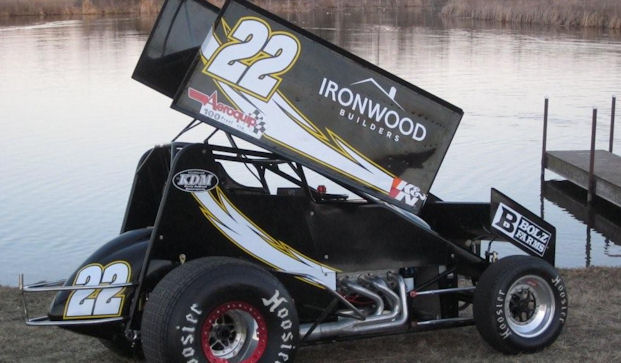 By Bill W
April 5, 2011 – Billy Alley Enterprises is proud to announce that Stepping Stone Genetics will again be a partner with the #22 race team in 2011. The team is fresh off their first event of the season at the 81 Speedway, and is looking forward to getting to I-80 Speedway closer to Billy's Lincoln, Nebraska home. Billy won at I-80 to close out the 2010 season.
Stepping Stone Genetics has been a part of the #22 team since 2009. You can visit their website at www.SteppingStoneGenetics.com. "I really have to thank Jim Pomerenke from Stepping Stone Genetics," says Billy. "I'm really excited to have him with us. He believes in our race team and wants to be a part of it when it rises back to be a threat every night. We couldn't do it without him."
Billy feels fortunate to have a number of great partners as he builds his team back into a contender. "Bolz Farms and Ironwood Builders made Wichita possible, and they'll continue to do that," he says. "I'm just excited to have some great people backing us up. I'm not a master at that side of things, so it's great to have the people we do. We have a fast racecar. We found that out in Wichita."
The off-season stoked the racer's fire to get in his sprinter. "I was just stoked to race, and it was good to get out there and get dirty," says Billy. "It was good to get a race under our belt. I came in from hot laps knowing we had a bad fast racecar. I was really comfortable, and that got me excited for the rest of the night."
The pill draw saw him pull a pill that put him starting dead last in the final heat. To top that, the track had rubbered up. "There was rubber-down hardcore by the time we hit the track with our heat," he says. "I knew on the start, I needed to make something happen. If we were single-file, I'd be screwed. Unfortunately, I had some driver error and lost ground by spinning the tires on the start."
The seventh place heat run put him back in a thirteenth starting spot in the first B main. With the race taking the top five finishers to the main event, Billy knew the task would be tough, but he was up to it. "I never dreamed that we would make the A, because it was lock down rubber," he says of the track surface. "We were able to get a great start and get by about six cars. Luckily, they took five out of the B, and we were able to grab the last spot."
Starting 21st, he would fall out early and officially be scored seventeenth. "We made a few changes and the car went the wrong way," he says. "Even in the rubber, you have to be on top of things, but it is so hard to pass people unless they make a mistake. The track kind of handicaps you."
A open wheel racer's worst enemy caught up with him. "I should have pulled off earlier, but I didn't," says Billy. "Then I ended up hitting a tractor tire. I was worried about some other things with the car, and maybe it was fortunate that I hit it when I did and our night ended."
Billy grabbed the season opener at I-80 Speedway back in 2009, and closed out 2010 with another win there. His success over the years at the high-banked 3/8 mile oval has been evident. With $3,000 to win on the line both Friday and Saturday nights, the competition will be stiff, but the 2006 Knoxville Raceway champion will be ready. "We'll work hard to get better every week," he says confidently. "This week, we'll be a little better than last. I-80 Speedway has been good to us. There should be a lot of great drivers there, so it will be the test this team needs right now."
On the Web
To learn more about Billy Alley, including updated results and photos, visit www.BillyAlley.com!
Billy Alley Gear!
For t-shirts and other apparel, visit www.BillyAlley.com!
Billy's Clip of the Week!
Billy made national TV in 2005!
http://trashcars.net/videos/1360/what-it%27s-like-to-flip-a-sprint-car.html
Down the Alley
George Dugger asks: Does it mean more to you when you win a race in your home state?
Billy answers: No. I like to win anywhere. They've been few and far the last couple years, but we're working towards getting more this year. The only difference is, if I win in Nebraska, I can celebrate at home a lot earlier!
Got a question for Billy? Send it to us at sprntcar@iowatelecom.net, and we may answer it in this section! Put "? for Billy" in your subject line.
Alley's Anecdotes
Billy captured his season finale at the I-80 Speedway last September 24. It was a good way to end the season. Jack Dover was second, followed by Gregg Bakker, Don Droud Jr. and Jason Martin.
Tornado Alley
"Tornado Alley" is an up close look at the past, present and future of 2006 Knoxville Raceway track champion, Billy Alley. To receive "Tornado Alley", send an e-mail to sprntcar@iowatelecom.net with "Alley" in the subject line.
Billy would like to thank Bolz Farms, Schmit Automotive, Manion Framers for Life, Aeroquip Performance Products, K&N Engineering, Stepping Stone Genetics, Ironwood Builders, KDM, Buss Excavating, Harris Decals, Hoosier Tires and Stewart Alley Concrete.