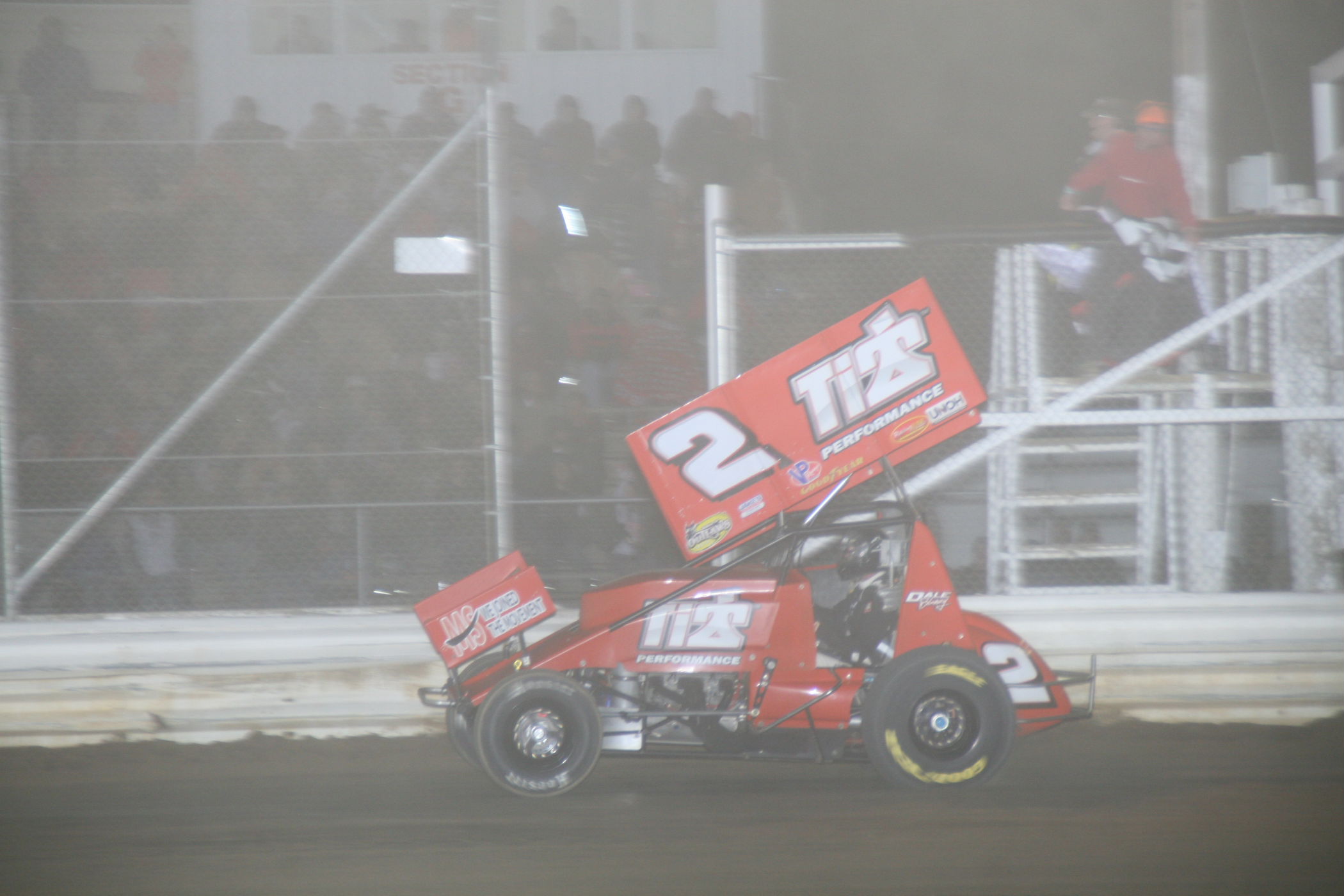 By Brian Liskai

ATTICA, Ohio – There's just something about a long race that brings out the best in Dale Blaney. The Hartford, Ohio driver took the lead on lap 32 of the 40-lap HD Supply Spring Nationals at Attica Raceway Park Saturday and went on to his 77th career victory with the O"Reilly Auto Parts All Star Circuit of Champions.
Blaney dove under 6-time Attica track champion Byron Reed in turns one and two on lap 31 for the lead when Reed caught the cushion in turn two and flipped. On the restart, Blaney had the lapped machine of Jac Haudenschild between him and Paul McMahan, drove away for the victory, the 13th in his career at Attica.
"After last weekend we really struggled but we learned a lot. We came here tonight…it's the same car but it acted totally different. It felt like a normal car…like I could actually race hard again," said Blaney beside his Ti22 backed machine. "George (Fisher, owner) and Troy (Psurny, crew) had the car great. It's been a long time since I won here. To beat these guys is pretty good. I had a really good starting spot so I didn't want to kill my stuff the first 20 laps. I hated to see Byron go by because he's pretty good here. I kind of followed up to the front and I looked at the board and saw there was 20 laps down and I figured I'd better get going. It probably would have been a pretty good race between him and me."
In the Fultz Fabrications and Speed Ship UMP Late Models, Ada, Ohio's Jon Henry held off a last lap charge by Rusty Schlenk to earn his second feature win in a row at Attica. It wasn't easy, as Henry took the checkered by only a half a car length over Schlenk, the 2010 National UMP Champion.
"That was a little close…I was trying to take it easy because I knew dad didn't want me hitting those tractor tires down there. I started to hear something with about two to go and I was like I need to stop taking it easy," said Henry beside his K&N Filters, Wide Open Graphics backed #15. "I thought I would just stay in my line and make him work for it. It's hard when you get out front because you just know how far you can push the race car. I tried to hang around the middle of the race track…I had a really good bite there."
"Two in a row…this is awesome. I can't believe how many fans are here…this is a crazy house. I have to thank my dad and John McClain for all their help," added Henry.
Fremont's Paul Weaver didn't have a ride a month ago. So he and some friends purchased a car and it paid off as Weaver took the Fremont Fence 305 Sprint feature after a race-long battle with Jimmy Colvin. It was Weaver's 25th career victory in the 305 sprints, tying him with Mike Linder for first on the track's all-time win list.
"We got jacked around and had to buy this thing late in the game. But, if we keep winning it will pay off," said Weaver beside his #82 sprinter.
At the drop of the green for the All Star feature, outside front row starter Lucas Wolfe wheeled into the lead with pole-sitter Paul McMahan, Blaney, Reed, Cody Darrah, Cole Duncan and Tim Shaffer in tow. Several early cautions kept the race from developing a rhythm. Jac Haudenschild and Johnny Mackison Jr. would tangle on lap two to bring out the yellow flag. Two more laps – which saw Wolfe pulling away while McMahan, Blaney and Reed waged a great battle for second – and another yellow for a Darrah spin. A lap and another Darrah spin. Two more laps and a David Gravel spin. Again, two more laps and a caution for Duncan.
Then the race would go caution-free the next 21 laps, setting up some exciting battles. Wolfe pull away slightly with McMahan comfortably in second while Blaney and Reed battled for third and Shaffer having his hands full with World of Outlaw point leader Joey Saldana and 2010 Lernerville track champion Danny Holtgraver. By lap 17, McMahan had reeled in Wolfe and the pair raced nose to tail which allowed Reed to close. At the half-way mark the huge crowd was on their feet as Wolfe, McMahan and Reed battled for the lead. A lap later and Reed would drive into second and on lap 22 was side-by-side with Wolfe for the top spot. Reed would execute a slide job in turn one on lap 23 to take the lead.
Meanwhile, McMahan and Blaney were locked in a heated battle for third, with Blaney taking the position on lap 24. Reed would catch the back of the field on lap 26, and Blaney would use that to his advantage to take second from Wolfe on lap 27. With 10 laps to go, Blaney caught Reed with Wolfe, McMahan, Holtgraver and Saldana giving chase. Blaney dove under Reed in turns one and two a lap later, with Reed catching the cushion and flipping.
Now in the lead and a clear track ahead, Blaney set sale following the red flag with McMahan, Wolfe, Holtgraver and Saldana giving chase. Holtgraver would take third on lap 33 moving Wolfe to fourth and Saldana to fifth. Blaney was on cruise control with McMahan comfortably in second but the war for third was a dandy between Holtgraver, Wolfe, Saldana and Shaffer. Saldana took third on lap 36 but could not catch Blaney and McMahan the last four laps. Shaffer and Holtgraver would round out the top five at the finish.
"It's been an up and down season so far for us, so for us to come here and run the entire feature up front gives this team a lot of confidence," said McMahan beside his Roth Motorsports, HR Cattle #83. "Dale and George are so tough on tracks like this and we just didn't have anything for them tonight."
Saldana was upset with his performance, especially in his heat when he spun on the last lap while running in a transfer position, forcing him to run the B-main and a 13th feature starting spot.
"My crew should have loaded it up and told me I was done after I screwed up like that in my heat. We expected a lot better run here tonight. It's a good thing I'm not running for my dad or he would have fired me," said Saldana beside his Kasey Kahne owned, Red Bull backed #9. "It's just a very disappointing night because the driver made a horrible mistake."
At the drop of the green in the 25-lap late model feature, Curtis Roberts took the lead with Ken Hahn, Larry Kingseed, Dusty Moore and Ryan Missler right on his bumper. A quick caution after one lap and the exciting battle up front was back on as Hahn continuously ran to Roberts' inside. Meanwhile, 9th starter Henry found something on the bottom of the track and vaulted into third by lap three. Following a caution for a stalled Ernie Haynes on lap four, Henry used the restart to drive under both Hahn and Roberts for the lead. Henry would pull away slightly while Hahn continued to battle Roberts, Kingseed and Moore for second. A caution on lap nine found the running order Henry, Hahn, Roberts, Kingseed and 14th starter Schlenk. As Henry was comfortably in the lead, a tremendous battle for second was being waged with Hahn, Schlenk, who moved into third on lap 13, Roberts and Kingseed.
Schlenk would drive under Hahn into the runner-up position on lap 14 but it appeared Henry's lead was too big to make up. Meanwhile, Hahn, Roberts, Devin Schiels and Kingseed continued to put on a show for third. With five laps to go, fans began to notice Schlenk closing in on Henry while Hahn retired to the pits with mechanical woes, moving Roberts into third. As Henry raced to the flag stand with three laps remaining, Schlenk was no on his rear bumper. Schlenk tried a slider in turns one and two, but Henry dove back under to hold the lead as they raced to the white flag. Henry would move down to block Schlenk's advance in turns one and two, but Schlenk was able to get a good run in turn three and pulled along side Henry as they blasted to the checkered. Henry would win by a nose with Schlenk, Roberts, Shiels and Moore rounding out the top five.
In the 25-lap 305 sprint feature, Colvin would grab the early lead over rookie Seth Schneider, Weaver, Junior Felver and Jason Keckler. In a race that saw only two cautions, Weaver would move into second on lap 2 and Colvin would use the bottom groove to continuously hold off challenges from Weaver on the high side. Meanwhile, Felver raced comfortably in third while Nate Dussel had worked his way to fourth with Keckler, Schneider, Dustin Dinan and Josh Muntz in tow. Weaver would finally drive around Colvin into the lead on lap 13, but Colvin drove back under in turns one and two to regain the lead a lap later. Just as the pair hit lapped traffic, Weaver used his years of experience as he used a lapped machine as a pick to drive back around Colvin into the lead on lap 16…a lead he would not give up.
The caution flew on lap 17 with the running order Weaver, Colvin, Dussel, Felver, Keckler, Schneider, Dinan and 16th place starter Stuart Brubaker. With a clear track, Weaver was able to pull away slightly from Colvin while Dussel lost the third spot to Felver on lap 19. The final caution would fly on lap 20, giving Colvin one last shot at Weaver. Colvin would try a slide job in turn one on the restart, but Weaver dove back under to maintain the lead. Weaver would take the victory over Colvin, Felver, Dussel, and Brubaker.
Attica Raceway Park will be back in action Friday, April 15 on Underground Utilities/Bazell Race Fuels Night with the UMP late models, 305 sprints and dirt trucks in action.
Go to www.atticaracewaypark.com for more information.
Attica Raceway Park – 4/9/2011
HD Supply Night
O'Reilly Auto Parts All Star Sprints (48 Cars)
Qualifying – Kistler Engines
1. 97-Dean Jacobs, 12.195; 2. 89G-David Gravel, 12.258; 3. 83M-Paul McMahan, 12.281; 4. 5R-Byron Reed, 12.302; 5. 2-Dale Blaney, 12.309; 6. 22-Cole Duncan, 12.322; 7. 91-Cody Darrah, 12.323; 8. 9-Joey Saldana, 12.330; 9. 5W-Lucus Wolfe, 12.350; 10. D4-Danny Holtgraver, 12.351; 11. 83-Tim Shaffer, 12.355; 12. 7K-Kyle Sauder, 12.366; 13. 53-Phil Gressman, 12.387; 14. W20-Greg Wilson, 12.495; 15. 13-Mark Dobmeier, 12.501; 16. 6-Jac Haudenschild, 12.524; 17. 3J-Kevin Lee, 12.541; 18. 16-Bryan Sebetto, 12.604; 19. O9-Craig Mintz, 12.607; 20. 65-Johnny Mackison, 12.611; 21. 49-Brad Sweet, 12.618; 22. O-Chris Andrews, 12.638; 23. 78-Todd Kane, 12.688; 24. 12-Jarred Ridge, 12.711; 25. 45-Rob Chaney, 12.711; 26. 11M-Brandon Martin, 12.728; 27. 2M-Dustin Daggett, 12.763; 28. 60-Jody Keegan, 12.794; 29. 11D-Bryce Dickson, 12.830; 30. 10-Brad Haudenschild, 12.833; 31. 312-Mike Linder, 12.848; 32. 5T-Travis Philo, 12.894; 33. 93-Sheldon Haudenschild, 12.910; 34. 4K-Kody Kinser, 12.915; 35. O4-Cap Henry, 12.921; 36. 51-Brad Bowman, 12.928; 37. 1Z-Jessica Zemken, 12.975; 38. 27-Scott Euler, 13.096; 39. 4-Danny Smith, 13.101; 40. 3-Pete Miller, 13.222; 41. 9Z-Duane Zablocki, 13.267; 42. 11N-Ed Neumeister, 13.272; 43. 15H-Mitch Harble, 13.301; 44. 22K-Mike Keumper, 13.337; 45. 91X-Aaron Middaugh, 13.389; 46. 60C-Cory Crabtree, 13.468; 47. 28-Shawn Valenti, 99.000; 48. 51C-Roger Campbell, nt
Heat 1 – Kear's Speed Shop (10 Laps – Top 5 finishers transfer to the A-feature)
1. 5W-Lucus Wolfe[4] ; 2. 49-Brad Sweet[1] ; 3. 3J-Kevin Lee[2] ; 4. 2-Dale Blaney[5] ; 5. 53-Phil Gressman[3] ; 6. 97-Dean Jacobs[6] ; 7. 11D-Bryce Dickson[8] ; 8. 91X-Aaron Middaugh[12] ; 9. 93-Sheldon Haudenschild[9] ; 10. 9Z-Duane Zablocki[11] ; 11. 45-Rob Chaney[7] ; 12. 1Z-Jessica Zemken[10]
Heat 2 – All Pro Aluminum Heads (10 Laps – Top 5 finishers transfer to the A-feature)
1. W20-Greg Wilson[3] ; 2. 16-Bryan Sebetto[2] ; 3. D4-Danny Holtgraver[4] ; 4. 11M-Brandon Martin[7] ; 5. 22-Cole Duncan[5] ; 6. 10-Brad Haudenschild[8] ; 7. 4K-Kody Kinser[9] ; 8. O-Chris Andrews[1] ; 9. 60C-Cory Crabtree[12] ; 10. 11N-Ed Neumeister[11] ; 11. 27-Scott Euler[10] ; 12. 89G-David Gravel[6]
Heat 3 – MSD Ignitions (10 Laps – Top 5 finishers transfer to the A-feature)
1. O9-Craig Mintz[2] ; 2. 83-Tim Shaffer[4] ; 3. 78-Todd Kane[1] ; 4. 83M-Paul McMahan[6] ; 5. 91-Cody Darrah[5] ; 6. 2M-Dustin Daggett[7] ; 7. 4-Danny Smith[10] ; 8. 13-Mark Dobmeier[3] ; 9. O4-Cap Henry[9] ; 10. 312-Mike Linder[8] ; 11. 28-Shawn Valenti[12] ; 12. 15H-Mitch Harble[11]
Heat 4 – Kinsler Fuel Injection (10 Laps – Top 5 finishers transfer to the A-feature)
1. 6-Jac Haudenschild[3] ; 2. 7K-Kyle Sauder[4] ; 3. 12-Jarred Ridge[1] ; 4. 5R-Byron Reed[6] ; 5. 65-Johnny Mackison[2] ; 6. 5T-Travis Philo[8] ; 7. 60-Jody Keegan[7] ; 8. 51-Brad Bowman[9] ; 9. 3-Pete Miller[10] ; 10. 22K-Mike Keumper[11] ; 11. 9-Joey Saldana[5]
Outerwear's Performance Products Dash – (6 Laps, finishing order determined first 6 starting positions of A-feature
1. 83M-Paul McMahan[2] ; 2. 5W-Lucus Wolfe[4] ; 3. 2-Dale Blaney[6] ; 4. 5R-Byron Reed[3] ; 5. 22-Cole Duncan[1] ; 6. 91-Cody Darrah[5]
C-Main – Computer Man Inc. (10 Laps – Top 2 finishers transfer to the B-feature)
1. 4-Danny Smith[1] ; 2. 11N-Ed Neumeister[4] ; 3. 28-Shawn Valenti[9] ; 4. 91X-Aaron Middaugh[7] ; 5. 22K-Mike Keumper[6] ; 6. 15H-Mitch Harble[5] ; 7. 9Z-Duane Zablocki[3] ; 8. 3-Pete Miller[2] ; 9. 60C-Cory Crabtree[8] ; 10. 51C-Roger Campbell[10]
B-Main – University of Northwestern Ohio (12 Laps – Top 4 finishers transfer to the A-feature)
1. 9-Joey Saldana[3] ; 2. 97-Dean Jacobs[1] ; 3. 2M-Dustin Daggett[7] ; 4. 89G-David Gravel[2] ; 5. 10-Brad Haudenschild[10] ; 6. 5T-Travis Philo[12] ; 7. 4-Danny Smith[19] ; 8. 13-Mark Dobmeier[4] ; 9. 51-Brad Bowman[16] ; 10. 1Z-Jessica Zemken[17] ; 11. 312-Mike Linder[11] ; 12. 93-Sheldon Haudenschild[13] ; 13. 27-Scott Euler[18] ; 14. 11D-Bryce Dickson[9] ; 15. O-Chris Andrews[5] ; 16. 60-Jody Keegan[8] ; 17. O4-Cap Henry[15] ; 18. 4K-Kody Kinser[14] ; 19. 45-Rob Chaney[6] ; 20. 11N-Ed Neumeister[20]
A-Main – (40 Laps)
1. 2-Dale Blaney[3]; 2. 83M-Paul McMahan[1]; 3. 9-Joey Saldana[13]; 4. 83-Tim Shaffer[8]; 5. D4-Danny Holtgraver[7]; 6. 7K-Kyle Sauder[9]; 7. 5W-Lucus Wolfe[2]; 8. 3J-Kevin Lee[16]; 9. W20-Greg Wilson[14]; 10. 2M-Dustin Daggett[24]; 11. 53-Phil Gressman[10]; 12. 22-Cole Duncan[5]; 13. O9-Craig Mintz[18]; 14. 91-Cody Darrah[6]; 15. 16-Bryan Sebetto[17]; 16. 11M-Brandon Martin[23]; 17. 49-Brad Sweet[20]; 18. 12-Jarred Ridge[22]; 19. 6-Jac Haudenschild[15]; 20. 97-Dean Jacobs[11]; 21. 5R-Byron Reed[4]; 22. 78-Todd Kane[21]; 23. 89G-David Gravel[12]; 24. 65-Johnny Mackison[19]
Hard Charger: 2M-Dustin Daggett[+14]
Fultz Fabrication & Speed Shop Late Models (27 Cars)
[#]-Starting Position
Heat 1 – Engine Pro (8 Laps – Top 5 finishers transfer to the A-feature)
1. 48B-John Bores[2] ; 2. 9R-Curtis Roberts[9] ; 3. 21-Larry Kingseed[4] ; 4. 27-Ken Hahn[5] ; 5. 36-Matt Irey[3] ; 6. 12-Michael Stiltner Jr.[7] ; 7. 5M-Ryan Markham[1] ; 8. 30-Nate Potts[8]
Heat 2 – Ultra Schield Race Products (8 Laps – Top 5 finishers transfer to the A-feature)
1. 15-Jon Henry[5] ; 2. 51-Devin Schiels[3] ; 3. 5H-Ernie Haynes[2] ; 4. O6-Kyle Perry[4] ; 5. 91-Rusty Schlenk[9] ; 6. 23C-Jeremy Canada[1] ; 7. 48-Mike Bores[6] ; 8. 67-Chris Keller[7] ; 9. 12M-Bobby Michaels[8]
Heat 3 – Bell Racing (8 Laps – Top 5 finishers transfer to the A-feature)
1. 29-Garrett Krummert[6] ; 2. 1-Jeff Babcock[5] ; 3. WD40-Dusty Moore[2] ; 4. 50Y-Ryan Missler[7] ; 5. 35-Ron Miller[8] ; 6. 15A-Phil Ausra[3] ; 7. 3R-Chuck Roelle[4] ; 8. 56-B.J. Gregory[1] ; 9. 99-Steve Sabo[9]
B-Main – Computer Man Inc. (10 Laps – Top 5 finishers transfer to the A-feature)
1. 23C-Jeremy Canada[2] ; 2. 48-Mike Bores[5] ; 3. 12-Michael Stiltner Jr.[1] ; 4. 67-Chris Keller[8] ; 5. 15A-Phil Ausra[3] ; 6. 3R-Chuck Roelle[6] ; 7. 56-B.J. Gregory[9] ; 8. 30-Nate Potts[7] ; 9. 5M-Ryan Markham[4] ; 10. 99-Steve Sabo[11] ; 11. 12M-Bobby Michaels[10]
A-Main – (25 Laps)
1. 15-Jon Henry[9]; 2. 91-Rusty Schlenk[14]; 3. 9R-Curtis Roberts[1]; 4. 51-Devin Schiels[11]; 5. WD40-Dusty Moore[4]; 6. 1-Jeff Babcock[12]; 7. 50Y-Ryan Missler[6]; 8. 48-Mike Bores[17]; 9. 67-Chris Keller[19]; 10. 36-Matt Irey[13]; 11. 48B-John Bores[7]; 12. O6-Kyle Perry[8]; 13. 21-Larry Kingseed[2]; 14. 27-Ken Hahn[3]; 15. 29-Garrett Krummert[5]; 16. 23C-Jeremy Canada[16]; 17. 15A-Phil Ausra[20]; 18. 5H-Ernie Haynes[10]; 19. 12-Michael Stiltner Jr.[18]; 20. 35-Ron Miller[15]
Hard Charger: 91-Rusty Schlenk[+12]
Fremont Fence Sprints (28 Cars)
[#]-Starting Position
Heat 1 – Engine Pro (8 Laps – Top 5 finishers transfer to the A-feature)
1. 13-Junior Felver[6] ; 2. 10X-Dustin Stroup[9] ; 3. 36-Seth Schneider[1] ; 4. 27P-Paige Polyak[3] ; 5. 83X-Nate Reeser[7] ; 6. 5R-Jordon Ryan[5] ; 7. 40-Justin Franks[4] ; 8. 39-Matt Merrill[2] ; 9. 11F-D.J. Foos[10]
Heat 2 – Ultra Schield Race Products (8 Laps – Top 5 finishers transfer to the A-feature)
1. 1-Nate Dussel[1] ; 2. 67M-Matt Ferrell[2] ; 3. M28-Josh Muntz[6] ; 4. 82-Paul Weaver[3] ; 5. 8J-Jess Stiger[7] ; 6. 48-Mike Burkin[9] ; 7. 22D-Dan Hammond[4] ; 8. OO-Bryan Scott[5] ; 9. 72C-Ross Moore[8]
Heat 3 – Bell Racing (8 Laps – Top 5 finishers transfer to the A-feature)
1. 9-Jimmy Colvin[5] ; 2. 8B-Bobby Clark[2] ; 3. 25-Jason Keckler[4] ; 4. 5-Dustin Dinan[8] ; 5. 8K-Zack Kramer[7] ; 6. 35-Stuart Brubaker[3] ; 7. 19R-Steve Rando[6] ; 8. 717-Cody Jacobs[1] ; 9. 30-Adam Ollom[9]
B-Main – Computer Man Inc. (10 Laps – Top 5 finishers transfer to the A-feature)
1. 35-Stuart Brubaker[3] ; 2. 48-Mike Burkin[2] ; 3. 5R-Jordon Ryan[1] ; 4. 11F-D.J. Foos[10] ; 5. 19R-Steve Rando[6] ; 6. 39-Matt Merrill[7] ; 7. 40-Justin Franks[4] ; 8. 22D-Dan Hammond[5] ; 9. 27-Jim Cushing[13] ; 10. 72C-Ross Moore[11] ; 11. 717-Cody Jacobs[9] ; 12. 30-Adam Ollom[12]
A-Main – (25 Laps)
1. 82-Paul Weaver[4]; 2. 9-Jimmy Colvin[2]; 3. 13-Junior Felver[3]; 4. 1-Nate Dussel[5]; 5. 35-Stuart Brubaker[16]; 6. 25-Jason Keckler[6]; 7. 8K-Zack Kramer[15]; 8. 5-Dustin Dinan[11]; 9. M28-Josh Muntz[7]; 10. 11F-D.J. Foos[19]; 11. 10X-Dustin Stroup[9]; 12. 8B-Bobby Clark[8]; 13. 67M-Matt Ferrell[12]; 14. 19R-Steve Rando[20]; 15. 36-Seth Schneider[1]; 16. 8J-Jess Stiger[14]; 17. 27P-Paige Polyak[10]; 18. 5R-Jordon Ryan[18]; 19. 48-Mike Burkin[17]; 20. 83X-Nate Reeser[13]
Hard Charger: 35-Stuart Brubaker[+11]
Photo Gallery