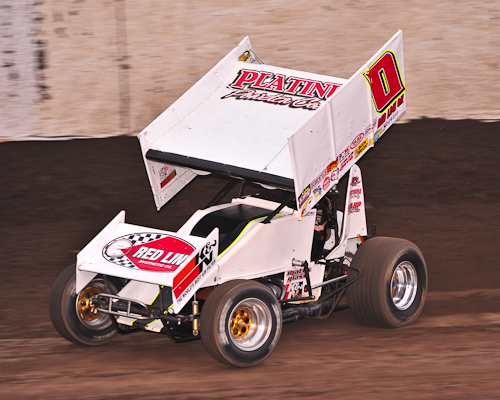 From Gary Thomas
Antioch, CA – April 9, 2011…For the second year in a row Chico's Jonathan Allard opened the Golden State 410 season in victory lane after a rough and tumble, yet exciting 30-lap feature during the inaugural King of the West Sprint Car Series event at Antioch Speedway on Saturday.
Allard assumed the top-spot on lap seven when early leader Bobby McMahan got upside down while navigating his way through traffic. Reigning Golden State Series champion Kyle Larson then passed Allard for the point on lap-18, but the former two-time series titlist returned the favor on a restart four laps later.
It turned out to be the winning pass as Larson's bid at victory would come to an end just two laps following that, with him flipping in turns three and four while trying to catch back up with Allard. At the checkered it was Allard claiming victory over Scotts Valley's Evan Suggs, Grass Valley's Jason Statler, San Jose's Tim Kaeding and Stockton's Brad Furr.
Full story to follow.
———————-
Golden State King of the West Sprint Car Series Results Antioch Speedway April 9
Fast time- Jonathan Allard 12.483
Heat 1: Brent Kaeding, Tim Kaeding, Jonathan Allard, Brad Furr, Trey Starks, Dan Simpson, Chase Wood
Heat 2: Bobby McMahan, Tommy Tarlton, Brent Bjork, Kenny Allen, Nick Rescino Jr., Steve Osbourne, Keith Collins
Heat 3: Jason Statler Shane Golobic, Evan Suggs, Danielle Simpson, Sean McMahan, Pat Harvey, Kurt Nelson
Heat 4: Andy Gregg, Kyle Larson, Willie Croft, Mark Barroso, Doug Gandy, Billy Strange Jr., Art McCarthy
Dash: McMahan, Statler, Allard, Suggs, Furr, B. Kaeding, Allen, Gregg
Last Chance Qualifier: Dan Simpson, Rescino Jr., Starks, Strange Jr., Wood, Harvey, Sean McMahan, Gandy, Osbourne, Collins
A-main: Allard, Suggs, Statler, T. Kaeding, Furr, Croft, Gregg, B. Kaeding, Starks, Allen, Simpson, Bjork, Danielle Simpson, Wood, Harvey, Larson, Rescino Jr., B. McMahan, Tarlton, Golobic, Strange Jr., Barroso
Photo Gallery