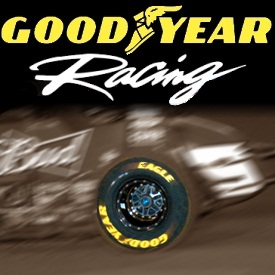 By Lee Elder
WATSONVILLE, Calif. (April 22, 2011) – Jonathan Allard has already captured two sprint car racing championships this year and it's only April. He has his eye on another title as well.
Allard will be among the Golden State King of the West Series racers on hand at Ocean Speedway here Saturday when the Series competes in its third race of the 2011 season.
The 2011 season is the first for Goodyear as the official tire supplier for the KWS but Allard, a veteran driver, is familiar with the Goodyear Eagle brand, having tested and raced on the tires in the past.
"I think the construction of the tire works well with the tracks where we race," Allard said. "I haven't changed much of (how he prepares his racecar). We've done a few things that we've done in the past and the tires seem to take to it."
The Golden State King of the West Series features winged sprint cars similar to those in the World of Outlaws Sprint Car Series, where Goodyear is the Official Tire Company.
Allard is fourth in the KWS standings after winning the opener at Antioch Speedway and finishing 17th in the next race at Thunderbowl. He set the pace in qualifying for both events.
Over the winter, Allard won the Ace Concrete Cutters New Zealand Sprint Car championship at Bay Park Speedway and the North Island Championship at Wellington, also in New Zealand.
"The biggest difference between the tracks here and the New Zealand tracks is that the tracks there are all flat," he said. "They are all stadium tracks in places where they play rugby. The next biggest difference is the commercialism down there. Sprint car racing is still the elite form of motorsports there."
Now home in California, he'd like to win the KWS title. Allard lives in Chico, California and drives the K&N Filters/Red Line Oil/NGK Spark Plug sponsored Maxim/Kistler for Oakhurst, California businessman Morrie Williams.
Goodyear supplies the same line of constructions and compounds to the KWS program that it sends to touring series and weekly tracks around the country. The tires have been very popular with competitors and sanctioning bodies around the country.
Saturday's race at Ocean Speedway will give Allard a chance to chase KWS points leader Tim Kaeding. Kaeding has 305 points. He is followed by Jason Statler and Evan Suggs, who are tied with 299, and Allard, with 289.
More information about Goodyear Racing is available at www.racegoodyear.com. More information about the Golden State King of the West Series is available at www.kingofthewestsprintcarseries.com. More information about Allard is available at www.allardmotorsports.com.