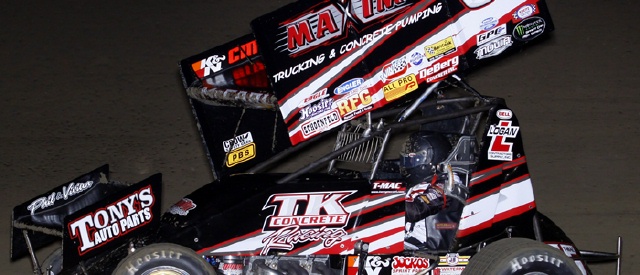 By Bill W, Ryan Northcote Photo
April 26, 2011 – It wasn't the debut that Terry McCarl or the VerMeer Motorsports #55 envisioned, but they loaded it back in the trailer in one piece last Saturday night at the 34 Raceway near West Burlington, Iowa. For some teams, an eighth place finish in a strong 39-car field would be sufficient, but both the driver and the rest of the team have high expectations as they head into Knoxville's opener this weekend.
The race at 34 Raceway served as the series' opener for the Monster Energy Sprint Series presented by MOWA. "I was happy for the Midwest Open Wheel Association," says TMAC. "Some of the rainouts worked in their favor, and they got some Outlaw guys (Craig Dollansky, Danny Lasoski, etc.) rolling in. The crowd was great. We had two rain-delays, but no one was leaving."
TMAC registered the seventh quick time of the night. "We had a lot of things to figure out…it being the first night together," says the Altoona, Iowa driver. "It's a reverse-arm car, which I haven't driven since '95 or so. It probably wasn't the best track to use it on, but it would have been fine if it was a little drier or I had a few more laps on it."
The team battled a tight racecar through a heat they finished second in. "I always seem to underestimate how tacky and rough it's going to be," admits TMAC. "You'd think a guy who raced in California for two years would be better at it. We were just too tight. We didn't have the right rear out far enough, and we didn't have enough gear in it. You live and learn."
The eighth place finish in the 30-lap feature finished their night. "We loaded it up in one piece and we got some laps in," says TMAC. "That was good. We got to hang out as a crew. We were pretty embarrassed with how we finished, but I guarantee you we will get things worked out."
TMAC was thankful for his new car owner, Tony VerMeer. "It was good to have an owner that was optimistic about how the night went," he says. "He wasn't sending me any nasty text messages or anything. Everything was positive. That's something I'm looking forward to."
He is happy the fans were able to see a great race. "To the fans it was a great racetrack to see some great racing," he says. He went on to joke, "We weren't really a big part of it, but I think they had a great race to watch."
TMAC was also car owner for son Austin, who made his 2011 debut with a top ten finish of his own. "It definitely wasn't his type of racetrack being so young, but I thought he did a great job," he says of Austin. "All in all, for the first night out, it wasn't too bad."
Gary Isom, Matt Barbara and the rest of the #55 team will now focus on Knoxville Raceway's opener this Saturday night where TMAC has won six track championships. "We're looking forward to getting back to some familiar ground at Knoxville this weekend," he says. "I'm pumped about our crew. We have some great guys who have been around this for years. I'm happy with what we have going into Knoxville. The nucleus is there for a powerful team, and I'm really looking forward to it."
To check out opportunities to partner with TMAC Motorsports, visit www.TerryMcCarl.com or call 515 957-0020!
Front Row Challenge/Ultimate Challenge
The 16th Annual Front Row Challenge and the 10th Annual Ultimate Challenge will be held Monday and Tuesday, August 8 and 9, 2010 at the Southern Iowa Speedway in Oskaloosa, Iowa. Order your seats NOW by calling McTwo Promotions, Inc. at 515 957-0020. Visit www.OskyChallenges.com for further details.
Websites for the McCarl Gang!
Driverwebsites.com develops the websites for the McCarl boys. Check out www.TerryMcCarl.com, as well as www.AustinMcCarl.com and www.CarsonMcCarl.com!
In"Terry"gation
Rodney Ingalls asks: Now that you are a 305 owner, where do you see that class headed?
TMAC Answers: We can't let it get out of control like the 360's have. I wish Knoxville would ban the titanium like Burlington has. We built Carson's car based on Burlington rules. Not having it and seeing guys that do…you don't feel as competitive. I just hope this class doesn't get out of hand, but you can't save it from people who have a lot of money. They will spend it on something.
Got a question for TMAC? Send it to us at sprntcar@iowatelecom.net, and we may answer it in this section! Put "? for TMAC" in your subject line.
This Month in TMAC History!
TMAC won the 2000 season opener at Knoxville in the VerMeer Motorsports #55. Though he qualified 20th quick, he went on to finish second in his heat. He started 14th in the main event and passed Dennis Moore Jr. for second on lap 15. He pulled a slider in the final corner on Matt Moro to take the win. Moro was second, followed by Jeff Mitrisin, Travis Cram and Kerry Madsen.
"Tuesdays with TMAC"!
"Tuesdays with TMAC" is an up close and personal look at colorful sprint car veteran Terry McCarl. To receive "Tuesdays with TMAC", send an e-mail to sprntcar@iowatelecom.net with "TMAC" in the subject line.
TMAC Motorsports would like to thank sponsors Deanfield Farms, Eagle Chassis, DeBerg Concrete, AmeriCashAdvance.com, RFG, Phil and Vivian, Mark Burch Motorsports, Ryan Yager Trucking, Vortex Racing, Hoosier Tire, Schoenfeld Headers, K&N Filters, Don Ott Engines, HRP, All Pro Cylinder Heads, Bob and Beulah Elder, Country Builders Construction, Engler Injection, T&P Brothers, Winters, DriverWebsites.com, CM Rock, Jocko's Sprint Parts, Sander, Brown and Miller, Morris Automotive, Chase Graphics, Pro Shocks, Mac Tools, Ben Cook, Bell Helmets, Burnettt's Rock and Landscaping, Morgan Strawberry Farms, Bulldog Pest Control, Aurora Rod Ends, Crow Safety, Justice Brothers, KSE Steering, CIP Racing Hoods, Strange Performance, Saldana Racing Products, Scribner Plastics, Waterman Fuel Pumps, Weiland Racing, Butlerbuilt, PBS Bushings.