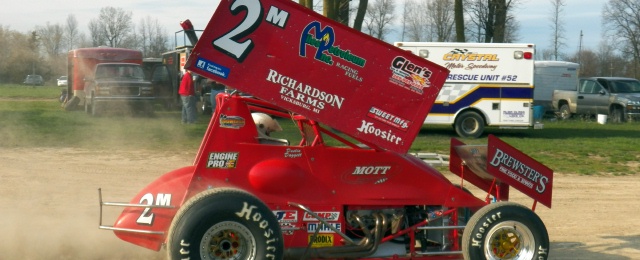 From MudclodBob
Dustin Daggett managed to win another ASCS Sprints on Dirt Feature Saturday night at Crystal Motor Speedway but he had to work for it. After starting 9th Daggett passed race long leader Mike Daggett on the 17th circuit and went on to take the checkers.
Mike Daggett started on the pole of the 25 lap feature and took command with Greg Dalman moving into 2nd early from his 5th starting spot with Ryan Grubaugh, Dustin, Jarred Horstman and Brett Mann all in hot pursuit through lap eight.
Just after completing lap 8 contact was made in a group of cars on the front stretch which resulted Robert Huskien taking a hard tumble. He emerged unhurt.
After the green appeared again Dustin Daggett was on a mission and began chasing Dalman who was having a strong run, and passed him before lap 15 was complete. After a final caution Dustin was left with dad Mike to pass and on the 17th lap he did just that to take the lead.
After that, it was vintage Daggett with Mike, Greg Dalman, Ryan Grubaugh, Brett Mann, Jerred Horstman, Tim Champlin, Ryan Ruhl and Gary Fast at the stripe.
Heats for the 24 cars on hand were won by Ryan Grubaugh, Greg Dalman and Horstman. Dustin Daggett won the dash.
Complete story with official results coming soon.