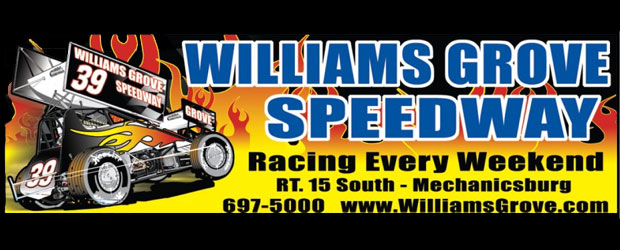 From Williams Grove Speedway
Mechanicsburg, PA – Fred Rahmer of Salfordville led early and late to claim the 84th 410 sprint car win of this illustrious career at Williams Grove Speedway Friday night on outlaw tune-up night .
Pat Cannon claimed his second 358 sprint feature of the season in the companion main event, the 23rd of his career at the track.
Rahmer started second in the 30-lap outlaw tune-up feature, alongside Danny Dietrich and beat Dietrich back to the line to lead the first circuit and the next 11 in fact before falling victim to eighth starter Brian Montieth of Phoenixville.
The Edge was running his patented line around the outside of the speedway and broke into the top five with just two away and before lap five could be completed, Montieth was up to third.
He went by Dietrich on the 11th circuit and as Rahmer negotiated traffic, he zipped to his outside in the first and second corners to take the lead.
And from there it appeared that the race might have been over as Montieth pulled away to a convincing straightaway advantage as the race worked into its second half.
But with just two laps to go, the nonstop pace was slowed for debris on the track and that was all Rahmer needed.
He stuffed his Chad Clemens-owned No. 51 to the inside of Montieth's No. 21 as the pair took the new green and raced into the first corner.
Montieth tried to turn the car back down as the pair raced through the turns but it was all over except the shouting during the final lap and a half as Rahmer drove away to the checkers.
"I had a real good restart and he was sort of in a bad spot," Rahmer said of Montieth's positioning for the return to action.
"I haven't won for so gosh-darn long, it's ridiculous. That's probably as long as I've gone without a win."
"I kept looking at the board and seen him coming," Rahmer said of watching Montieth advance through the field early on only to catch him and drive into the lead.
Montieth ended up second followed by Dietrich, Don Kreitz Jr. and Greg Hodnett.
Rounding out the top 10 was Doug Esh, Lance Dewease, Mark Smith, Justin Henderson and Gerard McIntyre Jr.
Heats for the 25-car field went to Rick Lafferty, Montieth and Esh with fast timer Alan Krimes taking the B Main. Dietrich earned the pole for the feature by wining the dash. Krimes' fast time in qualifications was 17.315 seconds.
Cannon of Etters started out 12th in the 20-lap 358 sprint main and had advanced into fifth by the end of the second circuit.
The final 18 circuits went non-stop with Kyle Purks leading the first 11 laps in total before Cannon worked himself into the lead by racing a lane higher through the third and fourth turns to take command with 12 down.
Purks was second followed by: Rodney Westhafer, Eric Tomecek, Colby Womer, Logan Schuchart, Scott Geesey, Ricky Stonebraker, Tim Berkheimer and Adrian Shaffer.
Heats went to Purks, Westhafer and Tomecek with the consolation going to Glenndon Forsythe.
The first invasion of the season by the World of Outlaws comes up at Williams Grove Speedway this Friday and Saturday, May 13 and 14.
May 6, 2011 Feature Finishes:
410 sprints, 30 laps: 1. Fred Rahmer, 2, Brian Montieth, 3. Danny Dietrich, 4. Don Kreitz Jr., 5. Greg Hodnett, 6. Doug Esh, 7. Lance Dewease, 8. Mark Smith, 9. Justin Henderson, 10. Gerard McIntyre Jr., 11. Brent Marks, 12. Jim Siegel, 13. Dave Ely, 14. Tyler Walker, 15. Chad Layton. 16. Frank Cozze, 17. Rick Lafferty, 18. Nicole Bower, 19. Aaron Ott, 20. Steve Buckwalter, 21. Ryan Bohlke, 22. Cory Haas, 23. Adam Wilt, 24. Alan Krimes.
358 sprints, 20 laps: : 1. Pat Cannon, 2. Kyle Purks, 3. Rodney Westhafer, 4. Eric Tomecek, 5. Colby Womer, 6. Logan Schuchart, 7. Scott Geesey, 8. Ricky Stonebraker, 9. Tim Berkheimer, 10. Adrian Shaffer, 11. Chad Trout, 12. Kyle Moody, 13. Glenndon Forsythe, 14. Blane Heimbach, 15. Michael Rutkamp, 16. Nate Hammaker, 17. Davie Franek, 18. TJ Stutts, 19. Bill Schoffstall, 20. Ted Thomas, 21. Brian Garland, 22. Jordan Frontz, 23. Chris Shuttlesworth, 24. Todd Reed.