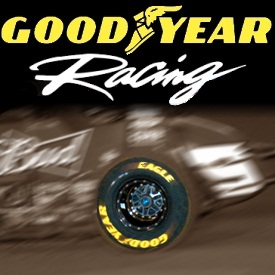 By Lee Elder
MUSKOGEE, Ok. (May 9, 2011) – Whit Gastineau raced to his second straight victory in Oil Capitol Racing Series competition when he won a 25-lap race at Outlaw Motor Speedway over the weekend.
Goodyear is the Official Tire Company for the OCRS and the competitors, many of whom are racing on Goodyear Eagles for the first time this season, have been pleased with the performance of the offering. Goodyear produced a right rear tire specifically for the OCRS teams and the new tire has already produced one qualifying record.
Fred Maddox finished fourth at OMS after racing on Goodyear tires for the first time and said, "That Goodyear tire was a difference maker. Tonight was our first time out on Goodyears and it seemed to have better bite than the other tires we have run before. I'm impressed a lot with it."
Gastineau's victory allowed him to complete the weekend with the lead in the championship standings. He edged Matt Sherrell, the runner up at OMS, by four car lengths. Sean McClelland was third, followed by Maddox and Mike Goodman. Goodman started 17th.
More information about Goodyear Racing is available at www.racegoodyear.com. More information about the OCRS is available at www.ocrsracing.com.