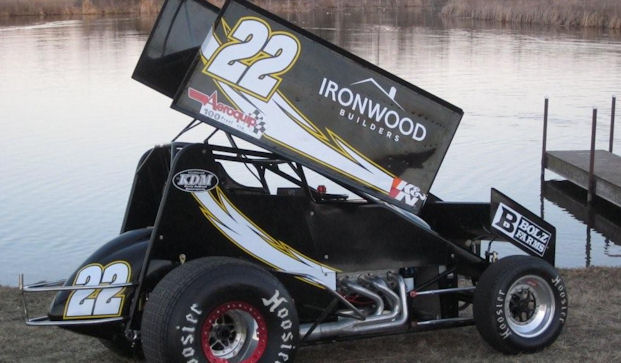 By Bill W
May 11, 2011 – Fans at the Eagle Raceway saw a familiar site last Saturday night when Billy Alley pushed off in his traditional yellow colors. He wound up running up front, which is another familiar site for Nebraska fans. The second place run followed a forgettable night the week before when he destroyed his black machine in a heat race. This weekend will find the Lincoln, Nebraska driver hitting Park Jefferson Speedway with the JSTS.
The draw went predictably when Billy drew last in his heat race. However, he took the Billy Alley Enterprises #22 from 8th to 1st at the checkers. "We were going to run second, but I'm there to win," he says. "If the person in front of me crashes, runs out of fuel, wheel falls off…it doesn't matter. A win is a win."
Billy started on the pole of the event and paced the field for several laps. "I was racing really conservatively," he admits. "The way our year has gone, I needed a good run. I just didn't drive the best."
Mired in lapped traffic, Jack Dover circled around him and snatched the win. "I really feel like I had a racecar to win that race," says Billy. "Jack Dover really beat me there in traffic. The track was like an ice skating rink. If you got off the bottom, you were in trouble. I followed a lap car a little too long, and Jack passed all of us."
A second place run marks the best finish of the young season. "When you draw the pole you want to win, but second was good," says Billy. "We basically threw a car together last week, so I'm really pleased. It's what we are after. I'm really in the game right now and so are the people around me. There are plenty more of those to come. Jack just beat me. That was a driver's racetrack and I ran second on that night. Lapped traffic is racing, and I screwed it up."
Billy tore up his primary mount in a heat crash the Saturday prior at Eagle. His first thought was getting back to the 1/3 mile oval that marked his start in sprint cars. "I'd like to apologize to the fans and sponsors for no 'Tornado Alley' last week, but I didn't think it was in the best interest of everyone to do it," he says. "I'm glad we went back and raced at Eagle and we did well."
The nucleus of the #22 team has never been stronger. "I have some great people behind me," says Billy. "Stepping Stone Genetics is all about sprint car racing and they are helping me out a lot. Bob Richardson…if it wasn't for him, racing wouldn't be possible. After we destroyed the car a week ago, he beat me to the shop. I live at the shop and he beat me there! That's the kind of person that he is."
As the summer wears on, some big races loom ahead. "We're excited to get busy with this," says the former Knoxville Raceway 410 champ. "Everything is going well, but we do only have the one motor. We just need to keep plugging away and be consistent."
Plans are for the team to run in Jefferson, South Dakota, with Saturday plans still undecided. Other options are being weighed. "We're definitely running at Park Jefferson on Friday, but we haven't decided on Saturday yet," says Billy. "We just have the one motor, so we can't race everywhere we want to right now. I'm hoping we can change that in the future."
On the Web
To learn more about Billy Alley, including updated results and photos, visit www.BillyAlley.com!
Billy Alley Gear!
For t-shirts and other apparel, visit www.BillyAlley.com!
Classic Ric Flair Clip of the Week!
Ric wants a piece of Hulk Hogan. Wooooooooooo!
Down the Alley
Andre Davenport asks: Is racing a track with steep banking more fun?
Billy answers: Momentum is fun, and banking creates momentum. I learned on one of the most banked tracks in the country at Eagle. You just need to get your racecar handling right. Then it doesn't matter what track you are on. I do like the momentum racetracks though.
Got a question for Billy? Send it to us at sprntcar@iowatelecom.net, and we may answer it in this section! Put "? for Billy" in your subject line.
Alley's Anecdotes
Billy is the only driver to lead the 360 Nationals finale from start to finish on two occasions (2004 and 2005). Both wins paid $10,000 to win. His 50 feature laps led, is third on the all-time list.
Tornado Alley
"Tornado Alley" is an up close look at the past, present and future of 2006 Knoxville Raceway track champion, Billy Alley. To receive "Tornado Alley", send an e-mail to sprntcar@iowatelecom.net with "Alley" in the subject line.
Billy would like to thank Bolz Farms, Schmit Automotive, Manion Framers for Life, Aeroquip Performance Products, K&N Engineering, Stepping Stone Genetics, Ironwood Builders, KDM, Buss Excavating, Harris Decals, Hoosier Tires and Stewart Alley Concrete.
The black sprinter has been put out to pasture with the deer