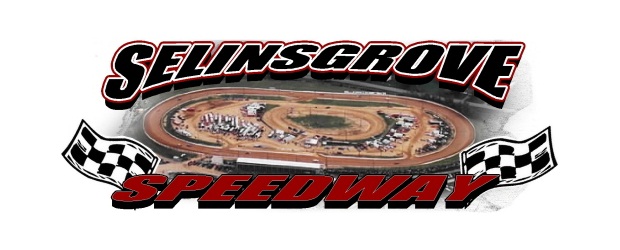 By Steve Inch
SELINSGROVE, Pa. – Shane Stewart of Indianapolis, Ind., held off
Selinsgrove's Blane Heimbach to win the 31st annual NRG Controls North Jack
Gunn Memorial for sprint cars. For the sixth year, the Gunn Memorial was a
30-lap challenge race between the traveling United Racing Company (URC)
sprint car contingent and Selinsgrove's weekly 358 sprint car drivers.
Stewart, who had the weekend off from competing on the national American
Sprint Car Series tour in which he currently leads the point standings,
collected $3,780 for the victory, including a $280 bonus as the leader of
lap 28 sponsored by Dave Franek Auto Sales of New Jersey. Stewart was the
guest driver of Scott McClaren's No. 21 URC entry.
For McClaren, the victory marked his third consecutive in Selinsgrove's
Gunn Memorial as a car owner, having also won the race in 2009 and 2010
with Trevor Lewis of Upper Black Eddy turning the wheel.
Pat Cannon of Etters set a new track record for 360 sprint cars in a time
of 17.238 seconds, eclipsing his own track record that was set last year
for the Gunn Memorial. The race drew 42 358 and 360 sprint car teams.
Scott Haus of Hamburg won his 29th career late model race at Selinsgrove in
the division's 25-lap main event, while AJ Hoffman of Richfield scored his
third victory of the season in the 15-lap pro stock feature.
Selinsgrove Speedway will present a four division show of 358 sprint cars,
late models, pro stocks, and roadrunners at 7 p.m. Saturday, May 21,
sponsored by Paul Stine Chevrolet. Track gates will open at 5 p.m.
Second-place starter Shane Stewart stormed into the lead at the drop of the
green flag in the sprint car feature. Stewart was trailed by polesitter
Becca Anderson for the first four laps until fourth-place starter Pat
Cannon advanced to second.
Teammates Dave Dalaman and Josh Beard were both sidelined on the 10th lap
when Calaman initially brought out the caution flag for a flat tire in turn
four, then Beard rolled over in his sprinter in turn three resulting in a
red flag. Both drivers escaped injury.
When the race resumed, Stewart continued to set a torrid pace, with Cannon,
third-place starter Blane Heimbach, fifth-place starter JJ Grasso, and
ninth-place starter Davie Franek racing in the top five.
At the halfway point, Stewart held a half-straightaway lead over Cannon. On
the 19th lap, Heimbach drove by Cannon for second and quickly began to reel
in Stewart. The race was stopped again on lap 23 for a crash in turn one
involving Jason Clauss and Duane Mausteller. No driver injuries were
reported.
The final seven laps were a war on wheels for the lead and win between
Stewart and Heimbach. Racing in Stewart's shadow, Heimbach tried both the
inside and outside lanes to get around Stewart to no avail. At the
checkered flag, Stewart was victorious by just .45 of a second over
Heimbach, Cannon, Grasso, and 11th-place starter TJ Stutts, who was the
first driver to cross the finish line in a 358 sprint car.
Second-place starter Chad Davis powered into the lead at the start of the
late model feature and was chased by polesitter Eric Hons. On the sixth
circuit, eighth-place starter Tony Adams advanced to second and set his
sites on Davis. Adams made a pass by Davis on a lap 10 restart only to stop
on the track with a flat tire.
Current point leader Jim Yoder inherited the lead for the lap 11 restart
and had fourth-place starter Scott Haus in pursuit. Yoder and Haus dueled
for the lead for several laps. On the 18th circuit, Haus made the winning
pass using the outside lane in turn four. In the final five laps, Adams was
able to rebound and stormed into the second position on the final lap.
Adams came up just .46 of a second short behind Haus. Yoder, Steve
Campbell, and Mike Walls rounded out the top five.
Following several multi-car tangles on the start of the pro stock feature,
it was original eighth-place starter Jason Schmidt who powered into the
lead and led the first five laps until mechanical problems forced him to
withdraw from the race. At this point, 11th-place starter AJ Hoffman
inherited the lead and held off the late-race challenges of seventh-place
starter Kyle Bachman. Hoffman was victorious by just .34 of a second over
Bachman, fifth-place starter Shaun Miller, fourth-place starter Mike Kiehl,
and third-place starter Dave Brouse Jr.
SELINSGROVE SPEEDWAY SUMMARY – 14 May 2011
358/360 Sprint Cars – 42 Entries
30-Lap A-Main: 1) 21S Shane Stewart $3,780 2) 12 Blane Heimbach 3) 3 Pat
Cannon 4) 99 JJ Grasso 5) 23M TJ Stutts 6) 1W Eric Tomecek 7) 56 Nate
Snyder 8) 76 Larry Kelleher 9) 28F Davie Franek 10) 1M Jason Shultz 11)
71 Jessica Anderson 12) 5G Curt Michael 13) 73 Kramer Williamson 14) 19
Colby Womer 15) 22 Becca Anderson 16) 8R Michael Ruttkamp 17) 08 Jason
Claus DNF 18) 21 Duane Mausteller DNF 19) 63W Josh Weller DNF 20) 5W
Phil Walter DNF 21) 5C Dave Calaman DNF 22) 5B Josh Beard DNF 23) 39
Tim Hogue DNF 24) 99K Cody Keller DNF 25) 65 Randy West DNF 26) 81 Bob
Biedleman DNF
Heat Winners: Pat Cannon, Blane Heimbach, Shane Stewart, Cody Keller
B-Main Winners: Curt Michael, Randy West
Time Trials: 1) 3 Pat Cannon 17.238 (new 360 sprint car track record) 2)
12 Blane Heimbach 17.257 3) 21S Shane Stewart 17.331 4) 22 Becca
Anderson 17.403 5) 99 JJ Grasso 17.454 6) 1W Eric Tomecek 17.465 7) 5C
Dave Calaman 17.487 8) 56W Randy West 17.558 9) 1M Jason Shultz 17.583
10) 28F Davie Franek 17.615 11) 99 Kramer Williamson 17.663 12) 23M TJ
Stutts 17.695 13) 5G Curt Michael 17.700 14) 88 Rory Janney 17.709 15) 81
Bob Beidleman 17.711 16) 71 Jessica Anderson 17.720 17) 88B Andy Best
17.753 18) 56 Nate Snyder 17.758 19) 08 Jason Claus 17.762 20) 76 Larry
Kelleher 17.823 21) 21 Duane Mausteller 17.846 22) 8R Michael Ruttkamp
17.882 23) 19 Colby Womer 17.910 24) 99K Cody Keller 17.929 25) 5B Josh
Beard 17.929 26) 63W Josh Weller 17.945 27) 77 Derek Locke 17.929 28) 44S
Steve Whary 17.954 29) 5W Phil Walter 17.991 30) 89 Robbie Stillwagon
18.028 31) 17J Jonathan Swanson 18.048 32) 7 Ed Aiken 18.054 33) 16H
Matt Horst 18.119 34) 1S Logan Schuchart 18.124 35) 39 Tim Hogue 18.133
36) 66 Ryan Kissinger 18.234 37) 769 Steve Nederostek 18.359 38) 21T
Kevin Nouse 18.366 39) 71C Charlie Anderson 18.388 40) 47 Tim Higgins
18.434 41) 22B Troy Betts 18.506 42) 55 Dave Ely No Time