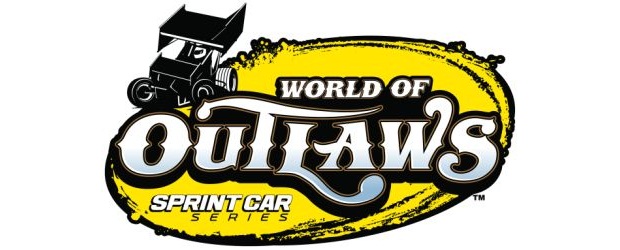 From the World of Outlaws
CONCORD, N.C. – May 25, 2011 – Kasey Kahne Racing's Joey Saldana leads the World of Outlaws Sprint Car Series to The Dirt Track at Charlotte for the Circle K NOS Energy Outlaw Showdown on Friday night, when SPEED will broadcast the event beginning at 8 p.m. Eastern in a special two-hour show.
Ralph Sheheen will call the action with Hall-of-Famer Brad Doty providing color commentary. Bobby Gerould and SPEED's Danielle Trotta will cover all the stories in the pits, work area and victory lane on a night that will be electric.
(CLICK TO SEE SPEED'S PROMO OF FRIDAY NIGHT'S COVERAGE)
After nearly four months of exciting racing this season, the stage is set for the first World of Outlaws broadcast of the year, leading to several storylines for SPEED to cover. Saldana and his KKR Red Bull Maxim are on top of the standings by 27 markers over 20-time champion Steve Kinser, who is the World of Outlaws leading winner in the Bass Pro Shops/J.D. Byrider/Chevrolet Maxim. Kinser's Tony Stewart Racing teammate, Donny Schatz, is third in points in the STP/Armor All/Chevrolet J&J and just picked up his first victory of 2011 on Friday night.
Last May at Charlotte, Schatz held off Saldana in a thriller, but at the end of the season everybody was looking up at Jason Meyers, who became the first Californian to win the World of Outlaws crown when he swept the World Finals in November at The Dirt Track at Charlotte. Now, Meyers is fourth in the standings in his DDNI/Allstar Performance/GLR Investments KPC and seeking his first victory of the season heading into Friday night.
"It's always a thrill to do live TV," Doty said. "When it's a part of all the racing and festivities that goes on in Charlotte during Memorial Day Weekend, it makes it all the more special and exciting."
The Outlaw Showdown is just the first of several World of Outlaws broadcasts this year on SPEED, which will also air the Kings Royal, the Goodyear Knoxville Nationals and the National Open in multi-hour shows. In addition, the World of Outlaws Late Model Series Firecracker 100 and Super DIRTcar Series SEF Small Engine Fuels 200 during Super DIRT Week will be featured, as well. It all leads up to the huge four-hour live broadcast of the World Finals season finale on Nov. 5 from Charlotte that includes the World of Outlaws Sprint Cars, World of Outlaws Late Models and the Super DIRTcar Series Big-Block Modifieds.
For more on the World of Outlaws, go to www.WorldofOutlaws.com. For more on SPEED, including schedules, air dates and re-air broadcasts, go to www.SPEED.com.