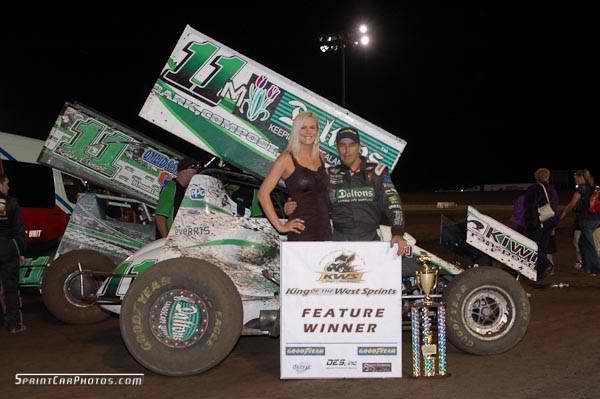 By Gary Thomas, sprintcarphotos.com
Chico, CA – June 12, 2011…Whenever you mix in 410 sprint cars, a tight quarter-mile bullring and tons of money on the line it will make things interesting and on Friday night at the Silver Dollar Speedway that certainly came true.
With the Golden State King of the West Sprint Car Series sanctioning the "Tribute to Gary Patterson/ Dave Bradway Jr. Memorial" the action continued to be intense for the tour and in the end it was the "Awesome Aussi" Peter Murphy bringing home the checkered flag for victory.
"This is just so amazing I don't know what to say and I'm almost tearing up a bit," said an emotional Murphy in victory lane. "I've never had a bigger win in my career and to come out on top with the King of the West Series is a great feeling."
A very strong field of 38-sprint cars signed in for the eighth Golden State King of the West Sprint Car Series race of the season and to begin the night Chico's very own Jonathan Allard set fast-time. For his efforts Allard earned $1000 plus a beautiful custom-made "Tribute to Gary Patterson" plaque from Grant's Fine Art.
After some exciting preliminary competition the 40-lap A-main took to the Silver Dollar bullring and at the waving of the green flag it was hometown hero Jonathan Allard charging into the lead. Early on the two-time Golden State 410 champ looked large and in charge pulling away to a comfortable lead. Once traffic came into play however, it began to bunch things up as Kaeding and Kyle Hirst made it a three-car fight.
The trio proceeded to put on a stunning wheel-to-wheel show for the lead, slicing and dicing with the crowd roaring their approval. The thrilling battle took place over a handful of laps, but with 19-complete everything changed when Allard and Kaeding banged wheels, which resulted in "TK" flipping and "JA" also coming to a stop.
Hirst would inherit the lead and when the green lights came on again he beat Sacramento's Willie Croft on a double-file restart to take command. The Hirst family was instrumental in getting the "Dave Bradway Jr. Memorial" off the ground and it's always been a race that the 23-year-old has wanted to win.
Driving for McMillen Motorsports Hirst looked like a rocket ship out front, but on lap 25 more drama would unfold when contact with a lapped car in turn two ended his hopes at victory. This gave the lead to Hirst's soon to be brother-in-law Croft and when racing got back underway "Double Down" distanced himself from the pack.
With Croft out front the rest of the field put on a tremendous show, as Australian's Ian Madsen and Peter Murphy, along with Brent Kaeding, Evan Suggs and a fast-moving Allard diced it up among the top-five. Murphy eventually won out in the fight and claimed the runner up spot after starting 15th on the grid.
After winning the Mini Gold Cup in 2004 Croft looked to add another major victory to his resume and appeared to be on way to doing so, until lap-35 when he slowed to a stop with reported brake issues. It was a tough break for the driver that has been doing such a great job all season long with the Golden State King of the West Sprints.
The always likeable Murphy now found himself in the top-spot and with five-laps left he led the field back to green. Things would come to a stop however, as Allard spun around in turn four to bring out a yellow and put an unfortunate end to his night. The final restart of the night saw Brent Kaeding and Medford, Oregon's Roger Crockett try everything to get by Murphy for the lead, but that didn't happen and the Australian native crossed the stripe to win his first "Tribute to GP/ Bradway Memorial."
For his efforts Murphy will bring home more than $4500, with extra money courtesy of Butler Built Performance and lap money that was collected by Dave and Dianne Durica. Murphy not only received lap money in the A-main, but also the Last Chance Qualifier where he finished second. Making an impressive charge to finish second at the checkered was LCQ winner Crockett, who also claimed the PitStopUSA hard charger award & an extra $556 for the night after starting 18th.
Tim Kaeding made a strong rebound at the end to charge all the way back up to third at the conclusion and maintain his Golden State King of the West Sprint Car Series point lead. Rounding out the top-five in the 40-lapper were Brent Kaeding and Ian Madsen. The top-10 was completed by Chico's Brad Bumgarner, Evan Suggs, 22nd starter Jason Statler of Grass Valley, Chico's Robby Whitchurch and Chico's Jason York.
An exciting Last Chance Qualifier was picked off by Roger Crockett and the four 10-lap heats were won by Princeton's Mason Moore, Ian Madsen, St. Helena's Rico Abreu and Tim Kaeding. All heat race winners received a Goodyear right rear tire and five sleeves of tear offs courtesy of Hoserville, as well as a free powder coating job courtesy of Amerikote. The Dash was claimed by Tim Kaeding, with the C-main being won by New Zealander Jason Scott. Allard's fast-time to begin the night was a 12.093.
It was definitely a night to remember as we paid honor to legends Gary Patterson and Dave Bradway Jr. We would also like to thank everyone that made the event possible and all who contributed to make it a success.
Full results are available at http://www.kwssprints.com and http://www.mylaps.com/results/showevent.jsp?id=668990