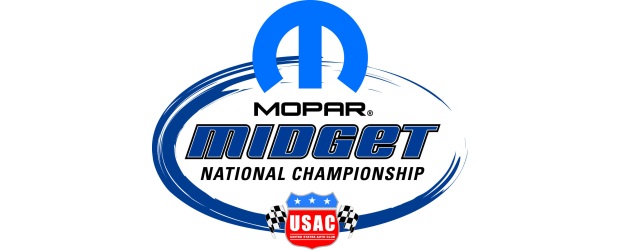 By Dick Jordan
The Milwaukee (Wisc.) Mile looms large for the USAC Mopar National Midget Series this week as they share the weekend billing with a number of racing series at the one-mile oval, including the IZOD INDYCAR "Milwaukee 225" Indycar race and the USAC TRAXXAS Silver Crown Championship Cars. USAC's Mopar .25 Midgets are also slated for action on another track located on the fairgrounds.
Bryan Clauson of Noblesville, Ind., USAC's 2010 National Drivers Champion, comes to Milwaukee as the National Midget point leader and defending champion. He is coming off a five-race week which produced an "Indiana Midget Week" title and left him with a 17-point lead over Bobby East in the new National standings. Saturday's Milwaukee race marks the fourth appearance of the series at Milwaukee this decade. J.J. Yeley won there in 2004, while Josh Wise (2005) and Bobby Santos III (2006) have also won on the Mile.
Practice and qualifying are scheduled Friday and Saturday's race is a 25-miler.
Michael Pickens of Auckland, New Zealand scored a sensational victory in Sunday night's "Indiana Midget Week" finale at the Kokomo Speedway, leading the final two laps after a restart which saw the complexion of the IMW points championship change in Clauson's favor. Clauson emerged with a six-point margin of victory over Kyle Larson for the 2011 Indiana Midget Week title as Larson slid from the lead to third in the closing laps after leading the first 28 circuits. Pickens' victory, his first in USAC racing, came in the Polar Ice/BSL Racing Breka/Esslinger Ford. Trailing him at the checkered flag were Tracy Hines, who made a late-race charge to second, Larson, Brad Kuhn and Clauson. Darren Hagen was the fastest qualifier.
Clauson won Saturday night's 30-lapper at Lawrenceburg Speedway. He got by Steve Buckwalter on lap six and led the last 25 laps in his Parker Stone Spike/Esslinger Ford. Pickens finished second at Lawrenceburg, ahead of Larson, Hines and Hagen.
Larson, of Elk Grove, Calif., scored his first USAC feature victory in Friday night's 30-lapper at the Bloomington Speedway. Larson trailed Chris Windom for 17 laps, then led lap 18 before yielding the lead back to Windom. On lap 27 Larson caught Windom in turn three and then led the final four laps in his Toyota TRD Bullet to beat Windom, Shane Cottle, Caleb Armstrong and East. NASCAR star Jason Leffler was unable to make the feature after fighting an ill-handling car. Jerry Coons Jr. was the fastest qualifier and IMW title contenders Hagen and Brad Kuhn were relegated to using provisional starting spots at the back of the feature but finished 11th and 13th respectively
Clauson took the checkered flag first Thursday night at Lincoln Park Speedway in Putnamville, but not before a thrilling battle for the victory with Larson in round two of the 2011 "Indiana Midget Week." Clauson passed Larson on the final lap for the win in his Corey Tucker Racing/BCI/Curb-Agajanian Parker Stone Spike/Esslinger Ford, ending a duel which included six lead changes in the 30 laps. Larson took second after leading a total of 13 laps, finishing ahead of Kuhn, fast qualifier East and Jerry Coons Jr.
Hagen, of Riverside, Calif., caught early race leader Zach Daum on lap 13 and led the final 18 laps to win Wednesday night's 30-lapper at Gas City I-69 Speedway. Trailing Hagen and his Liberty Village/McGladrey & Pullen Spike/Esslinger Ford at the checkered flag were Daum, who led the first 12 laps, Hines, East and Hunter Schuerenberg.
MOPAR USAC NATIONAL MIDGET POINT STANDINGS
1-Bryan Clauson-517; 2-Bobby East-500; 3-Darren Hagen-474; 4-Kyle Larson-460; 5-Tracy Hines-452; 6-Zach Daum-378; 7-Brad Kuhn-372; 8-Levi Roberts-303; 9-Jerry Coons Jr.-278; 10-Caleb Armstrong-268.
FINAL USAC INDIANA MIDGET WEEK POINT STANDINGS
1-Bryan Clauson-308; 2-Kyle Larson-302; 3-Tracy Hines-279; 4-Bobby East-268; 5-Michael Pickens-214; 6-Chris Windom-214; 7-Darren Hagen-209; 8-ZachDaum-204; 9-Brad Kuhn-200; 10-Shane Cottle-174.