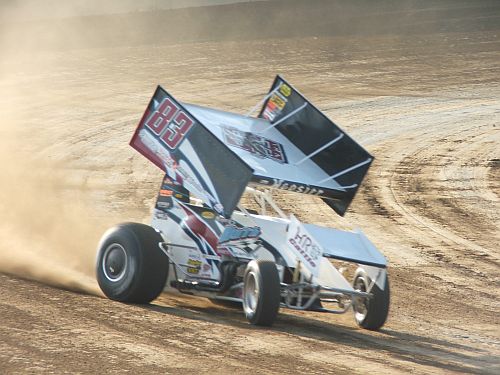 Inside Line Promotions
– KNOXVILLE, Iowa (June 13) – Simply put, it was one of those nights.
It started with a high pill draw, which forced veteran Danny Lasoski to qualify third to last in the World of Outlaws event at Knoxville Raceway in Knoxville, Iowa, on Saturday.
"You could just see the times start slowing down and slowing down," he said. "We went out late and qualified terrible."
Lasoski qualified 18th, which missed the invert by two positions – or 0.08 of a second. It was particularly a blow because of the lack of passing on the track and had Lasoski been a tenth of a second faster in qualifying, it would have started him on the front row of a heat race.
"We had a fresh Kistler engine in there," said Lasoski, who started fifth and finished fourth in his heat race to advance to the feature.
"There was just no passing. Everybody ran right around the bottom."
Lasoski started 17th in the feature and placed 13th, which snapped a string of seven straight races with a top-six finish. It was also the first time this season he didn't finish in the top two at Knoxville Raceway.
"We just didn't get the job done," he said. "It's one of those weekends you just put behind you and move on to the next."
Lasoski is scheduled to race Friday at U.S. 36 Raceway in Cameron, Mo., in the ASCS Warrior vs. Midwest Region showdown before Saturday's race at Knoxville Raceway.
He is the current 410 points leader at Knoxville Raceway by more than 100 markers.
QUICK RESULTS –
June 11 – Knoxville Raceway in Knoxville, Iowa – Qualifying: 18; Heat race: 4 (5); Feature: 13 (17).
SEASON STATS –
23 races, 22 features, 6 wins, 13 top fives, 16 top 10s, 19 top 15s, 21 top 20s
UP NEXT –
Friday at U.S. 36 Raceway in Cameron, Mo., with the ASCS Warrior vs. Midwest Regions and Saturday at Knoxville Raceway in Knoxville, Iowa
FAVORITE NUMBER –
7: Streak of top-six finishes snapped on Saturday when Lasoski placed 13th at Knoxville Raceway in Knoxville, Iowa, with the World of Outlaws.
SOCIAL MEDIA LINKS –
Website: www.dannylasoski.com
ON THE AIR –
Lasoski was a featured guest on the ASCS Show by Racinboys on April 12. Click on the link below to listen to Lasoski's interview, which begins around the 22-minute mark.
http://www.meridix.com/mbp/general/index.php?liveid=Racinboys&recordid=18548
SPONSOR SPOTLIGHT – Kistler Engines
Based in Fremont, Ohio, Kistler Engines builds lightweight, high-performance engines for race teams. Owner Paul Kistler established Kistler Engines in 1993. For more information, visit www.kistlerengines.com.
"I've been with Kistler Engines for a number of years now," Lasoski said. "For me, Paul has been an asset to my racing career. No matter if it's on my personal car or anybody I drive for, Kistler Engines has always done a great job."
Lasoski would also like to thank Creason Pipeline Services, the Michael Ross Foundation, Eagle Motorsports, Hoosier, Wertz Designs and Ditzfeld Transfer, Inc. for their continued support.