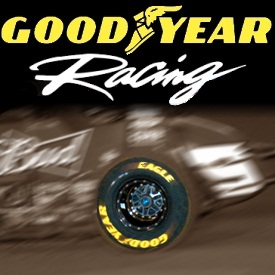 By Lee Elder
GRAND FORKS, ND (June 20, 2011) – The Duel in the Dakotas World of Outlaws Sprint Car Series event at River Cities Speedway turned out to be a Dollansky Double.
Dollansky passed Jason Sides as the two raced out of the final corner on the final lap of the second night of racing at River Cities to take his second WoO win in as many nights at the track. The wins gave him four feature victories for the season.
Goodyear is the Official Tire Company of the WoO and exclusively supplies the rear tires for every WoO competitor. Goodyear's sprint car program supplies tires to touring programs and weekly racing divisions at tracks around the nation.
On the first night at River Cities, Dollansky passed Bill Rose about half way through the feature to take the lead and he held the front over the rest of the distance. Donny Schatz finished second, followed by Rose, Steve Kinser and Joey Saldana. Jason Meyers posted the best time during qualifying.
Sides finished second in the second night's feature. Kinser was third, followed by Saldana and Meyers. Schatz posted the quickest qualifying lap.
More information about Goodyear Racing is available at www.racegoodyear.com. More information about the WoO is available at www.worldofoutlaws.com.