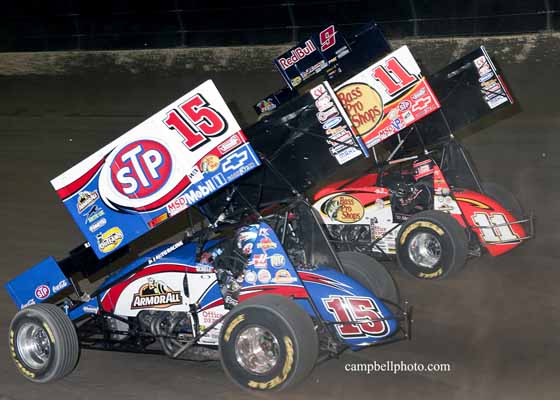 From the World of Outlaws
PRINCETON, Minn. — June 25, 2011 — Donny Schatz and his team want to dominate the series. The STP/Armor All/Chevrolet J&J did just that during the latter stages of the 40 lap main event at Princeton Speedway. Schatz battled hard with Jason Sides during the closing laps but eventually held on to score his 107th career win, tying his childhood idol, Doug Wolfgang.
"That was a lot of fun racing with Jason," said a smiling Schatz in victory lane. "We fought pretty hard. Mark (Dobmeier) set a torrid pace earlier on but you can't run 40 laps that way."
(Click here to watch a post race interview with race winner Schatz)
It marked the third time in a row that Schatz visited victory lane at the quarter mile bull ring. With his second victory of 2011, Schatz increased his lead in the series standings to 29 markers over second place Joey Saldana.
"We really want to get back to the point where we are dominating again," said Schatz. "Consistency is great and all but wins sure make you feel better. This team kind of starts scratching and clawing at each other if we haven't won in awhile."
For his part, Sides was happy to race hard with Schatz. The Bartlett, Tenn. driver gave it everything he had but settled for his second runner up finish in a row.
"We got a good jump on the late restart and got around Donny there but we got low and into the sticky stuff," said Sides. "I wasn't going to wreck him or anything. It's not the way you do things but it was a lot of fun to race that way. Another second place finish? We'll take it. We're building some good momentum for the summer months."
20 time champion Steve Kinser overcame an engine change and a 10th place starting position to come home third with 2010 Champion Jason Meyers crossing the line in fourth. Dobmeier, a Grand Forks, N.D. native, led the first 27 laps of the main event and wound up finishing fifth.
Sides was the quickest driver on the night followed by Sammy Swindell and Schatz. Hometown hero Craig Dollansky, winner of the previous two World of Outlaws series races, finished in seventh.
The Outlaws are back in action at Husets Speedway just outside of Sioux Falls, S.D. on Sunday, June 26.
PRINCETON SPEEDWAY NOTEBOOK
QUICK TIME – Jason Sides was the night's fastest qualifier with a lap around the quarter-mile oval in 10.948 seconds, earning five championship points. Sammy Swindell, Donny Schatz, Mark Dobmeier and Kraig Kinser also earned qualifying points. It marked Sides's second Quick Time of the season.
WINNERS – There have been 24 World of Outlaws Sprint Car Series A-Feature events in 2011. The winners include: Steve Kinser – 5 (Volusia Speedway Park on Feb. 11 and 12, Pike County Raceway on Feb. 25, the Dirt Track at Las Vegas on March 4, Lakeside Speedway on June 4); Craig Dollansky – 4 (Silver Dollar Speedway on March 12, Salina Highbanks Speedway on May 3, River Cities Speedway on June 17 and 18); Sammy Swindell – 4 (Royal Purple Raceway on Feb. 26, Merced Speedway on April 1, Tri-State Speedway on April 30, Knoxville Raceway on June 11); Joey Saldana – 3 (Las Vegas Motor Speedway on March 3, Thunderbowl Raceway on March 19, Eldora Speedway on May 6); Jason Sides – 3 (Volusia Speedway Park on Feb. 13, Calistoga Speedway on April 2, I-96 Speedway on May 30); Paul McMahan – 2 (the Dirt Track at Charlotte on May 28, Belleville Highbanks on June 3); Donny Schatz – 2 (Attica Raceway Park on May 20, Princeton Speedway on June 25); Daryn Pittman – 1 (Williams Grove Speedway on May 13.)
NEW ONLINE HOME – Make sure to check out the all-new WorldofOutlaws.com for the latest news and results, plus exclusive driver interviews, video and pictures. Also listen to every event live at DIRTVision.com .
World of Outlaws Sprint Car Series Statistical Report; Princeton Speedway; Princeton, Minn.; June 25, 2011
A-Main – (40 Laps)
1. 15-Donny Schatz[3][$10,000]; 2. 7S-Jason Sides[2][$5,500]; 3. 11-Steve Kinser[10][$3,200]; 4. 14-Jason Meyers[6][$2,800]; 5. 13-Mark Dobmeier[1][$2,500]; 6. 1-Sammy Swindell[4][$2,300]; 7. 7-Craig Dollansky[11][$2,200]; 8. 9-Joey Saldana[7][$2,100]; 9. 59-Brooke Tatnell[5][$2,050]; 10. 83-Paul McMahan[13][$2,000]; 11. 6-Kraig Kinser[8][$1,500]; 12. 5W-Lucas Wolfe[12][$1,200]; 13. 91-Cody Darrah[18][$1,100]; 14. 63-Chad Kemenah[16][$1,050]; 15. 56-Davey Heskin[19][$1,000]; 16. 6R-Bill Rose[15][$900]; 17. 19-Donovan Peterson[17][$800]; 18. 1H-Jody Rosenboom[22][$800]; 19. 81-Austin Johnson[21][$800]; 20. 99J-Jacob Ossenfort[20][$800]; 21. 92-Kerry Madsen[9][$800]; 22. 20K-Thomas Kennedy[14][$800]; 23. 4W-Matt Wasmund[23][$800]; 24. 2-Kevin Ingle[24][$800]
Lap Leaders : Mark Dobmeier 1-27, Donny Schatz 28-40
KSE Hard Charger Award : 11-Steve Kinser[+7]
Qualifying –
1. 7S-Jason Sides, 10.948; 2. 1-Sammy Swindell, 11.023; 3. 15-Donny Schatz, 11.077; 4. 13-Mark Dobmeier, 11.083; 5. 6-Kraig Kinser, 11.139; 6. 7-Craig Dollansky, 11.146; 7. 59-Brooke Tatnell, 11.183; 8. 5W-Lucas Wolfe, 11.190; 9. 14-Jason Meyers, 11.275; 10. 92-Kerry Madsen, 11.303; 11. 9-Joey Saldana, 11.489; 12. 11-Steve Kinser, 11.522; 13. 83-Paul McMahan, 11.556; 14. 20K-Thomas Kennedy, 11.572; 15. 6R-Bill Rose, 11.585; 16. 63-Chad Kemenah, 11.944; 17. 19-Donovan Peterson, 11.963; 18. 91-Cody Darrah, 11.966; 19. 56-Davey Heskin, 12.056; 20. 4W-Matt Wasmund, 12.198; 21. 99J-Jacob Ossenfort, 12.476; 22. 81-Austin Johnson, 12.817; 23. 8-Casey Mack, 12.912; 24. 92M-Mitch Mack, 12.946; 25. 2-Kevin Ingle, 13.445; 26. 1H-Jody Rosenboom, 13.990
Heat 1 – (10 Laps – Top 6 finishers transfer to the A-feature)
1. 92-Kerry Madsen[1] ; 2. 59-Brooke Tatnell[2] ; 3. 13-Mark Dobmeier[3] ; 4. 83-Paul McMahan[5] ; 5. 7S-Jason Sides[4] ; 6. 63-Chad Kemenah[6] ; 7. 56-Davey Heskin[7] ; 8. 81-Austin Johnson[8] ; 9. 2-Kevin Ingle[9]
Heat 2 – (10 Laps – Top 6 finishers transfer to the A-feature)
1. 9-Joey Saldana[1] ; 2. 6-Kraig Kinser[3] ; 3. 5W-Lucas Wolfe[2] ; 4. 20K-Thomas Kennedy[5] ; 5. 1-Sammy Swindell[4] ; 6. 1H-Jody Rosenboom[9] ; 7. 8-Casey Mack[8] ; 8. 4W-Matt Wasmund[7] ; 9. 19-Donovan Peterson[6]
Heat 3 – (10 Laps – Top 6 finishers transfer to the A-feature)
1. 11-Steve Kinser[1] ; 2. 14-Jason Meyers[2] ; 3. 7-Craig Dollansky[3] ; 4. 15-Donny Schatz[4] ; 5. 91-Cody Darrah[6] ; 6. 6R-Bill Rose[5] ; 7. 99J-Jacob Ossenfort[7] ; 8. 92M-Mitch Mack[8]
Dash – (8 Laps, finishing order determined first 10 starting positions of A-feature
1. 13-Mark Dobmeier[1] ; 2. 7S-Jason Sides[4] ; 3. 15-Donny Schatz[2] ; 4. 1-Sammy Swindell[3] ; 5. 59-Brooke Tatnell[6] ; 6. 14-Jason Meyers[7] ; 7. 9-Joey Saldana[9] ; 8. 6-Kraig Kinser[5] ; 9. 92-Kerry Madsen[8] ; 10. 11-Steve Kinser[10]
B-Main – (12 Laps – Top 6 finishers transfer to the A-feature)
1. 56-Davey Heskin[2] [-]; 2. 99J-Jacob Ossenfort[4] [-]; 3. 19-Donovan Peterson[1] [-]; 4. 81-Austin Johnson[5] [-]; 5. 4W-Matt Wasmund[3] [-]; 6. 2-Kevin Ingle[8] [-]; 7. 8-Casey Mack[6] [$200]; 8. 92M-Mitch Mack[7] [$180]
World of Outlaws Sprint Car Series Standings through June 25, 2011:
| | | | | | | | | |
| --- | --- | --- | --- | --- | --- | --- | --- | --- |
| Pos. | Driver | Total | Diff | Wins | Top 5 | Top 10 | QT | |
| 1. | Donny Schatz | 3349 | | 2 | 14 | 19 | 2 | |
| 2. | Joey Saldana | 3320 | -29 | 3 | 13 | 19 | 3 | |
| 3. | Jason Meyers | 3293 | -56 | 0 | 12 | 20 | 2 | |
| 4. | Steve Kinser | 3279 | -70 | 5 | 12 | 19 | 1 | |
| 5. | Jason Sides | 3250 | -99 | 3 | 11 | 18 | 2 | |
| 6. | Craig Dollansky | 3230 | -119 | 4 | 11 | 17 | 1 | |
| 7. | Paul McMahan | 3180 | -169 | 2 | 6 | 15 | 7 | |
| 8. | Cody Darrah | 3000 | -349 | 0 | 5 | 11 | 0 | |
| 9. | Lucas Wolfe | 2973 | -376 | 0 | 1 | 8 | 0 | |
| 10. | Kraig Kinser | 2948 | -401 | 0 | 2 | 9 | 0 | |
| 11. | Sammy Swindell | 2942 | -407 | 4 | 10 | 14 | 2 | |
| 12. | Chad Kemenah | 2941 | -408 | 0 | 2 | 7 | 2 | |
| 13. | Bill Rose | 2756 | -593 | 0 | 1 | 2 | 0 | |
| 14. | Ben Gregg | 1673 | -1676 | 0 | 0 | 0 | 0 | |
| 15. | Kerry Madsen | 1658 | -1691 | 0 | 1 | 4 | 0 | |
| 16. | Brad Sweet | 1137 | -2212 | 0 | 0 | 3 | 1 | |
| 17. | Sam Hafertepe Jr. | 1029 | -2320 | 0 | 2 | 5 | 0 | |
| 18. | Lance Dewease | 982 | -2367 | 0 | 0 | 2 | 0 | |
| 19. | Jac Haudenschild | 944 | -2405 | 0 | 1 | 2 | 0 | |
| 20. | Terry McCarl | 940 | -2409 | 0 | 0 | 2 | 0 | |