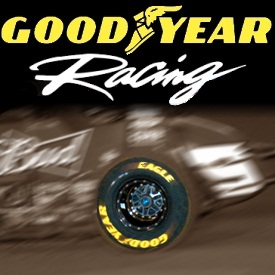 By Lee Elder
PRINCETON, Minn. (June 27, 2011) – The next time the World of Outlaws Sprint Car Series races at Princeton Speedway, expect Donny Schatz to win.
Schatz won the latest WoO go at the quarter-mile dirt oval, his third straight win at the track, leading the final 12 laps of the 40-lap feature race. Schatz is the series points leader and probably wouldn't mind racing at Princeton several more times this season.
Goodyear is the exclusive rear tire provider for the WoO Sprint Car Series. The Akron, Ohio-based manufacturer also builds front tires for the competitors, but the front wheel positions are open to competition among tiremakers.
Schatz took the lead from Mark Dobmeier in time to lead the 28th lap and held the top spot for the remainder of the event. It was the second win of the season for Schatz.
Jason Sides finished second in the race, followed by Steve Kinser, Jason Meyers and Dobmeier. Dobmeier led the first 27 laps.
Schatz has 3,349 points and leads the next driver in the standings, Joey Saldana, by 29 points. Saldana has three wins this season.
More information about Goodyear Racing is available at www.racegoodyear.com. More information about the WoO is available at www.worldofoutlaws.com.