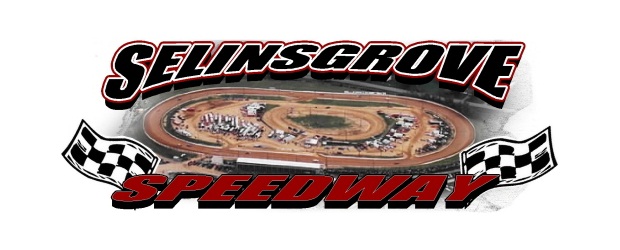 By Steve Inch
SELINSGROVE, Pa. – Selinsgrove Speedway will showcase two sprint car
specials over the Fourth of July weekend. The 358 sprint cars will be
featured in the Firecracker 30 this Saturday, July 2, with the 410 sprint
cars taking the spotlight in the PA Speedweek finale this Sunday, July 3.
Track gates will open at 5 p.m. and qualifying will begin at 7 p.m.
Saturday night and 7:30 p.m. Sunday night.
Saturday's Tenth Annual Middleswarth Potato Chips Firecracker 30 for 358
sprint cars will pay $2,000 to win and $225 to start out of a $10,500
purse. Time trials, heats, and a B-Main will be the format for qualifying
for the 30-lap A-Main. Also on this Saturday's racing card will be the late
models, pro stocks, and roadrunners.
Past winners of the Firecracker race as a 40-lap contest include the late
Jim Nace of Thompsontown (2002), Bob Beidleman of Walnutport (2003), Dave
Calaman of Carlisle (2004), Nate Snyder of Halifax (2005), and Blane
Heimbach of Selinsgrove (2006). In 2007, the race was abbreviated to 30
laps and was won by Calaman. Scott Flammer of West Milford, N.J., (2008)
Pat Cannon of Etters (2009), and Snyder took the victory in last year's
30-lap event.
The speedway will swing back into action on Sunday evening with the Jan
Opperman Memorial PA Speedweek finale for 410 sprint cars sponsored by Mach
1 Chassis. Sunday night's event will mark the third appearance of the
season by the 410 sprint cars at the Snyder County half-mile oval. Time
trials, heats, and a B-Main will be the format for qualifying for the
30-lap A-Main that will pay $5,000 to win. If needed, Monday, July 4, will
be utilized as a rain date for Sunday's event.
Fred Rahmer of Salfordville has more Speedweek wins at Selinsgrove than any
other driver, with victories in 1993, 1995, 1997, 1999, 2000, 2005, and
2008. Other past Speedweek winners at Selinsgrove include Len Krautheim of
Penns Creek (1992); Billy Pauch of Frenchtown, N.J. (1994, 1996); Todd
Shaffer of Millerstown (2001); Greg Hodnett of York (2002, 2003, 2004);
Doug Esh of Lancaster (2006); Sean Michael of Allentown (2007); Chad
Kemenah of Findlay, Ohio (2009), and defending winner Daryn Pittman of
Indianapolis, Ind.
In the March 13 season opener, Lance Dewease of Faytteville won the 25-lap
410 sprint car race, while Hodnett scored the victory in the May 29 30-lap
Keystone Cup race. The 410 sprint cars will conclude their 2011 season at
Selinsgrove Speedway with the Jim Nace Memorial 29th Annual National Open
Saturday, Sept. 17.
Race sponsor Mach 1 Chassis, located at 10 North Frederick Street in
Mechanicsburg, engineers and builds race car chassis that are known for
safety, strength, durability, and performance.
Selinsgrove Raceway Park will present the Firecracker Special for go karts
at 6 p.m. Friday, July 1. Track gates will open at 4 p.m. Micro sprint cars
will NOT be in competition at the track this Friday and will return on
Friday, July 9.
Admission Fees:
Saturday, July 2: Adults $13; Students (12-17) $10; Kids 11 & Under FREE;
Pit Passes $20
Sunday, July 3: Adults $20; Students (12-17) $15; Kids 11 & Under FREE; Pit
Passes $25