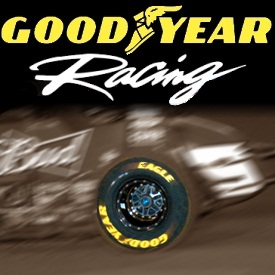 By Lee Elder
SOUTH COFFEEVILLE, Ok. (July 5, 2011) – Dean Drake won his first Oil Capital Racing Series event when he captured the race at Mid-American Speedway.
Goodyear is the exclusive tire provider for the OCRS. The Akron, Ohio tiremaker created a right rear tire specifically for the OCRS competitors and the other tires supplied are the same as those Goodyear creates for the top touring sprint car series in the country.
Drake's victory came ahead of a furious charge by Andrew Deal, who started ninth. Rafe Essary took third, followed by Mike Goodman and Sean McClelland.
The race drew an entry of 25 cars.
More information about Goodyear Racing is available at www.racegoodyear.com. More information about the OCRS is available at www.ocrsracing.com.