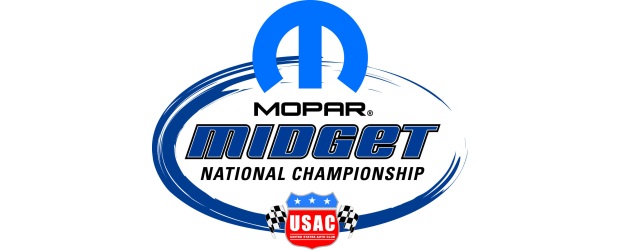 By Dick Jordan
Lucas Oil Raceway at Indianapolis' annual Kroger SpeedFest marks the next appearance of the Mopar USAC National Midget Series, which witnessed two races won by Darren Hagen last weekend.
As a result of his victories, Hagen has climbed to within six points of leader Bryan Clauson in the new Mopar standings going into the July 28 Lucas Oil Raceway program, in conjunction with the "J.D. Byrider 100" Traxxas USAC Silver Crown race and the ARCA Stock Cars.
Hagen, of Riverside, Calif., extended his streak of Mopar USAC National Midget success in 2011 with Friday and Saturday night's wins at Toledo, Ohio and Morris, Ill. respectively.
Hagen trailed Bobby East for five laps at Toledo, then took the lead in his Liberty Village/McGladrey & Pullen Beast/Esslinger Ford as East slowed. He led the remaining 45 laps on "Jerry Nemire Appreciation Night" for the win over Kyle Larson, Clauson, Tanner Swanson and Mario Clouser.
Hagen gave himself an unbelievable 25th birthday present Saturday night at Grundy County Speedway in Morris, Ill., an improbable victory in the "Freedom 50" Mopar USAC National Midget race co-sanctioned by STARS. Hagen was running third early in the race when he accidentally hit the kill switch and stalled the car. Re-starting on the tail, he methodically picked off car after car and caught Tracy Hines exiting turn two on the final lap to post the 50-lap win in his Liberty Village/McGladrey & Pullen Beast/Esslinger Ford. Hines finished second after leading 26 laps, while Larson, Swanson and Caleb Armstrong rounded out the "top-five." Clouser was the fastest qualifier and Jerry Coons Jr. led the first 23 laps before yielding to Hines
MOPAR USAC NATIONAL MIDGET POINT STANDINGS
1-Bryan Clauson-709, 2-Darren Hagen-703, 3-Kyle Larson-664, 4-Bobby East-619, 5-Tracy Hines-592, 6-Caleb Armstrong-485, 7-Zach Daum-485, 8-Brad Kuhn-432, 9-Mario Clouser-399, 10-Tanner Swanson-398.