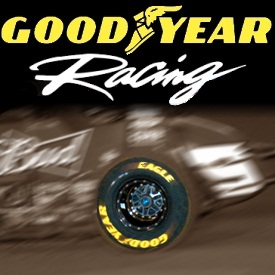 By Lee Elder
DODGE CITY, Kan. (July 5, 2011) – Donny Schatz holds a slim seven-point lead over Joey Saldana in the World of Outlaws Sprint Car Series standings in the wake of the Outlaws' Boot Hill Showdown at Dodge City Raceway Park. Neither driver finished in the top five at Dodge City and the chase for the championship is very tight now.
Goodyear is the Official Tiremaker for the Outlaws sprint car series and is the exclusive supplier for the two rear tire positions on each car. In addition, Goodyear supplies tires for most of the top touring winged sprint car programs in the country and is the sponsor of the Goodyear Knoxville Nationals at Knoxville Raceway.
Talk about a 'hot' series, the Outlaws not only attracted huge crowds to the Dodge City venue, the event also drew in Mother Nature. The ambient temperature for the two nights of racing was over 100 degrees. Despite the challenging conditions for the both the competitors and the track's preparation crew, Goodyear's Eagles performed flawlessly.
Jason Sides led the last 17 laps of the Dodge City race and came home the winner. Jason Meyers, who led the first 13 laps of the 30-lapper, finished second. Sammy Swindell was third, followed by Craig Dollansky and Ben Gregg.
Swindell won the previous night's main event.
Schatz finished ninth in the Dodge City final and leads the WoO standings with 3,594 points. Saldana, who was 13th in the race, has 3,587.
More information about Goodyear Racing is available at www.racegoodyear.com. More information about the WoO is available at www.worldofoutlaws.com.