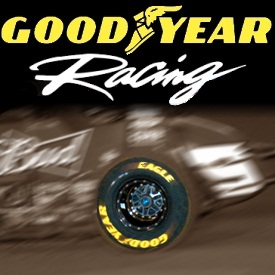 By Lee Elder
WATSONVILLE, Calif. (July 5, 2011) – Tommy Tarlton won the Golden State King of the West Sprint Car Series Howard Kaeding Classic at Ocean Speedway, his second victory this season.
Tarlton started 11th in the field on the quarter-mile dirt oval. His victory in the 30-lap race was the ninth of his career in King of the West racing.
Goodyear is the exclusive tire provider for the Series, supplying the same line of racing Eagles the tiremaker manufactures for the top touring winged sprint car series in the country.
The final 18 laps of the Classic were completed caution-free. Tim Kaeding finished second, followed by Jonathan Allard, Bobby McMahan (who started 15th) and Brad Furr.
Justin Sanders registered the best lap in time trials.
More information about Goodyear Racing is available at www.racegoodyewar.com. More information about the Series is available at www.kingofthewestsprintcarseries.com.