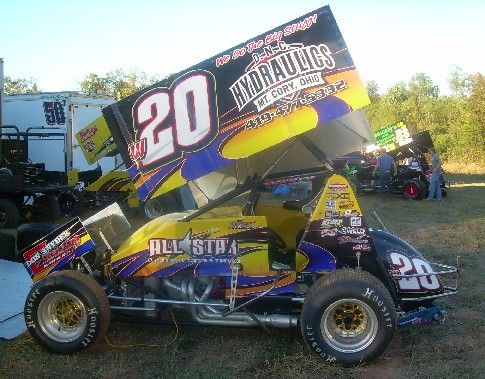 From Brian Liskai
FREMONT, Ohio (July 9, 2011) – There's an old saying in racing: "Checkers or Wreckers," and Greg Wilson was ready for both on a restart with two laps remaining Saturday at Fremont Speedway.
After race-long leader Craig Mintz suffered a flat tire with three laps remaining, handing the lead to Dean Jacobs, Wilson, who has worked his way from the back of the pack to top five runs several times over the past month, including being edged for the win last week at Fremont, was ready to pounce. Entering the final two turns as they headed to the checkered, Wilson executed a slide job as he and Jacobs touched with Wilson taking the win.
Afterward as the top three cars hit the pits to scale, there was an altercation involving the teams and family members of the top two finishers. When Wilson came back to the Engine Pro Victory Lane, he was bloodied, but relieved to get his first 410 sprint win of the season after so many good runs.
"I gave him (Jacobs) plenty of room…he finished didn't he and didn't end up in the wall? It was for the win and he's been around long enough to know the gloves are off on the last corner of the last lap," said Wilson beside his All Star Plumbing, Heating and Air Conditioning/DNC Hydraulics/Ohio Logistics backed #W20. "If they want to come out here in front of everyone and discuss it some more we can do that."
"We've had such a good car the past month and just haven't gotten there. We brought Daniel Smith to work on this thing a few months ago and it's been great. I have to thank Veryl Warnimont and all the sponsors for sticking with me through thick and thin," added Wilson.
And if the last lap excitement in the Fort Ball Pizza Palace 410 Sprint feature wasn't enough, the Fremont Federal Credit Union 305 Sprints had a barn-burner of a feature of their own. Bellevue, Ohio's Jimmy Colvin held off a last corner, last lap slider from Nate Dussel to score his second career victory at "The Track That Action Built." With about five laps to go Colvin, who had had lead from the drop of the green, began to struggle, especially in turns three and four. Dussel quickly closed and executed a flier on the bottom of turn three on the last lap, sliding up in front of Colvin, who turned down and drove back under Dussel and scored the win by half a car length.
"I think our tires were just getting to hot. We were running wide open every lap and I think they were just kind of wearing out. That was close in the last turn…it had me nervous but after I pulled under him coming out of four that when I knew I had him," said Colvin beside his Conceal Carry Classes/G&C Construction/Greber Custom Powder Coating backed #9.
"We've been working real hard for this. All week we've been putting this new car together…we've been so close to putting ourselves in a position to win and just needed that little push," added Colvin, thanking his grandparents and his mom and dad for paying the bills for the race car.
And not to be outdone, the Fremont Fence & Guardrail Dirt Trucks saw a tremendous six truck battle for the lead throughout the 20-lap affair. Fostoria, Ohio's Bob Dible would inch under Art Ball for the lead with five laps to go and held on for his second win of the season and the 11th of his career at Fremont Speedway. Dible also owns three feature wins at Attica Raceway Park in 2011.
"I can't believe I got Art Ball to slip up off the bottom. I followed him for five-six laps and he never budged. I bumped him once and he still stayed where he was at and then it was like all of a sudden, 'wow he slid,' and I got buy. I started the first three laps up top and there really wasn't anything there and I squeezed down on the bottom and luckily we got that one caution there and I was able to pass them one at a time," said Dible. "The only problem I've had this year…the truck runs great when it runs…it's just something stupid happens. Last week I should have had that nailed and I loose part of the suction hose out of the fuel cell and run out of fuel. If I can get rid of the bad luck we'll be perfect."
The 305 sprints also ran a make-up feature from the May 28 Kear's Speed Shop show when the rains fell before they could run their feature. In that main Fremont, Ohio's Paul Weaver lead all 25 laps and held off Dustin Dinan for his 29th career victory at "The Track That Action Built," to sit 13th on the all-time win list.
"I have to thank Darrell Schiets, Mike Gorhing of M&L Excavating and a few sponsors that stayed on board after I bought the car, Spanky's Pizza and Mountain Main Trading Post…they helped me keep racing," said Weaver in the Engine Pro Victory Lane.
In the 30-lap 410 sprint feature, defending track champion Craig Mintz and current point leader Bryan Sebetto would bring the field to the green, with Mintz rocketing off the top side of the track to take the lead while third place starter Jacobs slide into second. After one lap was scored Brad Haudenschild would spin, collecting Brian Smith and Mike Dussel. On the restart Mintz would again set sail up top with Sebetto driving by Jacobs into second with Brandon Martin, Mike Linder, Byron Reed and Greg Wilson right on their tails.
Duane Zablocki would loop it out on lap three and on the restart, Jacobs would retake the second spot while Mintz pulled away. Mintz would set a blistering pace, catching the back of the pack just six laps later, allowing Jacobs and Sebetto to close while Martin, Linder, Wilson and Reed continued their tremendous race for third. Once Mintz cleared a couple of lapped cars he pulled away as Jacobs, Sebetto and Martin waged war for third. At the half-way point it was Mintz over Jacobs, Sebetto, Martin, Reed, Linder and Wilson. A lap later and disaster struck for Sebetto as he would lose his left rear wheel and tip over in turn three.
On the restart Mintz had two lapped machines between himself and Jacobs and Reed ran third followed by Wilson, Martin, Linder, Rob Chaney, Cole Duncan and Danny Smith. On the restart Mintz pulled away with Jacobs working his way around the lapped cars as Wilson rocketed past Reed for third with Martin and Linder and Chaney giving chase. As the laps ticked away, it looked like Mintz had the field covered as Jacobs had his hands full with Wilson, Reed and a closing Chaney.
Reed began to apply pressure to Wilson for third with six laps to go and that battle would continue over the next three laps before Reed would do a 360-spin in turn two on lap 27, bringing out the caution. During the yellow, Mintz would suffer a flat right rear tire and go to the pits to have it change and rejoin the rear of the field. The running order for the three lap shoot-out was now Jacobs, Wilson, Chaney, Martin, Smith, Linder, Duncan and 19th-place starter Phil Gressman.
On the restart Wilson would race right on Jacobs' rear bumper and would duck under in turn three to battle for the lead while Chaney waited for either to make a mistake. Just as Wilson raced side-by-side with Jacobs as they took the white flag, Martin and Jody Keegan would spin to bring out a one lap war for the win.
When the green and white flew together on the restart, Jacobs and Wilson would run nose to tail through one and two and as they raced down the back stretch the crowd held their breath sensing what was about to happen. Jacobs went to the top side and Wilson flew to the bottom and slid up in front of Jacobs as the two banged wheels. Wilson would storm to the checkered over Jacobs, Smith, Linder and Duncan would round out the top five. Gressman, last week's feature winner, had experienced engine problems all night and had to come from the tail of the B-main to make a transfer and then stormed from 19th starting spot in the A-main to a sixth place finish.
In the 25-lap 305 sprint feature, Colvin and Caleb Griffith would lead the field to the green with Colvin going to the top side to take the lead while third place starter Dussel would slide into second as he battled Griffith, Dustin Dinan, Stuart Brubaker and Paige Polyak. Colvin would pull away from Dussel who ran comfortably in second while Griffith, Dinan, Brubaker and Polyak continued to battle hard for third.
Just as Colvin would catch the rear of the field on lap 10, the caution flew when Dinan coasted to a stop on the front stretch. On the restart again Colvin would pull away from Dussel with Griffith, Polyak, Brubaker and Lee Jacobs racing hard for third. Dustin Keegan would bring out the caution again on lap 12 and following a green flag lap, the caution would fly for Matt Merrill. The race would go green the remaining 12 laps.
Colvin was able to pull away from Dussel again on the restart and seemed to have the race in command as the tremendous battle for third continued between Griffith, Polyak, Brubaker, Jacobs and Weaver. In fact, with 10 laps to go, Polyak, Brubaker and Griffith were three wide entering turn three.
With four laps to go, Colvin began struggling to hold to the top side of the track and Dussel quickly closed while Polyak ran third followed by Brubaker, Griffith, Weaver, Jacobs and Zack Kramer. With two laps to go Dussel had wiped out a five car length deficit and was right on Colvin's rear bumper while Brubaker slid into third followed by Polyak and Griffith. As they took the white flag, Dussel ran right in Colvin's tire tracks. As they raced into turn three Dussel dove to the bottom and slid up in front of Colvin who turned left and drove back under. It was then a drag race to the checkered as Colvin won by half a car length over Dussel. Brubaker would hold off Polyak for third with Griffith rounding out the top five.
In the 20-lap dirt truck main Art Howey Jr. and Jim McGrath Sr. would lead the field to the green with Howey taking the lead while McGrath tried to hold off his son, Jimmy Jr. for second with Art Ball, last week's winner John Ivy, Dan Hennig and Cory Ward in tow. McGrath Senior would lead by a bumper as they finished the third lap with Ball, Ivy, McGrath Jr., Kent Brewer, Hennig and Dible in pursuit. Ball would take over second on lap five and immediately raced under McGrath to challenge for the lead with Ivy following right in their tire tracks.
On the 7th lap Ball would drive into the lead but McGrath hounded from the outside as Ivy was right on the rear bumper of both with McGrath Jr. Howie, Dible and Hennig also in contention. At the half-way point it was Ball just ahead of McGrath Sr., Ivy, Dible, McGrath Jr., Howie, Brewer and Hennig. Both Dible and Ivy would drive under McGrath Sr. on lap 11 and continue to pressure ball. Lap after lap Dible would try to get Ball to slip off the bottom but to no avail.
Following a lap 13 caution for a Tony Siferd spin, Ball would continue to lead but seemed to be having some difficulty holding his #01 on the bottom of turns three and four. With five laps to go, Dible took advantage and slid under Ball for the lead while Ivy stayed glued to both with Brewer, McGrath Sr. and McGrath Jr. ready to strike.
There was no moving Dible off the bottom and he went on to his 11th career Fremont win over Ball, Ivy, Brewer and McGrath Sr.
There is no racing on Saturday, July 16 at Fremont, but action will resume on Saturday, July 23 on Burns Petroleum Night with the 410 sprints, 305 sprints and dirt trucks in action.
Reserved seats are still available for the return of the World of Outlaw Sprint Cars on Oct. 15. Go to www.fremontohspeedway.com to view the reserved seating chart and get your tickets today for "The Greatest Show on Dirt."
You can follow Fremont Speedway on Twitter and Facebook.
Fremont Speedway – 7/9/2011
Fisher Performance Night
Fort Ball Pizza Palace 410 Sprints (26 Cars)
[#]-Starting Position
Qualifying – Kistler Engines
1. 312-Mike Linder, 12.70; 2. 9X-Brandon Martin, 12.73; 3. 5R-Byron Reed, 12.77; 4. 97-Dean Jacobs, 12.80; 5. 16-Bryan Sebetto, 12.80; 6. O9-Craig Mintz, 12.85; 7. 70-Brad Haudenschild, 12.86; 8. 12-Jarred Ridge, 12.88; 9. 45-Rob Chaney, 12.89; 10. 22-Cole Duncan, 12.93; 11. W20-Greg Wilson, 12.93; 12. O-Mike Dussel, 12.97; 13. 60-Jody Keegan, 13.00; 14. 4-Danny Smith, 13.01; 15. 9Z-Duane Zablocki, 13.09; 16. 51C-Roger Campbell, 13.12; 17. 2+-Brian Smith, 13.13; 18. F1-Jon Finsel, 13.15; 19. 83M-Broc Martin, 13.18; 20. 51-Brad Bowman, 13.21; 21. 22T-Miranda Throckmorton, 13.25; 22. 91-Aaron Middaugh, 13.27; 23. 27-Scott Euler, 13.28; 24. 96AU-Bruce White, 13.36; 25. 14H-Todd Heller, 13.58; 26. 53-Phil Gressman, 99.00
Heat 1 – Heat 1 (8 Laps – Top 5 finishers transfer to the A-feature)
1. 97-Dean Jacobs[5] ; 2. 312-Mike Linder[6] ; 3. 70-Brad Haudenschild[4] ; 4. 22-Cole Duncan[3] ; 5. 51C-Roger Campbell[1] ; 6. 91-Aaron Middaugh[8] ; 7. 83M-Broc Martin[7] ; 8. 60-Jody Keegan[2] ; 9. 14H-Todd Heller[9]
Heat 2 – Heat 2 (8 Laps – Top 5 finishers transfer to the A-feature)
1. 4-Danny Smith[2] ; 2. 2+-Brian Smith[1] ; 3. 9X-Brandon Martin[6] ; 4. W20-Greg Wilson[3] ; 5. 16-Bryan Sebetto[5] ; 6. 12-Jarred Ridge[4] ; 7. 51-Brad Bowman[7] ; 8. 27-Scott Euler[8]
Heat 3 – Heat 3 (8 Laps – Top 5 finishers transfer to the A-feature)
1. 9Z-Duane Zablocki[2] ; 2. 45-Rob Chaney[4] ; 3. 5R-Byron Reed[6] ; 4. O9-Craig Mintz[5] ; 5. O-Mike Dussel[3] ; 6. 22T-Miranda Throckmorton[7] ; 7. 96AU-Bruce White[8] ; 8. F1-Jon Finsel[1]
B-Main – Computer Man Inc. (10 Laps – Top 5 finishers transfer to the A-feature)
1. 12-Jarred Ridge[1] ; 2. 60-Jody Keegan[2] ; 3. 51-Brad Bowman[5] ; 4. 53-Phil Gressman[11] ; 5. 83M-Broc Martin[4] ; 6. 14H-Todd Heller[10] ; 7. 91-Aaron Middaugh[7] ; 8. 27-Scott Euler[8] ; 9. 22T-Miranda Throckmorton[6] ; 10. 96AU-Bruce White[9] ; 11. F1-Jon Finsel[3]
A-Main – (30 Laps)
1. W20-Greg Wilson[11]; 2. 97-Dean Jacobs[3]; 3. 4-Danny Smith[14]; 4. 312-Mike Linder[6]; 5. 22-Cole Duncan[10]; 6. 53-Phil Gressman[19]; 7. 2+-Brian Smith[17]; 8. 14H-Todd Heller[20]; 9. 60-Jody Keegan[13]; 10. 51C-Roger Campbell[16]; 11. 70-Brad Haudenschild[7]; 12. O9-Craig Mintz[1]; 13. 9X-Brandon Martin[5]; 14. 45-Rob Chaney[9]; 15. 83M-Broc Martin[18]; 16. 5R-Byron Reed[4]; 17. 12-Jarred Ridge[8]; 18. 9Z-Duane Zablocki[15]; 19. 16-Bryan Sebetto[2]; 20. O-Mike Dussel[12]
Hard Charger: 53-Phil Gressman[+13]
Fremont Federal Credit Union 305 Sprints (33 Cars) Make-up from 5-28-2011
[#]-Starting Position
A-Main – (25 Laps)
1. 1W-Paul Weaver[1]; 2. 5-Dustin Dinan[5]; 3. 27-Paige Polyak[3]; 4. 11F-D.J. Foos[7]; 5. 8K-Bobby Clark[2]; 6. M28-Josh Muntz[4]; 7. 35-Stuart Brubaker[20]; 8. 8B-Zack Kramer[6]; 9. 48-Mike Burkin[12]; 10. 94-John Ivy[14]; 11. 19R-Steve Rando[15]; 12. 25-Jason Keckler[13]; 13. 39-Matt Merrill[18]; 14. 5R-Jordan Ryan[19]; 15. 36-Seth Schneider[10]; 16. 9-Jimmy Colvin[16]; 17. 1-Nate Dussel[11]; 18. 10X-Dustin Stroup[8]; 19. 10S-Roger Shammo[9]; 20. 4M-Jamie Miller[17]
Hard Charger: 35-Stuart Brubaker[+13]
Fremont Federal Credit Union 305 Sprints (30 Cars) Scheduled 7-9-2011 Race
[#]-Starting Position
Heat 1 – Heat 1 (8 Laps – Top 4 finishers transfer to the A-feature)
1. 8B-Zack Kramer[4] ; 2. 1-Nate Dussel[6] ; 3. 1X-Lee Jacobs[8] ; 4. 25-Jason Keckler[3] ; 5. 22D-Dan Hammond[5] ; 6. 10-Josh Harrison[7] ; 7. 30-Adam Ollom[1]
Heat 2 – Heat 2 (8 Laps – Top 4 finishers transfer to the A-feature)
1. 11F-D.J. Foos[2] ; 2. 35-Stuart Brubaker[6] ; 3. 1W-Paul Weaver[7] ; 4. 36X-Dustin Keegan[5] ; 5. M28-Josh Muntz[1] ; 6. 48-Mike Burkin[3] ; 7. 19R-Steve Rando[4] ; 8. 8K-Bobby Clark[8]
Heat 3 – Heat 3 (8 Laps – Top 4 finishers transfer to the A-feature)
1. 40-Caleb Griffith[1] ; 2. 9-Jimmy Colvin[5] ; 3. 27-Paige Polyak[6] ; 4. 5R-Jordan Ryan[7] ; 5. 1M-Mike Moore[4] ; 6. 8J-Jess Stiger[2]
Heat 4 – Heat 4 (8 Laps – Top 4 finishers transfer to the A-feature)
1. 39-Matt Merrill[3] ; 2. 94-John Ivy[6] ; 3. 5-Dustin Dinan[4] ; 4. 51-Dave Saxer[1] ; 5. 4M-Jamie Miller[7] ; 6. 36-Seth Schneider[5] ; 7. 77S-Jim Sipe[2]
B-Main – Computer Man Inc. (10 Laps – Top 4 finishers transfer to the A-feature)
1. M28-Josh Muntz[2] ; 2. 4M-Jamie Miller[4] ; 3. 22D-Dan Hammond[1] ; 4. 10-Josh Harrison[5] ; 5. 48-Mike Burkin[6] ; 6. 8K-Bobby Clark[12] ; 7. 36-Seth Schneider[8] ; 8. 19R-Steve Rando[10] ; 9. 10S-Roger Shammo[13] ; 10. 30-Adam Ollom[9] ; 11. 77S-Jim Sipe[11] ; 12. 1M-Mike Moore[3] ; 13. 8J-Jess Stiger[7]
A-Main – (25 Laps)
1. 9-Jimmy Colvin[1]; 2. 1-Nate Dussel[3]; 3. 35-Stuart Brubaker[4]; 4. 27-Paige Polyak[6]; 5. 40-Caleb Griffith[2]; 6. 1W-Paul Weaver[7]; 7. 8B-Zack Kramer[8]; 8. 5R-Jordan Ryan[15]; 9. 1X-Lee Jacobs[11]; 10. 94-John Ivy[9]; 11. 25-Jason Keckler[13]; 12. 22D-Dan Hammond[17]; 13. 11F-D.J. Foos[10]; 14. 4M-Jamie Miller[18]; 15. 51-Dave Saxer[16]; 16. 39-Matt Merrill[12]; 17. 36X-Dustin Keegan[14]; 18. 10-Josh Harrison[20]; 19. 5-Dustin Dinan[5]; 20. M28-Josh Muntz[19]
Hard Charger: 5R-Jordan Ryan[+7]
Fremont Fence Dirt Trucks (29 Trucks)
[#]-Starting Position
Heat 1 – Heat 1 (8 Laps – Top 5 finishers transfer to the A-feature)
1. O1-Art Ball[2] ; 2. 8KB-Kent Brewer[4] ; 3. 5-Jim McGrath[9] ; 4. 4S-Keith Sorg[1] ; 5. 16-Steve Sabo[5] ; 6. 88-Dan Roepke Jr.[6] ; 7. 84-Tony Siferd[3] ; 8. 4X-Brian Sorg[8] ; 9. O-Andy Keegan[7] ; 10. 50-Jeff Potridge[10]
Heat 2 – Heat 2 (8 Laps – Top 5 finishers transfer to the A-feature)
1. 17-Bob Dible[7] ; 2. 3R-Chuck Roelle[3] ; 3. 36X-Dustin Keegan[6] ; 4. 99-Art Howey Jr.[4] ; 5. 99X-Gene Potridge[1] ; 6. P51-Willie Keegan[9] ; 7. 9-Curt Inks[8] ; 8. 6-Linda Sabo[5] ; 9. 14-Scott Beard[2]
Heat 3 – Heat 3 (8 Laps – Top 5 finishers transfer to the A-feature)
1. OO-John Ivy[2] ; 2. 32H-Dan Hennig[8] ; 3. 18W-Cory Ward[6] ; 4. 5JR-Jimmy McGrath Jr.[7] ; 5. 23M-Brad Mitten[3] ; 6. 30-Dave Gibbs[5] ; 7. 8-Steve Endicott[1] ; 8. 115-Ben Good[9] ; 9. 4C-Loren Schwochow[4]
B-Main – Computer Man Inc. (10 Laps – Top 5 finishers transfer to the A-feature)
1. 88-Dan Roepke Jr.[1] ; 2. 84-Tony Siferd[4] ; 3. 4X-Brian Sorg[7] ; 4. 9-Curt Inks[5] ; 5. 30-Dave Gibbs[3] ; 6. O-Andy Keegan[10] ; 7. P51-Willie Keegan[2] ; 8. 6-Linda Sabo[8] ; 9. 50-Jeff Potridge[13] ; 10. 8-Steve Endicott[6]
A-Main – (20 Laps)
1. 17-Bob Dible[8]; 2. O1-Art Ball[5]; 3. OO-John Ivy[4]; 4. 8KB-Kent Brewer[9]; 5. 5-Jim McGrath[2]; 6. 5JR-Jimmy McGrath Jr.[3]; 7. 16-Steve Sabo[13]; 8. 3R-Chuck Roelle[12]; 9. 18W-Cory Ward[6]; 10. 99-Art Howey Jr.[1]; 11. 32H-Dan Hennig[7]; 12. 4X-Brian Sorg[18]; 13. 23M-Brad Mitten[15]; 14. 84-Tony Siferd[17]; 15. 36X-Dustin Keegan[11]; 16. 88-Dan Roepke Jr.[16]; 17. 9-Curt Inks[19]; 18. 30-Dave Gibbs[20]; 19. 4S-Keith Sorg[10]; 20. 99X-Gene Potridge[14]
Hard Charger: 17-Bob Dible[+7]