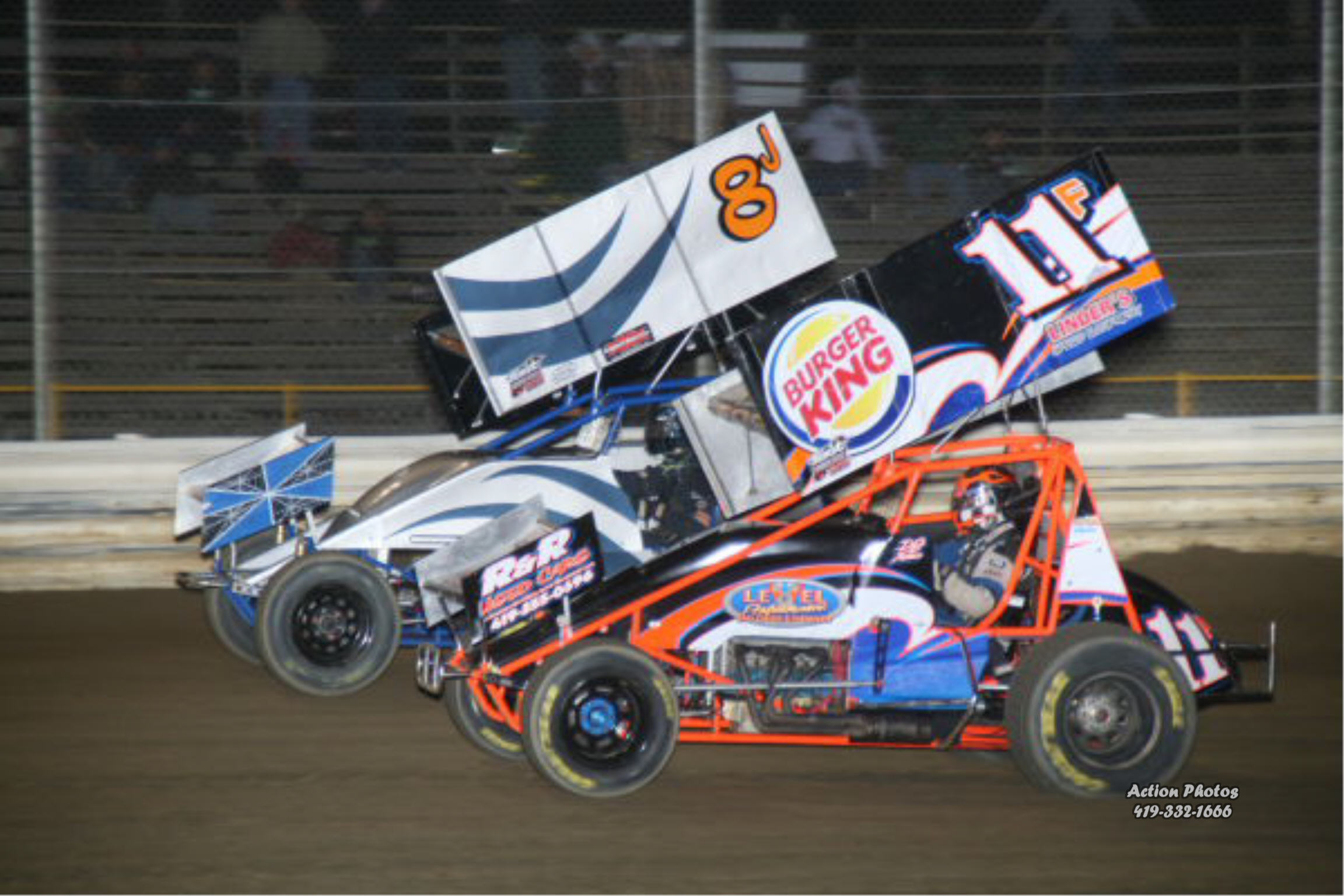 From Brian Liskai, image courtesy of Action Photo
Attica, OH — (July 15, 2011) — Jason Keckler and Foos would lead the field to the green in the 25-lap 305 sprint feature Friday at Attica Raceway Park. , but it was fourth place starter Junior Felver who blasted into the lead as Foos, Keckler and Zack Kramer gave pursuit. With three laps in, Foos had caught Felver as they raced side-by-side while Keckler, Matt Ferrell, Kramer and Dustin Keegan followed. Foos would rim-ride around Felver on the fourth circuit to take the lead.
The caution would fly on lap five for Keegan as Felver stopped on the high side of turn four, ending his great run as he rejoined the field at the tail. On the ensuing restart, Foos would check out as Keckler battled 10th-place starter Stuart Brubaker for second with Kramer, Ferrell and Paige Polyak in pursuit. Jamie Miller would bring out the caution on lap eight. Foos would storm back into the lead on the restart with Brubaker moving into second. Kramer would bring out a caution on lap 11 with the running order Foos, Brubaker, Keckler, Ferrell, Polyak, Steve Rando and Nate Dussel.
Again Foos would pull away in the lead on the restart as Brubaker cruised in second. Meanwhile, Rando and Dussel would blast their way into third and four by lap 14. The final caution would fly on lap 16 for a Nate Reeser spin. Foos would flirt with disaster several times the remaining nine laps, bobbling up against the thin cushion in turns three and four. Rando would take second from Brubaker on lap 18 and closed slightly on Foos as Dussel grabbed third on lap 22. Foos would take the checkered by three car lengths over Rando with Dussel, Brubaker, Polyak, Dustin Dinan, Jimmy Colvin, Josh Muntz, Dan Hammond (up from 17th and Keckler rounding out the top 10.
Attica Raceway Park will be back in action Friday, July 22 for Bud Light Night with the O'Reilly Auto Parts 410 Sprints, Fultz Fabrications and Speed Shop UMP Late Models, Fremont Fence 305 Sprints and Computer Man Dirt Trucks in action. For more information go to www.atticaracewaypark.com.
Fremont Fence Sprints (24 Cars)
[#]-Starting Position
Heat 1 – Engine Pro (8 Laps – Top 5 finishers transfer to the A-feature)
1. 35-Stuart Brubaker[2] ; 2. 1-Nate Dussel[5] ; 3. 36X-Dustin Keegan[1] ; 4. 25-Jason Keckler[3] ; 5. 8J-Jess Stiger[4] ; 6. 22D-Dan Hammond[6] ; 7. 4M-Jamie Miller[7] ; 8. 55-Jim Cushing[8]
Heat 2 – Ultra Schield Race Products (8 Laps – Top 5 finishers transfer to the A-feature)
1. 27-Paige Polyak[3] ; 2. 19R-Steve Rando[4] ; 3. 67M-Matt Ferrell[1] ; 4. 9-Jimmy Colvin[6] ; 5. M28-Josh Muntz[7] ; 6. 83X-Nate Reeser[5] ; 7. 5R-Jordan Ryan[8] ; 8. 1W-Paul Weaver[2]
Heat 3 – Bell Racing (8 Laps – Top 5 finishers transfer to the A-feature)
1. 11F-D.J. Foos[8] ; 2. 5-Dustin Dinan[2] ; 3. 8K-Zack Kramer[5] ; 4. 13-Junior Felver[4] ; 5. 36-Seth Schneider[1] ; 6. 49-Cody Runion[3] ; 7. 51-Dave Saxer[6] ; 8. 72C-Ross Moore[7]
B-Main – Computer Man Inc. (10 Laps – Top 5 finishers transfer to the A-feature)
1. 4M-Jamie Miller[4] ; 2. 22D-Dan Hammond[1] ; 3. 83X-Nate Reeser[2] ; 4. 5R-Jordan Ryan[5] ; 5. 51-Dave Saxer[6] ; 6. 55-Jim Cushing[7] ; 7. 72C-Ross Moore[9] ; 8. 49-Cody Runion[3]
A-Main – (25 Laps)
1. 11F-D.J. Foos[2]; 2. 19R-Steve Rando[6]; 3. 1-Nate Dussel[9]; 4. 35-Stuart Brubaker[10]; 5. 27-Paige Polyak[12]; 6. 5-Dustin Dinan[8]; 7. 9-Jimmy Colvin[11]; 8. M28-Josh Muntz[14]; 9. 22D-Dan Hammond[17]; 10. 25-Jason Keckler[1]; 11. 36X-Dustin Keegan[7]; 12. 8K-Zack Kramer[3]; 13. 13-Junior Felver[4]; 14. 67M-Matt Ferrell[5]; 15. 51-Dave Saxer[20]; 16. 5R-Jordan Ryan[19]; 17. 36-Seth Schneider[15]; 18. 83X-Nate Reeser[18]; 19. 4M-Jamie Miller[16]; 20. 8J-Jess Stiger[13]
Hard Charger: 22D-Dan Hammond[+8]