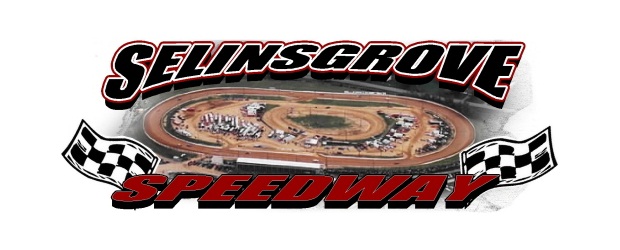 By Steve Inch
SELINSGROVE, Pa. – In front of a packed house and on a night sponsored by his car owners, Jeff Rine of Danville made Selinsgrove Speedway history by becoming the late model division's new all-time winner with his 70th career victory in Saturday night's 25-lap main event.
Rine's sixth win of the season was worth $2,000 and fell on the Third Annual Jeff's Auto Body & Recycling Center Driver & Fan Appreciation Night sponsored by his car owners, Jeff and Kathy Kurtz of Paxinos. On July 2, Rine tied Bobby Croop's long-standing record of 69 wins and now has the top spot solely.
Teenager Logan Schuchart of Hanover won his second race in three weeks at Selinsgrove in the 25-lap 358 sprint car feature and strengthened his lead in the overall Hoosier Tire Mid-Atlantic point series. Schuchart, who now has five wins in 2011, collected $2,000 for each of his wins at the track and is expected to be in the field again on July 23.
Tim Krape of Bellefonte repeated in the 15-lap pro stock feature for his third win overall this season, while Brian Johnson of Ashland won his first race of the year in the 12-lap roadrunner feature.
Selinsgrove Speedway will present a 30-lap summer championship race for late models paying $2,000 to win plus 358 sprint cars, pro stocks, and roadrunners at 7:30 p.m. Saturday, July 23, sponsored by A&A Auto Stores. Max Media radio stations B98.3 and Y106.5 will be hosting a live remote at the track prior to the start of the racing program.
Outside front row starter Duane Mausteller powered into the lead at the start of the sprint car feature and was chased by third-place starter Brian Nornhold for the first lap. On the second circuit, fourth-place starter Matt Heimbach advanced to second while 10th-place starter Logan Schuchart followed him into fourth.
On the fifth lap, Schuchart made the winning pass by Mausteller using the inside lane coming off turn four. A lap later, ninth-place starter Blane Heimbach horsepowered his way into second. By lap 10, the leaders began to encounter slower traffic and at the midway point Schuchart was leading B. Heimbach, 12th-place starter Pat Cannon, 16th-place starter Colby Womer, and M. Heimbach.
A brief battle unfolded for second between B. Heimbach and Cannon on lap 16. Once B. Heimbach secured second he reeled in Schuchart in traffic. Following two laps of side-by-side racing for the lead, Schuchart began to stretch his lead and posted a 2.8 second margin of victory over B. Heimbach, Cannon, 11th-place starter Mark Smith, and 13th-place starter TJ Stutts.
Last week's late model winner Coleby Frye was collected in a two-car spin in turn one on the start of the late model feature. Frye was able to rejoin but was plagued with problems the rest of the event.
Second-place starter Eric Hons led the first three laps of the race until fifth-place starter Tony Adams made a pass for the lead using the inside lane entering turn three. On the seventh circuit, eighth-place starter Jeff Rine powered by Hons for second and set his sites on Adams.
Entering turn three on the 14th circuit, Rine made a dive to the bottom of the race track and took the lead from Adams. Five laps later, 11th-place starter Kenny Trevitz advanced to second and attempted to reel in Rine in traffic to no avail.
At the finish, Rine was victorious for his 70th career win at the track by 2.7 seconds over Trevitz, ninth-place starter Jim Yoder, seventh-place starter Steve Campbell, and Adams.
Second-place starter Peanut Heintzelman led the first lap of the pro stock feature. On the second circuit, polesitter Doug Minium drove into the lead and contended with sixth-place starter Dave Brouse Jr. for several laps before eighth-place starter Tim Krape began to show some speed.
For the second half of the race, Minium raced the outside line while Krape held the inside line in a close battle for the lead. On the final lap, exiting the final corner, Krape pulled ahead to post the win by just .43 of a second over Minium. Mike Kiehl, Brouse, and Smith completed the top five.
In the crash-marred roadrunner feature, original fourth-place starter Nathan Engle led the first two laps until getting caught up in a melee. Fifth-place starter Brian Johnson took command of the field and held the field at bay following several restarts.
At the checkered flag, Johnson was victorious over Chip Kennedy, Nate Romig, Matt Lawrence, and Rob Pyle.
SELINSGROVE SPEEDWAY RACE SUMMARY – 16 July 2011
358 Sprint Cars – 27 Entries
25-Lap A-Main: 1) 1S Logan Schuchart ($2,000) 2) 12 Blane Heimbach ($1,000) 3) 3 Pat Cannon 4) 1 Mark Smith 5) 23M TJ Stutts 6) 19 Colby Womer 7) 5B Josh Beard 8) 76 Larry Kelleher 9) 1N Brian Nornhold 10) 71 Jessica Anderson 11) 1W Eric Tomecek 12) 21 Duane Mausteller 13) 99K Cody Keller 14) 81 Bob Beidleman 15) 80M Dan Richcreek 16) 3G Jim Gearhart 17) 6S Bill Sherman 18) 38 Scott Wilson DNF 19) 8R Michael Ruttkamp DNF 20) 14 Matt Heimbach DNF 21) 9 Jeff Miller DNF 22) 5W Phil Walter DNF 23) 1M Jason Shultz DNF 24) 66 Ryan Kissinger DNF
Heat Winners: Matt Heimbach, Brian Nornhold, Jason Shultz
Consolation Winner: Jim Gearhart