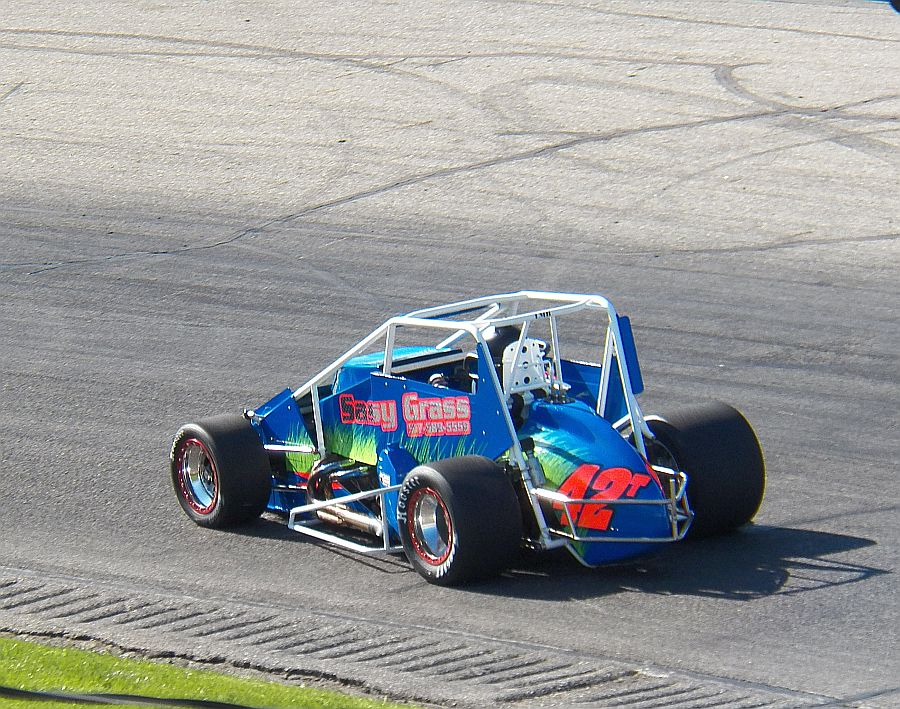 From MudclodBob
Tom Fedewa started on the pole and was never headed in the 25 lap Spartan Speedway Sprint Car feature Friday night. Following Fedewa was Taylor Ferns, Gary Sherman, Kyle Feeney and Curt Shumaker.
17 sprint cars made the trip to Spartan Speedway on a warm muggy afternoon in an assault on a somewhat wounded Tom Fedewa who has won all features at the 1/4 mile speed plant this year. Fedewa was moving gingerly after possibly tweaking his back this week. Even though all competitors were ready to pounce, Fedewa was up to the task as he won his heat race over Chris Hettinger. Taylor Ferns looked ready to challenge Fedewa after winning her heat over Steve Smith. Each heat race was interrupted by one yellow flag.
After a smoking burnout exhibition by several vehicles, the 25 lap feature was pushed off at 8:50 p.m.. Fedewa and young Kyle Feeney lined up on the front row. As the green flag dropped, Fedewa jetted to a lead he would not give up as he was never seriously challenged. Feeney stayed close early but the 42t car of Fedewa was gradually building a big lead.
Gary Sherman was putting pressure on Feeney and 7th starting Taylor Ferns began moving forward and by lap 15 was 3rd. As the laps quickly clicked off Ferns had made the pass into 2nd where she would finish as Fedewa was on cruise control in the non stop feature and took the checkers in front of good crowd.
Feature Finish
Tom Fedewa, Taylor Ferns, Gary Sherman, Kyle Feeney, Curt Shumaker, Tyler Underwood, Chris Hettinger,John Hotchkiss, Doug Deitch and Ryan Davis.
These results are not official. Watch Spartan Speedway's website for official results.