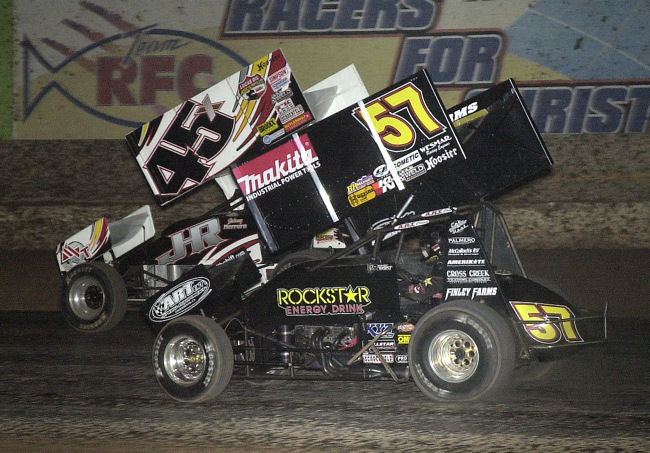 From Lonnie Wheatley
KNOXVILLE, Iowa (August 6, 2011) – Current Lucas Oil ASCS presented by K&N Filters National points leader Shane Stewart may not have cracked victory lane during Friday night's 21st Annual ASCS Knoxville Nationals preliminary feature action.
But, the Bixby, OK, shoe put himself in ideal position to make it back-to-back event wins by earning the pole position for Saturday night's $10,000-to-win ASCS Knoxville Nationals championship feature event.
While North Dakota's Lee Grosz and Tennessee's Sammy Swindell won Friday night's feature events, Stewart accumulated enough overall points to earn the pole position after a third-place finish in the Friday portion feature event.
Stewart will lead Saturday's feature field to the green flag with San Jose, CA, competitor Randy Hannagan, who finished just behind Stewart in fourth, alongside. Sammy Swindell will start in row two of the feature event, with brother Jeff Swindell to his outside.
After capturing his first career ASCS National win and first triumph at Knoxville, Grosz will start Saturday's finale in tenth.
In addition to Lucas Oil ASCS title contenders Stewart and Jeff Swindell, other top series contenders already locked into Saturday's finale include Jason Johnson (eighth), Wayne Johnson (11th) and Zach Chappell (15th).
A total of 97 different drivers hit the track in 21st Annual ASCS Knoxville Nationals preliminary action.
Saturday Feature Lineups:
A Feature:
57 Shane Stewart – 22h Randy Hannagan
1s Sammy Swindell – 28 Jeff Swindell
22 Billy Alley – 56 Davey Heskin
94 Derek Hagar – 41 Jason Johnson
83 Tim Shaffer – 4j Lee Grosz
38 Wayne Johnson – 15h Sam Hafertepe, Jr.
11x Gregg Bakker – 71r Ryan Anderson
0 Zach Chappell – 1m Chad Humston
87j Justin Carver – 71 R.J. Johnson
4b Eric Baldaccini – 7x Dustin Selvage
B Feature (Top 4 Advance to A Main):
55-Terry McCarl – 4bx Jordan Boston
23 Seth Bergman – 40 Clint Garner
89g David Gravel – 2 Josh Higday
88 Tim Crawley – 2mx Dustin Daggett
27 Daryn Pittman – 14T Brooke Tatnell
5j Larry Ball, Jr. – 79 Calvin Landis
53d Jack Dover – 11 Roger Crockett
47T Tony Shilling – 3 Nate Van Haaften
7T Tasker Phillips – 57x Jake Peters
81 Danny Wood – 2d Bryan Dobesh
C Feature:
45k Kolt Walker – 2m Matt Moro
4 Jon Agan – d12 Dennis Moore, Jr.
11c Matt Covington – 8 John Carney II
9 Gary Wright – 35 Ronnie Blair
91 Henry Van Dam – 51 Dave Hall
5m Justyn Cox – 29 Bud Kaeding
29T Travis Rilat – 04x Cap Henry
45c Russ Hall – 18r Ryan Roberts
33L Danny Lasoski – 25 Dylan Peterson
7 Gary Taylor – 54 Casey Friedrichsen
D Feature:
09 Matt Juhl – 47 Brandt O'Banion
53 Joe Beaver – 23w Scott Winters
99 Brady Bacon – 10 Tyler Groenendyk
28c Jonathan Cornell – 1x Garry Lee Maier
45x Johnny Herrera – 1w Chad Meyer
98 J.D. Johnson – 7m Kevin Ramey
51h Mike Hess – 14 Randy Martin
9m Ricky Montgomery – 18 Tony Bruce, Jr.
9mx Cody Baker – 41w Joshua Williams
04 Chad Heimbaugh – 2h Jason Eckert
E Feature:
83p Ned Powers – 22k Koby Barksdale
87 Aaron Reutzel – 93a Alan Ambers
11cx Dakota Carroll – 87b Jason Barney
00 Brad Foster – 33 Alan Zoutte
19s Steven Cross – 5jr Jamie Ball
21a Dustin Beenken – 8L Tom Lenz
21 Brian Brown – 33a Austin Alumbaugh
3* Kaley Gharst – 2k Kevin Ingle
92c Cody Ambers