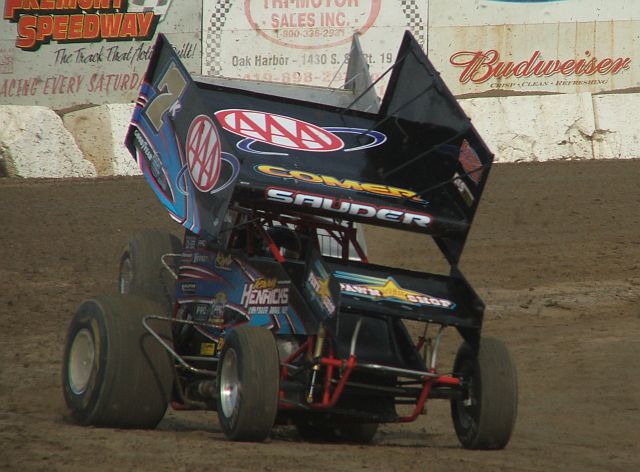 From Limaland
The Elwer Fence Sprints 25-lap feature saw the season's top performer Kyle Sauder earn a pole starting position and it served as a set-up for himself and fellow front row starter JR Stewart to dominate the event.
Stewart moved to the lead with Sauder and Caleb Helms sticking to him for the opening 15 laps. 2010 track champion Stewart was fashioning a high line around the track making it nearly impossible for Sauder to move into a lead position. Finally on lap 16, Sauder decided to drop down in the corners and it proved to be successful. He gained on Stewart and made the defining pass through turn two on lap 16.
Following a restart on lap 21, Kyle Sauder proceeded to floor the throttle on the #7K machine and stormed to his third feature win of the season at the track. He also captured the Ohio Sprint Speed week event at Limaland Motorsports Park in an All Star Circuit of Champions 410 Sprint car on June 24. It was Sauder's tenth career feature win at the track.
"Last Saturday I burned off my tires and lost the race at Eldora," said Sauder. "The Good Lord told me to slow down as slower is faster sometimes. It showed tonight as we saved our tires and looked up at the end. There was good clean racing with JR (Stewart), but this is a much needed victory for us. I thank Dave Jessup for putting this motor back together after blowing it up a few weeks ago."
Elwer Fence Sprints
B-Main – (10 Laps – Top 5 Transfer)
1. 34-Luke Hall 2. 5M-Max Stambaugh 3. 10J-Jarred Delong 4. 27-Beau Stewart
5. 4J-Bob Gehr 6. 41J-Jeremy Powley 7. 21-Justin Grant 8. 2-Brent Gehr
9. 32M-Derek Hastings 10. 28H-Hud Horton
A-Main – (25 Laps) [#]-Starting Position
1. 7K-Kyle Sauder[1] 2. 6S-Jr Stewart[2] 3. 40-Caleb Helms[5]
4. B20-Butch Schroeder[7] 5. 49T-Gregg Dalman[6] 6. 3T-Tony Beaber[3]
7. 17-Jared Horstman[11] 8. 7C-Tim Hunter[9] 9. 5M-Max Stambaugh[17]
10. 2M-Matt Westfall[10] 11. 82-Mike Miller[15] 12. 49-Shawn Dancer[8]
13. 11-Tim Allison[13] 14. 10J-Jarred Delong[18] 15. 2H-Dallas Hewitt[14]
16. 4J-Bob Gehr[20] 17. 57-Darren Long[12] 18. 18-Todd Heverman[4]
19. 34-Luke Hall[16] 20. 27-Beau Stewart[19]