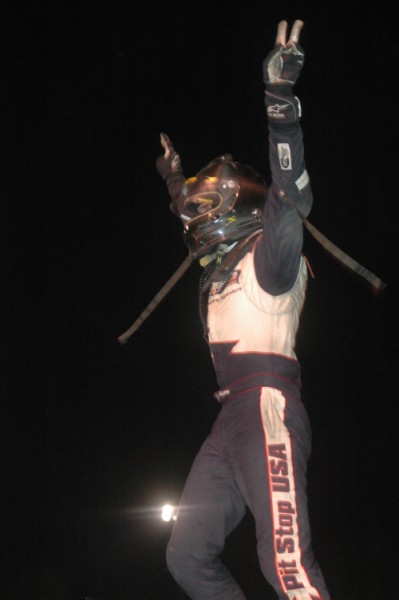 From MSRXSS
HOLLY, Mich. – The MSRXSS Championship points race has reached a pressure packed intensity with only 87 points separating the top ten spots and a razors edge 3 points splitting the top three contenders.
A whirlwind weekend awaits the Must See Racing Xtreme Sprint Series with the Must See Racing 60 at Anderson Speedway in Anderson, Indiana on Saturday August 20 and at Winchester Speedway in Winchester, Indiana on Sunday August 21.
On Saturday, August 20 the "World's Fastest Short Track Cars" of the Must See Racing Xtreme Sprint Series competes at one of the fastest quarter mile tracks in the world, Anderson Speedway, chasing the coveted series championship. The Must See Racing 60 will feature one of the most frantic races of the season, as a full field of winged sprint cars do battle on the tight confines of the high banks. Gates open at 4 p.m. with qualifying at 6:30 p.m.
An expected twenty five winged sprints will challenge the track record of 10.284 seconds set by Jason Blonde of Litchfield, Mi. at the 2010 MSR 60 event. Qualifying, heat races, the B main and the feature events are sure to be filled with high pressure drama and tight wheel to wheel action as teams from around the country and Canada battle for points toward the tight MSRXSS championship battle.
The week end is capped off in grand style moving to the ultra fast half mile high banks of the intimidating Winchester Speedway on Sunday August 21. Brian Gerster , who recently set a new Salem track record of 14.169, Jason Blonde of Litchfield, Mi the April winner of the Bristol Motor Speedway Speed Trials with an average speed of 144.871 mph and others are expected to challenge the record at Winchester. The racing action starts at 2:00 PM for the afternoon of high speed racing.
A full complement of racers will assemble for both events, with the spotlight on Jo Jo Helberg of Santa Rosa, California, recent Xtreme Sprint Series winner at Salem Speedway, defending "60" winner Jimmy McCune, perennial fan favorite Jeff Bloom, Tim Cox, Jason Cox, Dave Baumgartner, 2010 MSRXSS champion Troy Decaire, 2011 Rich Vogler scholarship recipient Kyle Flint, Jacob Wilson, Ron Kohler, Canada's Ryan Litt, local favorites Aaron Pierce and Donnie Adams Jr. , Tom Tolbert, Florida rookie Colin Cabre, Hank Lower, Jacob Wilson, Davey Hamilton Racings' Mike Larrison, Brian Olson, Jerry Caryer, Travis Miniea and others.
Fans will look forward to a host of entertaining activities during the events, including a "hands-on" show car, t-shirt and merchandise giveaways, along with driver autograph sessions. At each event, one lucky race fan will win a day driving a sprint car at the Dirt Track Driving School.
Winchester will be televised on a tape-delayed basis with well-known broadcaster Rick Benjamin serving as play-by-play host, Hall of Fame driver Tom Bigelow providing color commentary and longtime writer and broadcaster Dave Argabright reporting the action from the pits.
The series is presented by BIOBASED USA ( www.biobased.us), a leading manufacturer of Soy Soap and other green products. BIOBASED USA is owned and operated by sprint car entrants Don and Suellen Wilshe
Visit mustseeracing.com and andersonspeedway.com and winchester speedway.com for event details