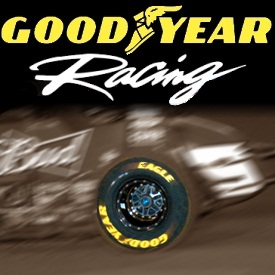 By Lee Elder
ATWOOD, Tenn. (Aug. 15, 2011) – Brian Bell took the lead on the ninth lap and then held on the collect his first victory in the United Sprint Car Series presented by Goodyear race at Clayhill Motorsports Park.
Bell overcame three restarts and then a long, caution-free run to the finish to get the win.
Goodyear is the presenting sponsor of the USCS series, supplying the same line of tires that the tiremaker provides for other winged sprint car programs across the country.
Jerrod Hull finished second, followed by Tim Crawley, Mike Hampton and Anthony Nicholson.
After Bell took the lead, the field had to work through three caution periods in the next four laps. But the final 17 laps were caution free and Bell was able to get the win.
Hull won the Goodyear Power Dash.
More information about Goodyear Racing is available at www.racegoodyear.com. More information about the USCS presented by Goodyear is available at www.uscsracing.com.